Harissa Roasted Chicken with Quinoa Salad is another recipe from Total Greek Yoghurt , it is a very high protein dish with Chicken, Quinoa and Greek Yoghurt. It uses a very simple marinade with just 3 ingredients and the great thing too is that you can marinate overnight saving time. The marinated Chicken is roasted with baby peppers and a fresh lemon. The peppers add a little sweetness to the dish and lemon and Chicken are so great together.
As always you can adjust ingredients to suit your tastes, we don't particularly like Fennel so left it out of the salad.
Quinoa is a particular favourite of mine, not technically a grain but a seed, it is amazingly high in protein, a complete protein which means it contains all 9 essential amino acids, so much power packed into this tiny seed!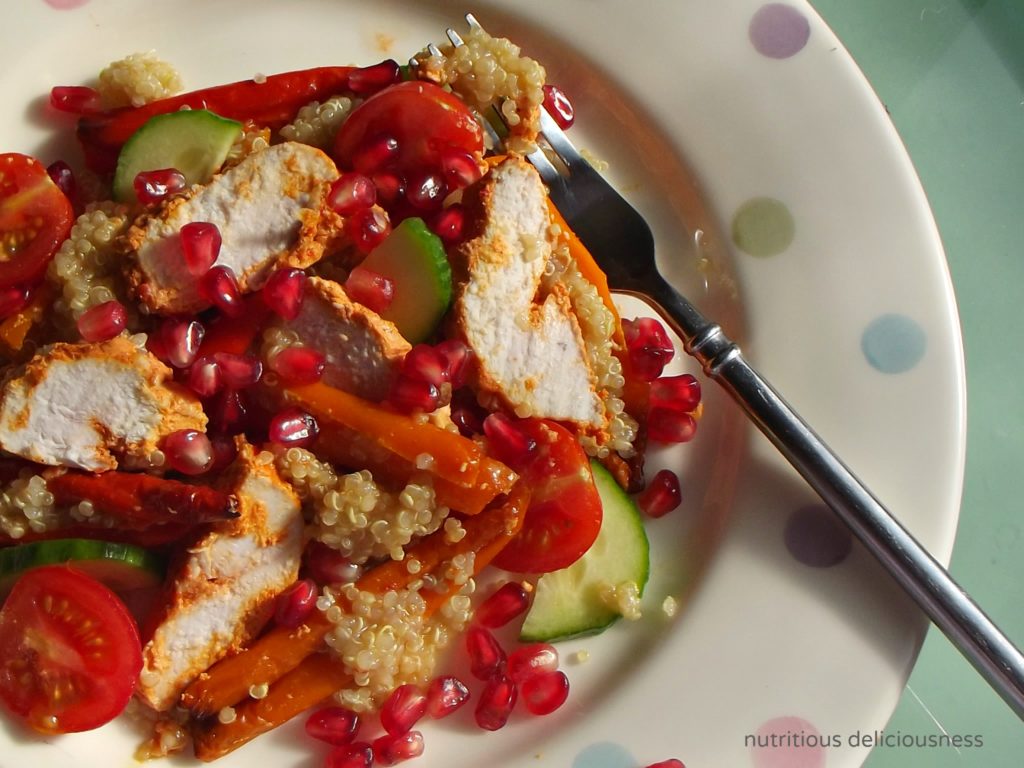 The heat from the Harissa and coolness of the Quinoa salad compliment each other really well. The Pomegranate adds a lovely crunch, a refreshing addition.
This is a perfect lunch recipe especially as the weather has been so mild and warm here, the sun is still gracing us with its favours, the heavier, warmer Autumn foods can wait a while.
Pop over and find the recipe here.
Quick Nutritional Info:
Pomegranates: Vitamin C, K, Iron, Folic Acid, Fibre.
Peppers: Vitamin A, C, K, B1, B3, B6, Folic Acid, Magnesium, Copper, Fibre, Potassium and Manganese.
.