I really enjoy pasta with pesto, red being my absolute favourite with sun-dried tomatoes or red peppers.  The little girl isn't all that keen so I've been experimenting with other ingredients other than basil for a green pesto.   Kale Pesto is on my list to try too but the milder taste of peas (hopefully) will suit her palate more for now and we love peas!  As you can gather I am trying to get the little girl to enjoy our family meals, sometimes she will tuck right into a plate and other times I get an "urh, yuck"  when she does the tongue tip taste test!
Pea Pesto makes a lovely light, fresh weekend lunch when you don't want to spend too much time in the kitchen.  It is very mild in taste and the addition of crème fraîche gives it a lovely creamy texture,  I used the 50% less fat variety.
Pea Pesto
Serves 2
Ingredients
250g peas, cooked
10g Pine nuts
35g Parmesan cheese, grated
50g  crème fraîche
Pasta of your choice
Method
Roughly blitz the pine nuts in a blender, add the cooked (cooled slightly) peas and grated Parmesan cheese and blend further until you have a soft paste consistency.   Stir in the crème fraîche and run through hot pasta.  Serve with a sprinkling of parsley.  The photo shows the Pea Pesto up until this point, I like to add black pepper and chilli flakes to mine.
Quick Nutritional Info:
Peas:  a very reasonable source of protein. Contains vitamin A, B1, B3,  B6,  Folic Acid, C, K, Manganese, Phosphorus and Copper.  Very good source of Dietary fibre.
Pine Nuts:  Very good source of Iron, Manganese, Choline, Magnesium, Phosphorus, Potassium, vitamin K and Folic Acid.  Omega 3 & 6 oils (much higher in 6).
 Fast lunch or supper, Easy Peasy too!
Linking up with the ladies below: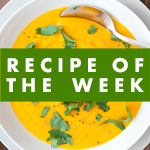 http://www.delicieux.eu/ & http://www.eatyourveg.co.uk/
…