| Facebook | Twitter | Pinterest| Instagram|
Honey Ginger Pumpkin Seed and Walnut Crusted Salmon with Black Rice Noodles
, quite a mouthful and a super deliciously tasty one too! This anti-inflammatory, antioxidant rich meal is easy to prepare and is ready in around 30 minutes.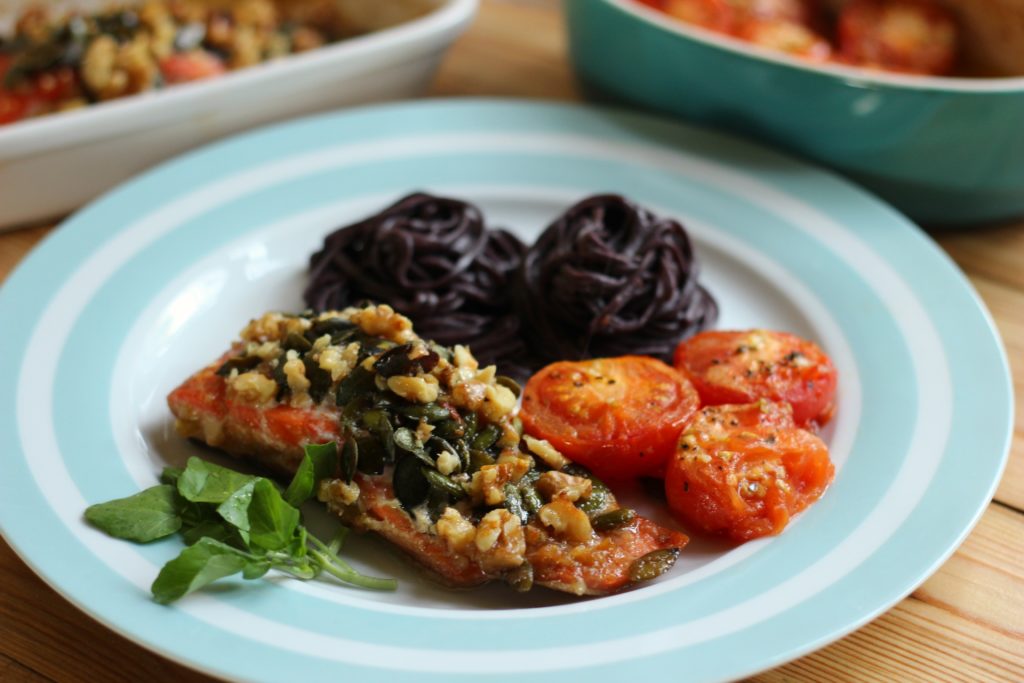 I love Wild Alaskan Salmon, they swim around in the wild, eating as nature intended which makes them rich in omega 3, vitamins, minerals and Astaxanthin, a powerful antioxidant. Astaxanthin is a naturally-occurring carotenoid, a reddish pigment produced by micro-algae and eaten by salmon and other marine life, e.g. crab, lobster, etc which makes them pink. Astaxanthin can protects cells and the nervous system from oxidative damage and is beneficial to joints and skin amongst many other health benefits.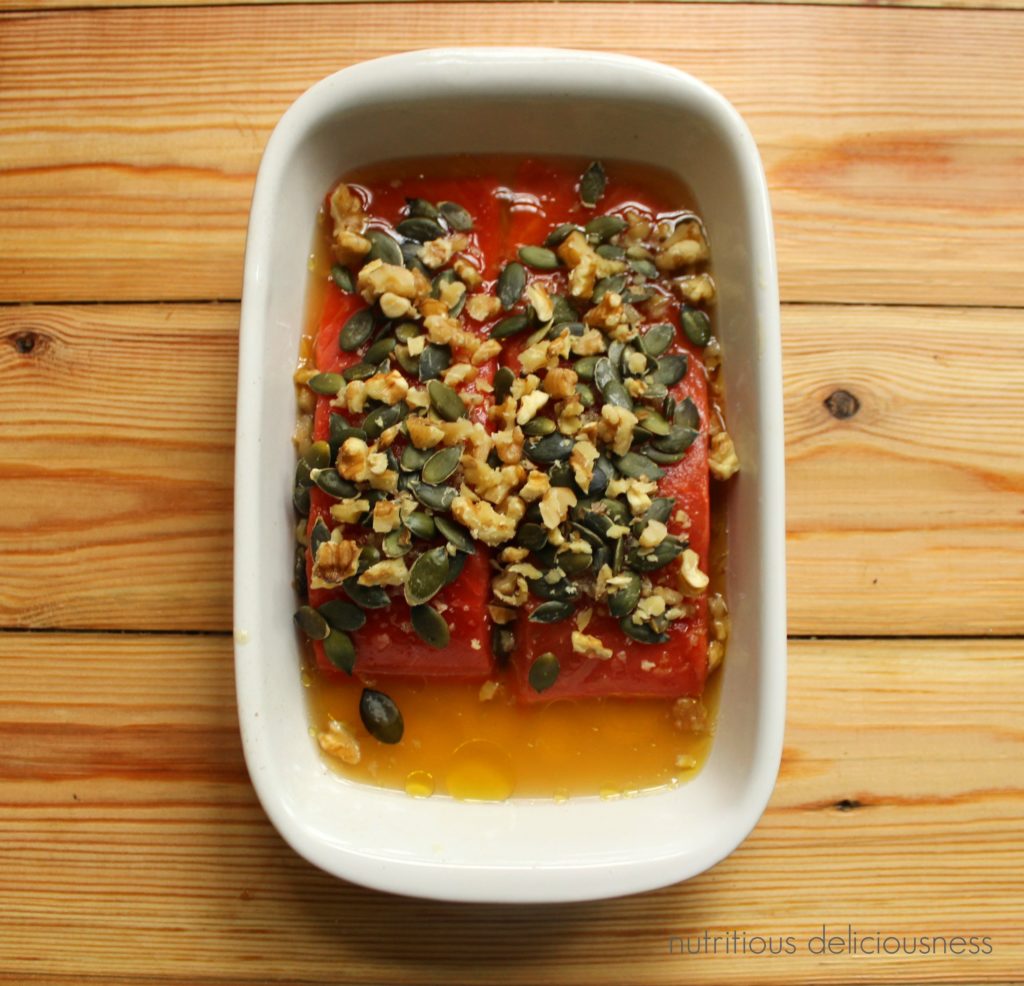 Adding a marinade of honey, orange and fresh ginger plus a crust of whole Pumpkin seeds and chopped walnuts only enhances the health benefits of the dish even more. Pumpkin seeds are rich in zinc, magnesium, manganese and plant-based omega 3's. Walnuts, another rich source of omega 3, magnesium, folate, vitamin E and antioxidants.
I teamed the dish up with a new find, King Soba Organic Black Rice Noodles

, made from black rice, a deep purple coloured rice rich in minerals and fibre. Very quick to prepare compared to my usual pasta spaghetti. The noodles are also wheat and gluten-free.
Honey Ginger Pumpkin Seed and Walnut Crusted Salmon with Black Rice Soba Noodles
Ingredients
Marinade Coating:
2 teaspoons Runny Honey
1 teaspoon fresh Ginger, grated
Juice of half an orange
dash of Olive oil
Salmon:
2 Wild Alaskan Salmon Fillets
50-60g Pumpkin seeds, whole or roughly chopped
50g Walnuts, roughly chopped
.
Black Rice Soba Noodles
Instructions
Pre-heat your oven to 160C fan 180C non-fan
Combine all the ingredients for the marinade/coating, mix well.
Place the Salmon into an ovenproof dish and spoon the marinade over making sure all the Salmon is evenly coated.
Sprinkle the Pumpkin seeds and chopped Walnuts over the Salmon. .
Roast in the oven for 10-15 minutes.
Take out after 5 minutes and baste the juices over the Salmon making sure not to disturb the crust.
Whilst the Salmon is roasting, place the Black Rice Soba Noodles in boiling water (they will soften quickly) and cook for 5 minutes on a medium heat.
Drain the Black Rice Soba Noodles and refresh quickly with cold water.
Serve the noodles with the Salmon. I roasted Tomatoes with Garlic, Olive oil and Basil in the oven with the Salmon for another component.
http://www.nutritiousdeliciousness.com/food/honey-ginger-pumpkin-seed-and-walnut-crusted-salmon-with-black-rice-soba-noodles/
| Facebook | Twitter | Pinterest| Instagram|