Inspired by the Spelt Buttermilk Soda Bread we made at River Cottage cookery school last month, this loaf was made with the buttermilk from the butter I made earlier in the week (I couldn't resist having another go, the butter tastes so deliciously creamy too!).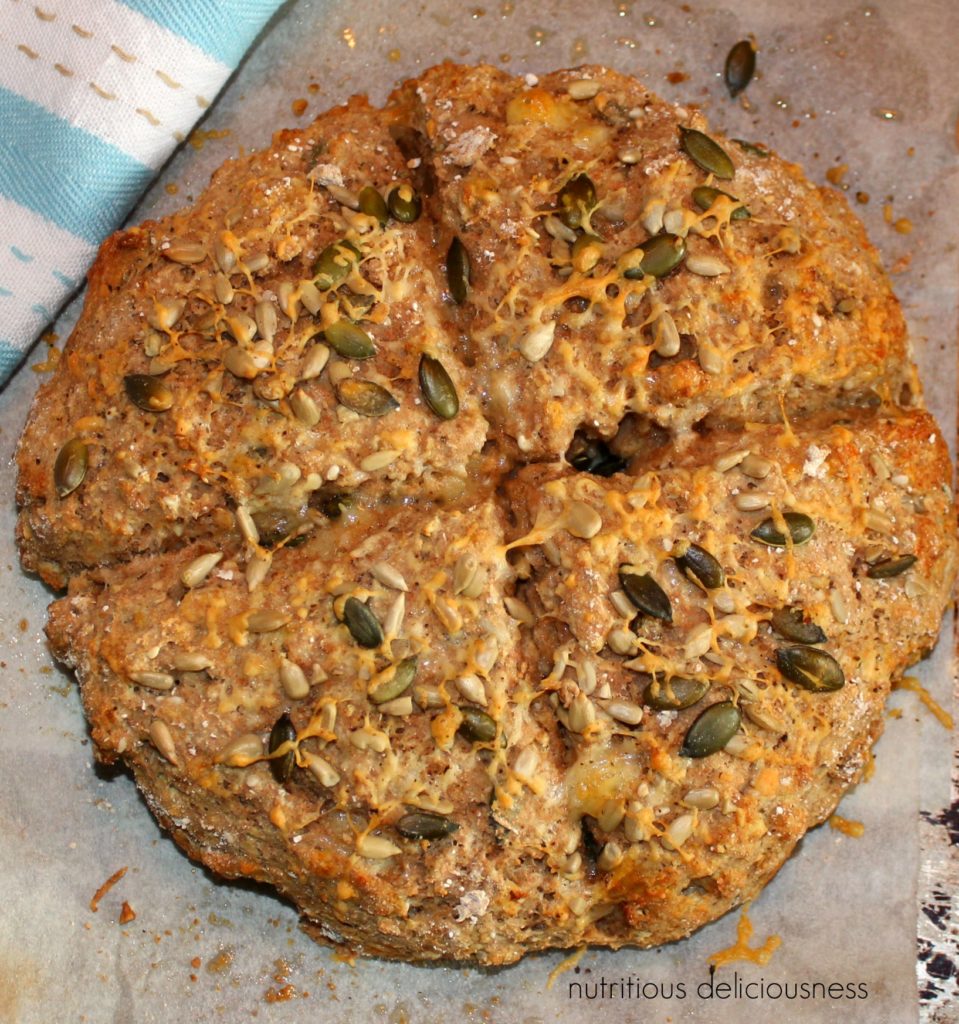 My loaf contains Pumpkin, Sunflower, Sesame, Flaxseeds and Walnuts which are packed full of health giving properties.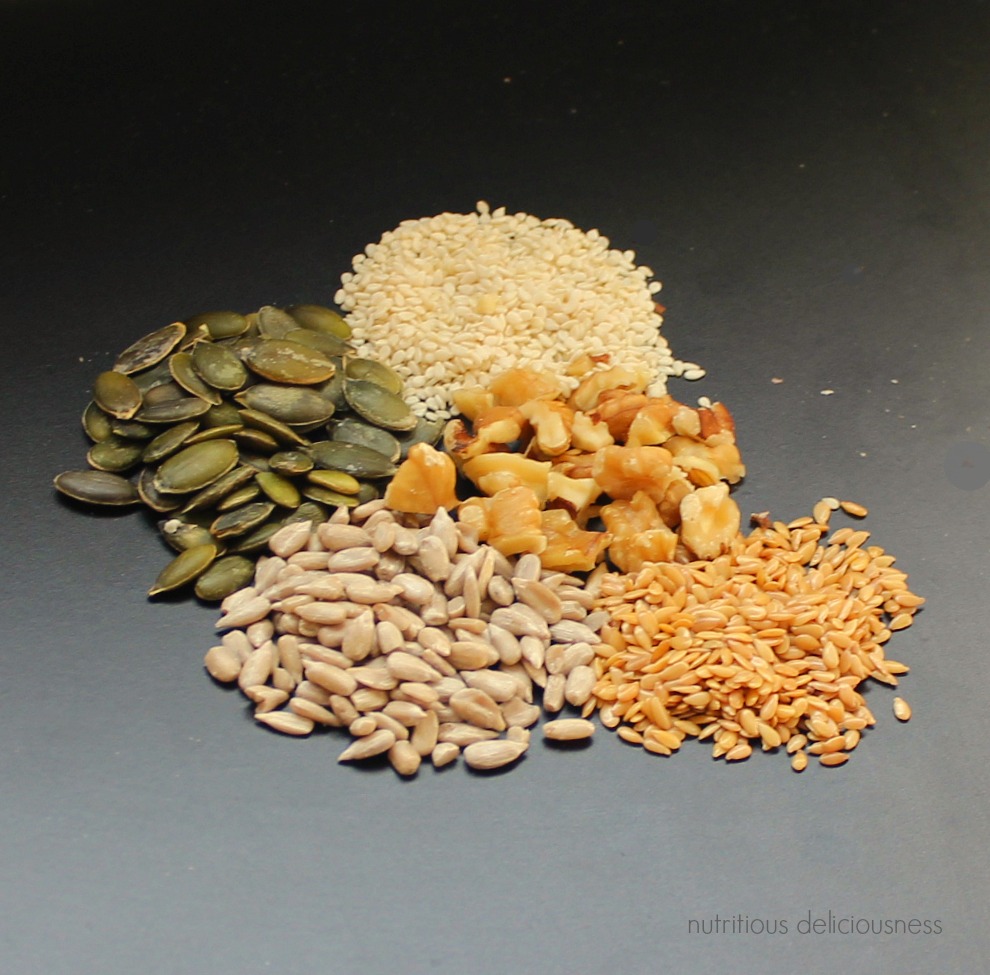 Pumpkin seeds are full of omega 3 essential fatty acids, along with some omega 6, rich in B vitamins, selenium and zinc. They are also a good source of calcium and magnesium.
Sunflower seeds too are a valuable source of B vitamins, vitamin E, omega 6 essential fatty acids and monounsaturated fats. The seeds are rich in calcium and magnesium too.
Sesame seeds, these tiny calcium rich seeds are brilliant non-dairy bone builders, rich also in zinc and vitamins B and E as well as magnesium. They contain both omega 6 and 9 fatty acids.
Flaxseeds have an abundance of balanced levels of omega 3 and 6 essential fatty acids plus vitamins B1, B2, B3, B5, B6, E, Folic acid, calcium, copper, iron, magnesium, manganese, phosphorus, potassium, selenium and zinc. A true wonderfood!
Walnuts, fabulous Walnuts, my go-to snack and a wonderful addition to breads. They are one of the richest sources of antioxidants plus vitamins B1, B2, B3, B5, B6, E, biotin, Folic acid, calcium, copper, iodine, iron, magnesium, manganese, phosphorus, potassium, selenium, and zinc.
Spelt Seeded Buttermilk Soda Bread
Makes 1 Loaf
Pre-heat your oven to 200C/180C fan
Ingredients
175g Spelt Flour
50g Oats
1 tsp bicarbonate of soda
1 tsp salt
1 tablespoon each of Pumpkin, Sunflower, Sesame and Flaxseeds (more or less to your own taste)
100g Walnuts (more of less to your own taste)
100g Cheese (Cheddar and Goats cheese are favourites)
1 tablespoon Honey
275 ml Buttermilk
Extra seeds and cheese to sprinkle on top before baking.
Method
Combine the Spelt flour, oats, bicarbonate of soda, salt, seeds and nuts in a large bowl. Mix in well.
Add the Cheese, Honey and Buttermilk and stir in until it all comes together, form into a ball and transfer onto a floured surface. Gently knead until all ingredients are well combined, do not over work.
Pop the dough onto a greased and/or lined baking tray and shape into a round, cut the dough with a knife twice, making sure not to go all the way though. The bread should pull apart easily once baked into four generous pieces.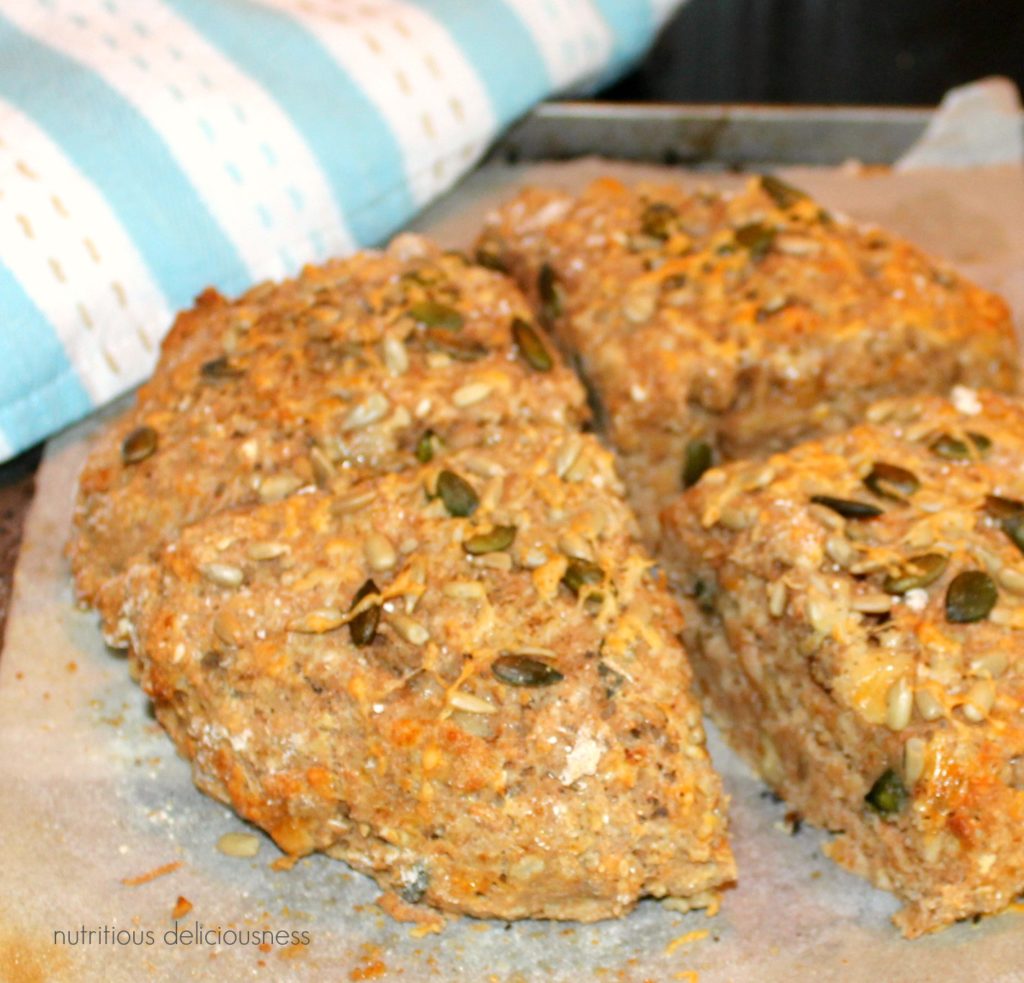 Sprinkle with the extra seeds and cheese then place into the oven to bake for around 25-30 minutes until nicely golden brown. This soda bread comes out of the oven with a delicious crusty finish, soft and pillowy on the inside.