I was recently sent a very generous set of Higher Nature Kids Supplements to sample. Miss ND takes supplements as we all do as a family, she has an extremely good diet, lots of fruit and vegetables, pasta, rice, quinoa, fish and chicken, etc with limited sugar (which is getting less easy to implement as time goes on but she still has a savoury tooth rather than a sweet one…so far anyway!). I see supplements as a top-up to fill in any blanks in our diets, I used to use a liquid based supplement but her taste buds have matured and she prefers to take something chewable now. Omega's are particularly difficult to get into a child, but Omegas aren't just found in oily fish, walnuts are a brilliant source too, you can read more about them in my Wonderful Walnuts post, I crush one up into her breakfast most mornings.
Higher Nature's new Kid range are designed to support children from 3 years and up, the range includes products for all round health, really delicious tastes and some kiddie fun shapes and textures. There are no artificial colours, flavourings, preservatives or sweeteners in this range either.
Vital Vits – are a delicious, chewable once a day supplement containing 19 essential vitamins and minerals in 3 fruity flavours in fun-shaped characters. I crush one up into her porridge every morning.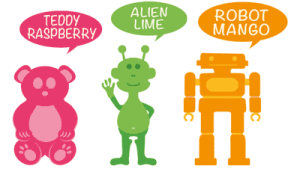 Smart Focus Omega Fish oil – these one a day jelly rounds are full of omega 3 EPA and DHA with omega 6 GLA too, emulsified for easy absorption. These she absolutely loves and happily munches on one every day now. They are intensely fruity with no fishy aftertaste and are free from added sugars and artificial sweeteners. We had something similar from another company which were discontinued so was extremely happy to try these and will definitely be buying for her.
Fruit & Shake – this is like a pepper shaker for children to flavour food such as yoghurt, cereals or desserts with fruit and veg! It contains powdered apples, tomatoes, blueberries & broccoli sprouts. Miss ND has plenty of fruit and veg in her diet but this is great to travel with or if you have a fussy eater as she has been in the past, when she reached 2 suddenly everything was on the bleurgh! scale, it did pass but took time and the Fruit & Shake would have been ideal back then to add valuable nutrients into her diet.
Vitamin D3 Spray – there has been a lot in the news lately about Vitamin D deficiency, this handy minty flavoured spray contains 625 iu of the absorbable form of D3 and is a generous 8 month supply. It has great novelty value for a 3 year old too!
Relax & Unwind – presented in individual sachets, this mild berry flavoured supplement is mixed into hot or cold water until it dissolves, it contains vitamins C, D, Calcium and Magnesium to help youngsters unwind after a busy day. It also helps to protect their bones during those important early years. Again no artificial sweeteners.
The Higher Nature Kids Supplements get the thumbs-up with Miss ND, they are easy to take, very palatable and most importantly for me, are free from any artificial ingredients.
Disclosure: I was sent Higher Nature Kids vitamins for the purpose of review, all opinions are honest and my own. We love this range and will be purchasing in the future.
.