Soups deliver such concentrated nutrition. Butternut Squash Ginger Soup delivers a homemade soup that is full of natural goodness.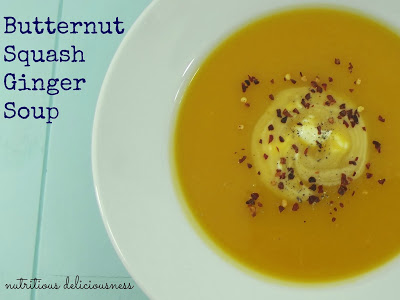 Butternut Squash is one of my (many) favourite vegetables, with its dense, orange flesh, it is delicious and sweet with a nutty flavour. I have wrestled with many a Butternut Squash and have now found the perfect peeler for the tough outer skin thanks to a visit to Lakeland, so now its less challenging and faster to prepare too!
Carrots can be used instead of the Butternut Squash or a mix of both is good too, soup has so many variations and each has their own place within each season. Although this year the seasons have gone a little awry with snow in April here!
Butternut Squash Ginger Soup is satisfying and filling on my 5:2 fast diet days. And just in case you haven't heard about this yet, the 5:2 Fast Diet was brought to us by Dr Michael Moseley when he was researching the health and longevity claims for the BBC2 Horizon programme Eat Fast and Live Longer - for 2 days a week you aim for 500 calories for women and 600 for men. I have got this down to a fine art now & can easily get around the 500 calorie mark with soups on the menu, I've gone a little soup loopy but they are just so easy and delicious, plus you can use up any lingering vegetables from the fridge so less waste!
I make up a pot which will last for the couple of days fasting and is extremely low in fat and calories. The addition of Ginger gives the soup an interesting zing and warmth. On non-5:2 days I add crème fraîche, chilli flakes and black pepper which lifts the flavours even more!
For my pot of soup, some of which can be frozen too, popped in ice cube trays for easy access to soup for kiddie meals, I used around 600g of butternut squash, I did weigh it for the benefit of this blog post but usually I just use a medium Butternut Squash.
Prep time: 15 mins
Cooking time: 20 minutes
Ingredients
half a tsp butter - I use unsalted
1 medium onion, finely chopped
1 garlic clove, crushed
about an inch of root Ginger
600g Butternut Squash, peeled, deseeded and chopped into small cubes
1 litre of homemade vegetable stock
sea salt and black pepper
Method
Gently fry the Onion, Garlic and Ginger for a couple of minutes in the butter then add a few tablespoons of water to steam fry for another 2-3 minutes.
Add the Butternut Squash and steam fry for a further 5 minutes.
Add the Vegetable Stock, I make my own which increases the nutritional value of the soup too, see my blog post on Stock.
Cover and simmer for 15-20 minutes until the Butternut Squash is soft and tender.
Cool, then blend in a liquidiser.
Nutritious deliciousness!
Nutritional Info
Butternut Squash - Vitamin A, C, E, B-complex - folic acid, vitamins, B1, B2, B3 and B6. Iron, zinc, copper, manganese, magnesium, calcium, potassium, and phosphorus.
Ginger - anti-inflammatory, anti-oxidant, carminative, anti-microbial properties. Potassium, manganese, copper, and magnesium.