These Cheesy Parsley Pesto Baked Potatoes are great for lunch, dinner or just a snack. The wonderful flavors from the Parsley Pesto combine so well with the Spinach mashed baked potato.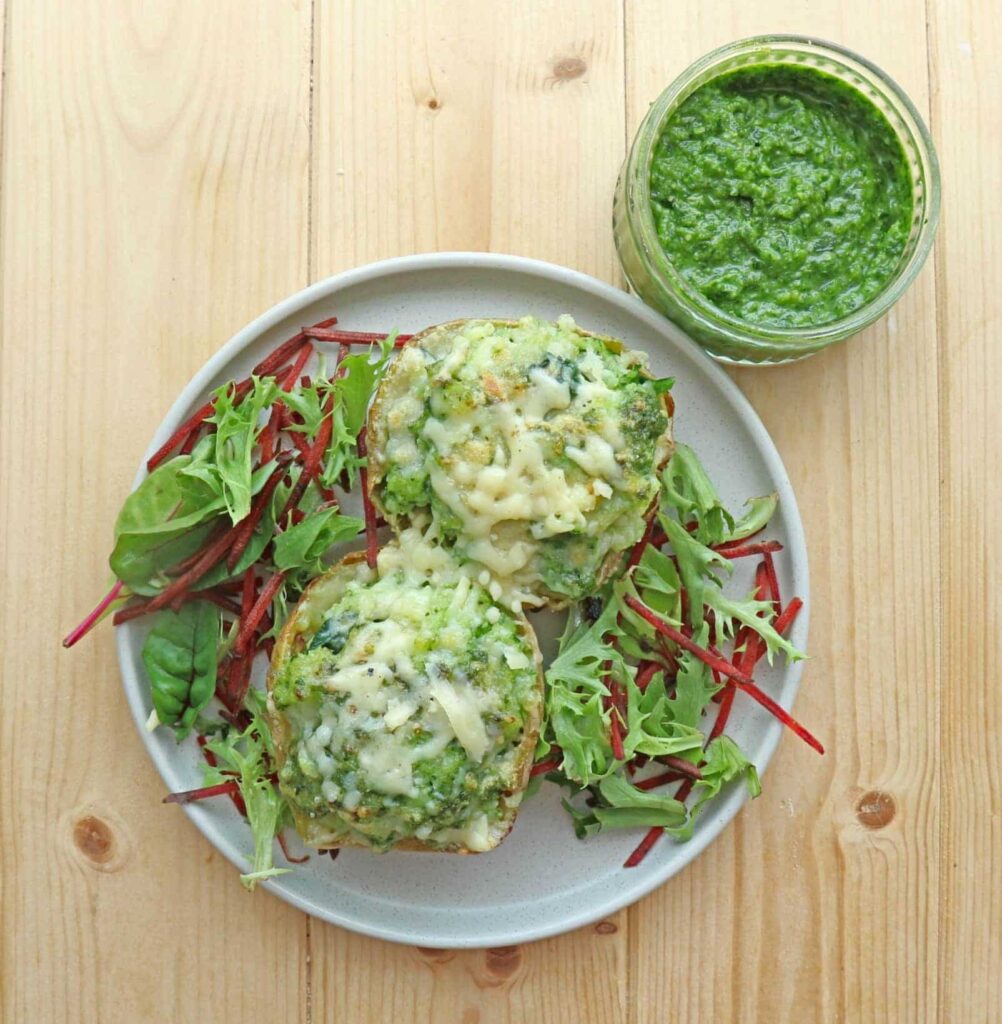 Jump to:
The Parsley and the Spinach give the dish a great health boost and a double hit of greens! The melted Parmesan topping finishes the dish off perfectly!
For this dish you will need these ingredients
Medium-sized baking potatoes
Butter
Spinach
Parmesan and/or Cheddar cheese
Sea salt and freshly ground black pepper
And here's how to make it
Start giving each potato a good scrub clean (as you may want to eat the skins) then pierce each potato several times.
Put the potatoes into a hot oven for around an hour until crisp on the outside and soft on the inside.
Meanwhile, place the fresh Spinach - frozen is fine too if fresh is not available - into a pan with a tablespoon of water and heat over a medium heat for 2-3 minutes until wilted.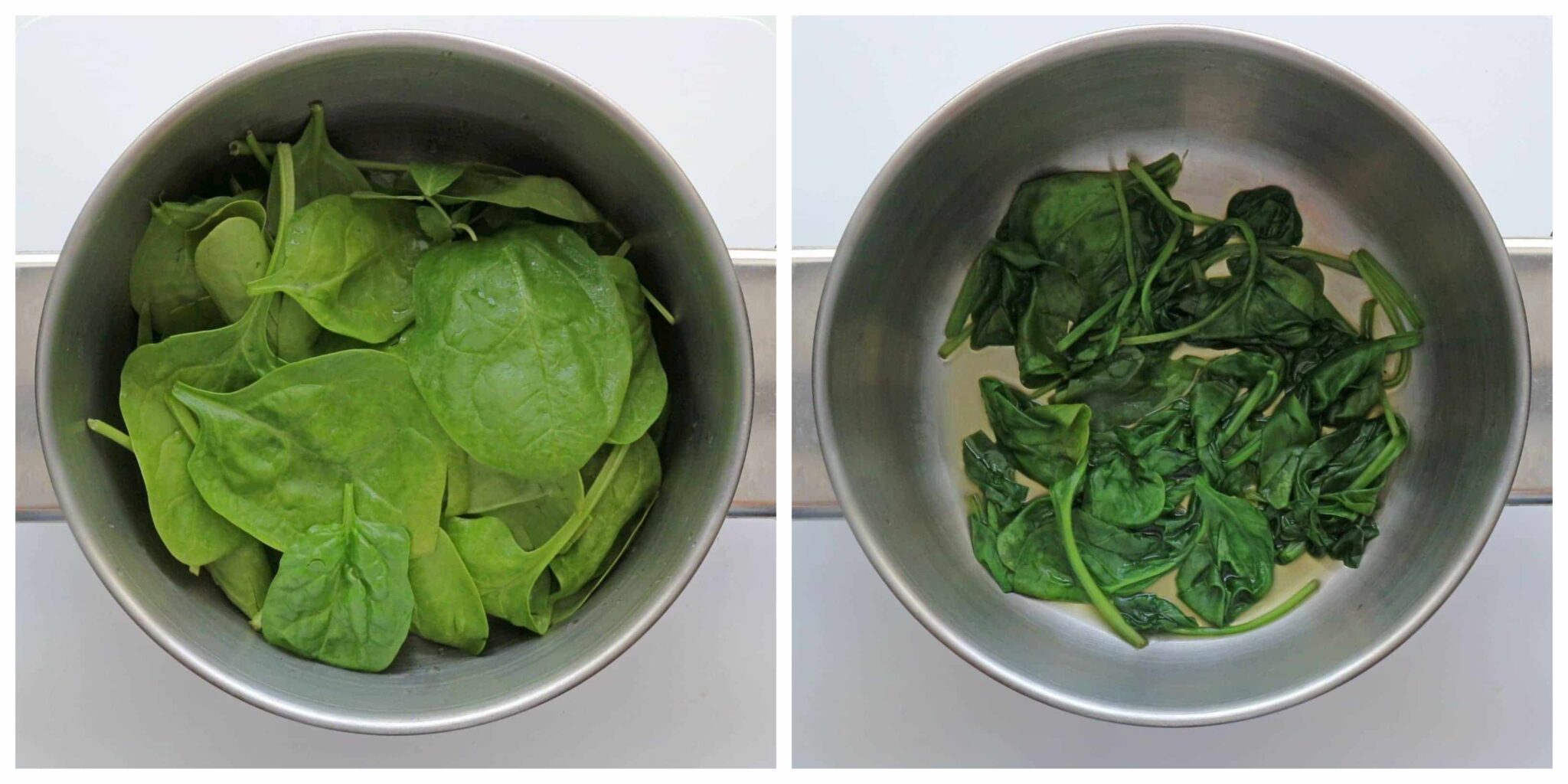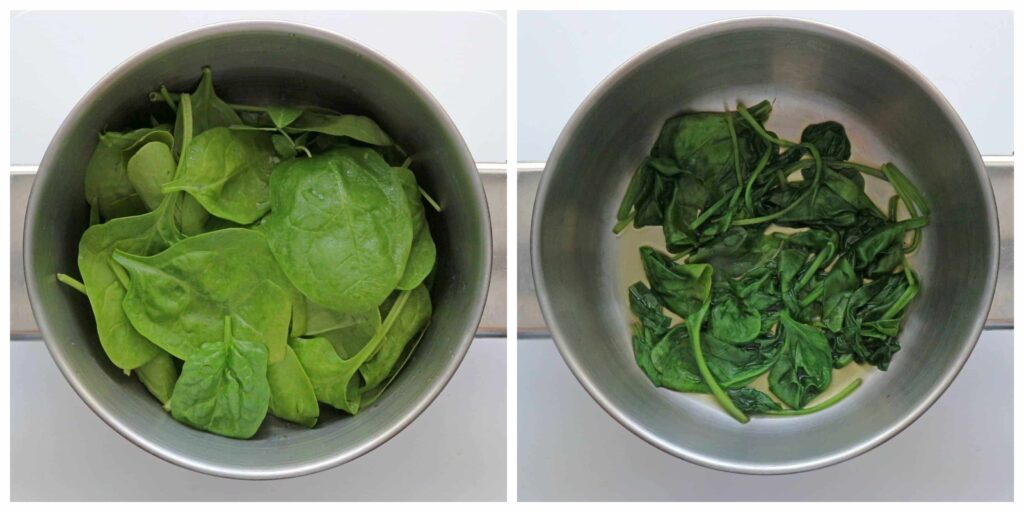 Cut each potato in half lengthwise and scoop out the potato into a suitably sized bowl. Don't forget to keep the skins for refilling later.
Add butter, sea salt and black pepper to your own taste and mash with a potato masher or fork until lovely and fluffy!
Then gently stir in the Parsley Pesto.
Fold in the wilted Spinach carefully into the potato.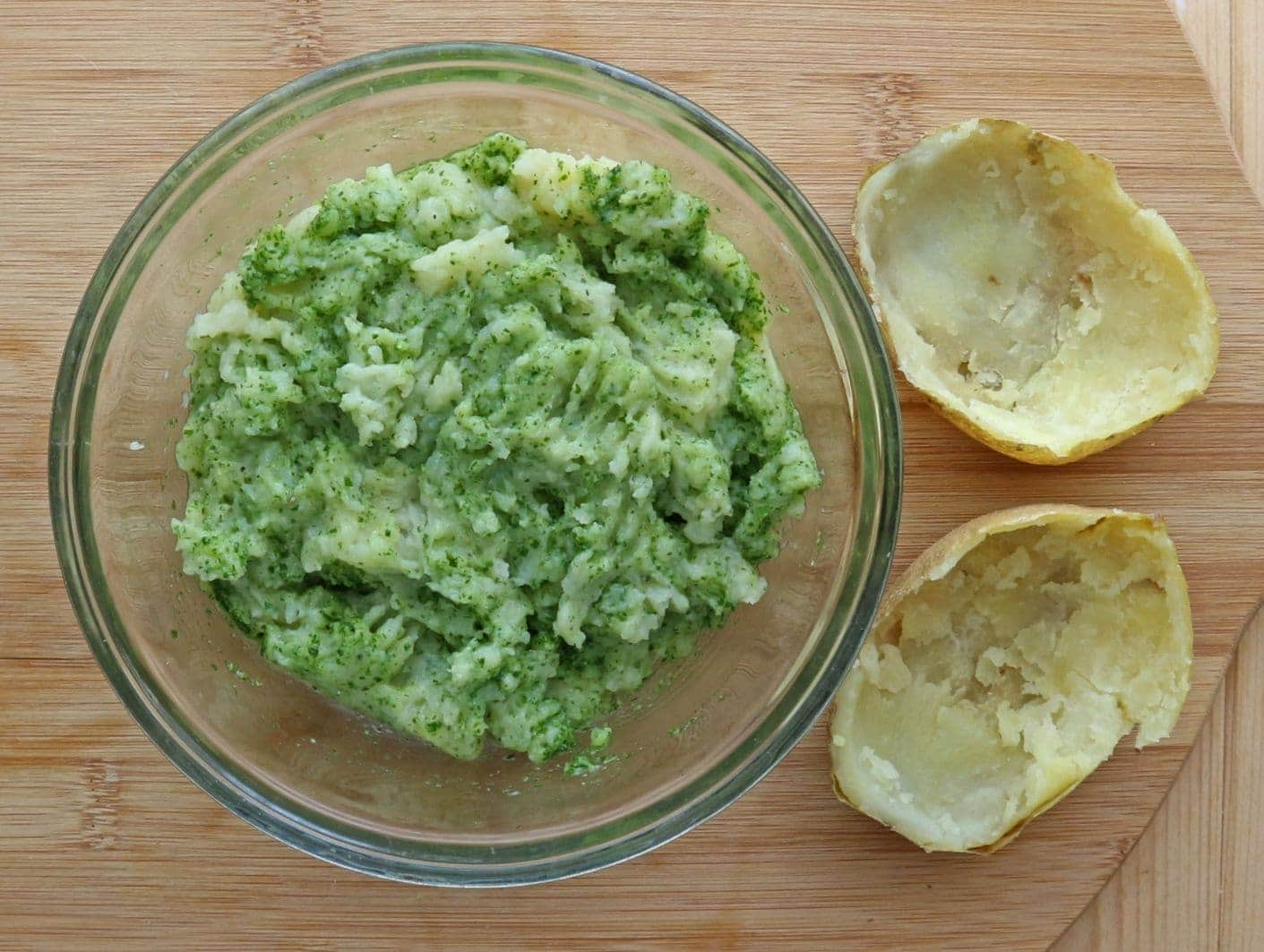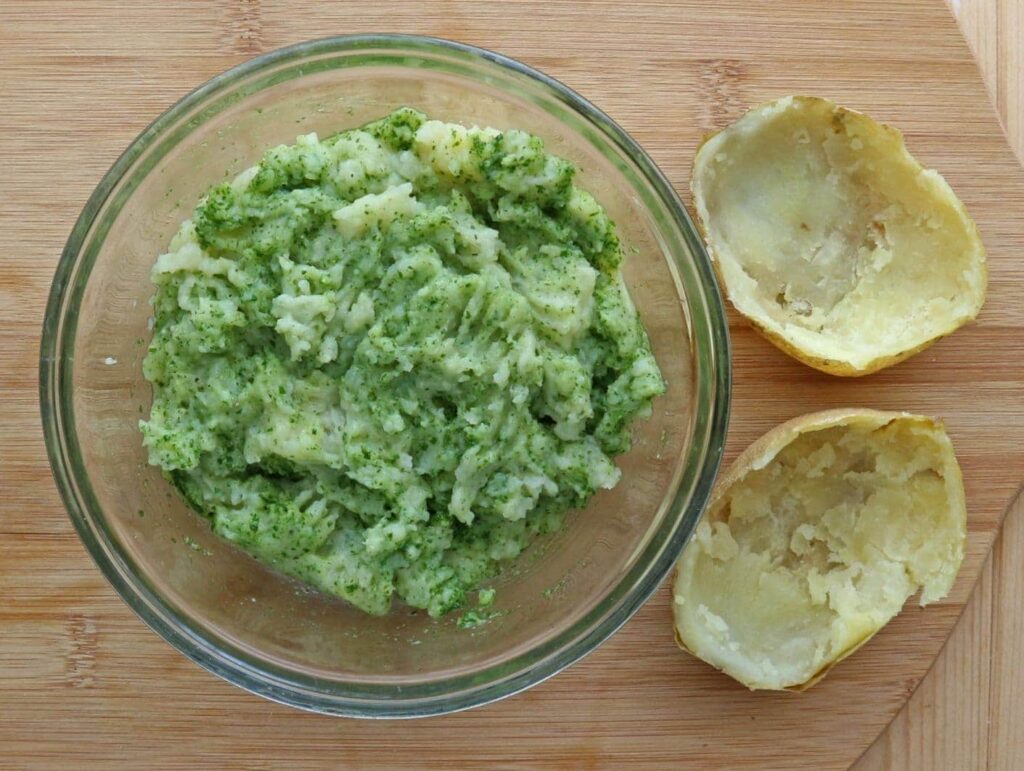 Place the scooped out potato skin halves onto a small baking tray and stuff the potato mixture back into the skins.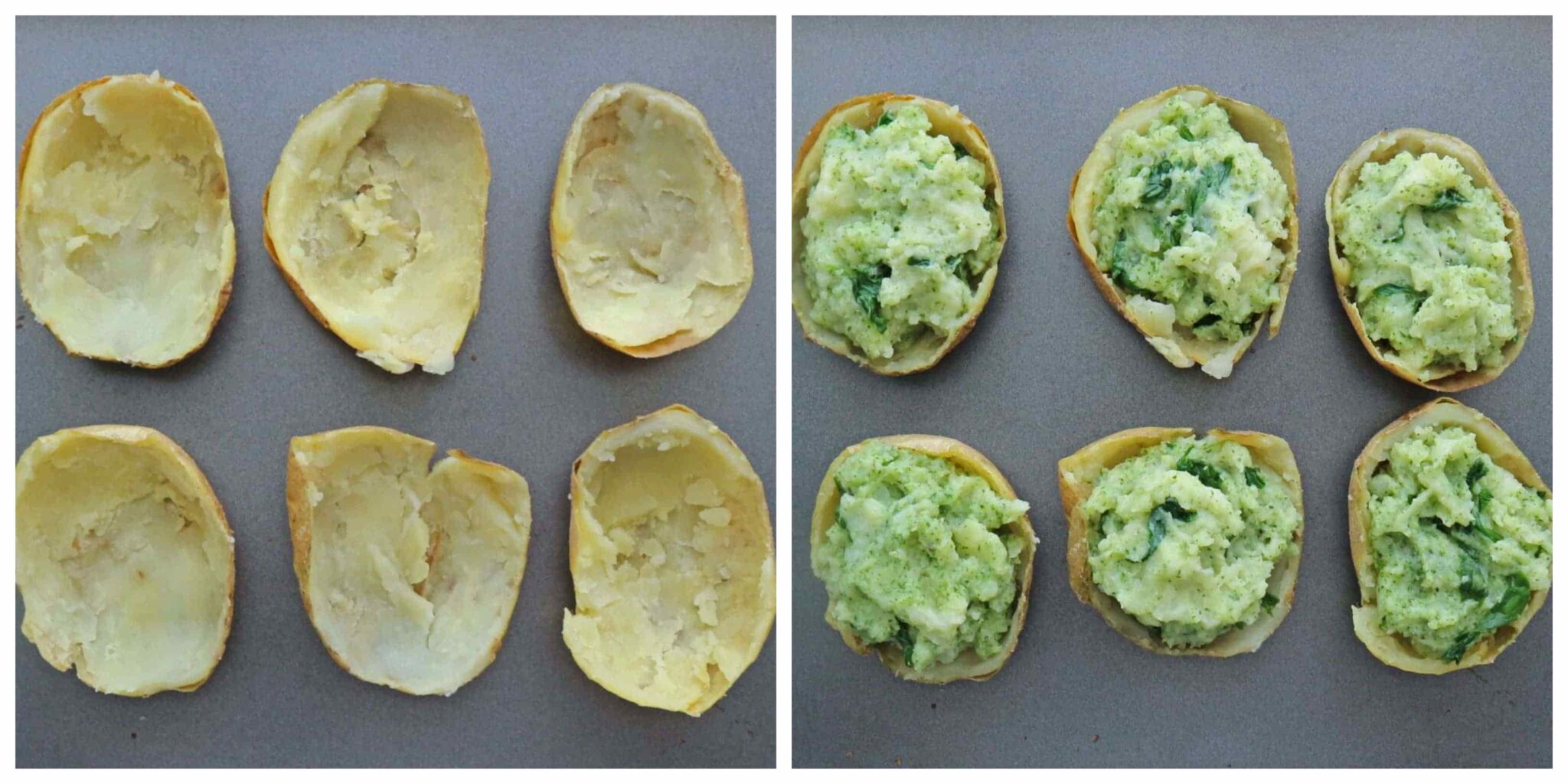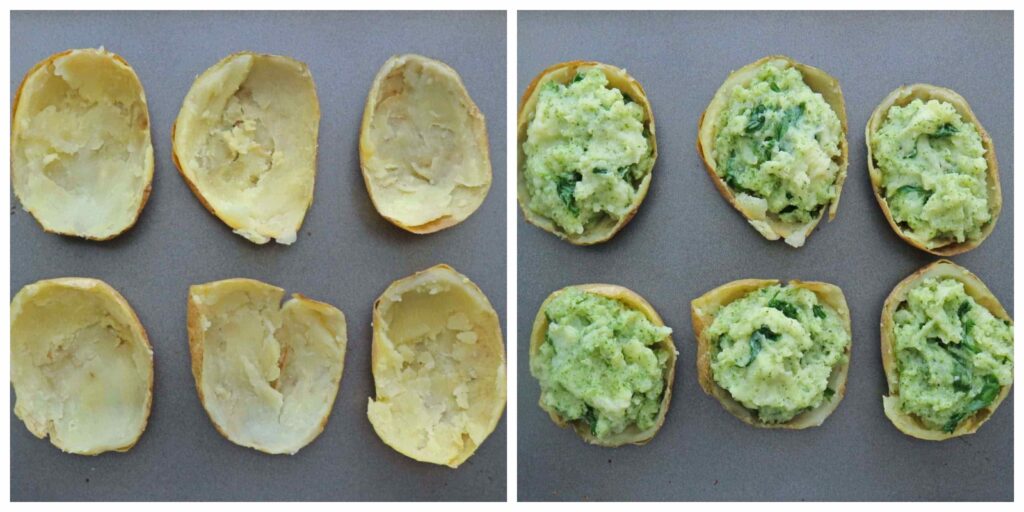 Scatter the top of the potato mixture with the grated Parmesan or Cheddar or both as we sometimes do!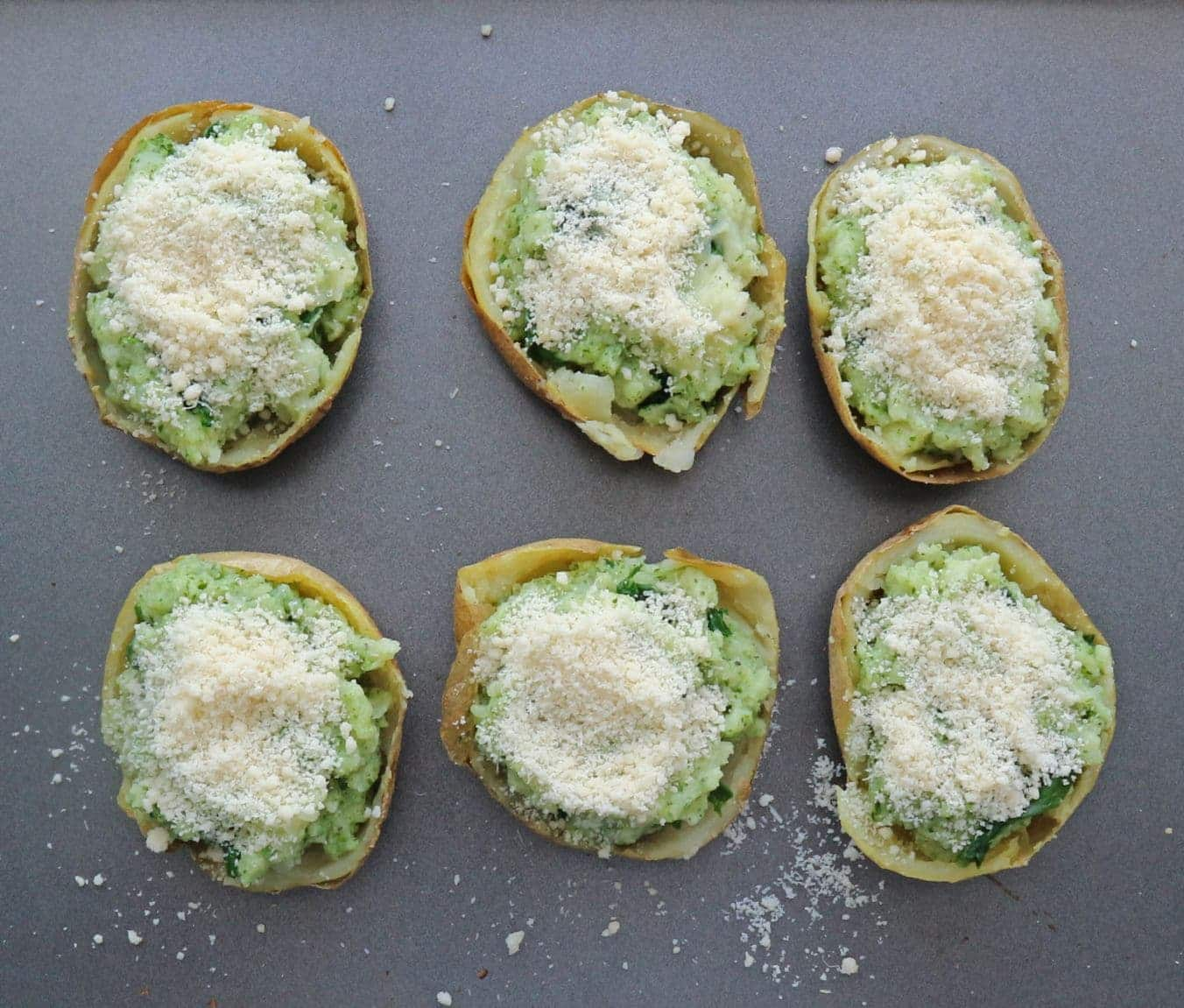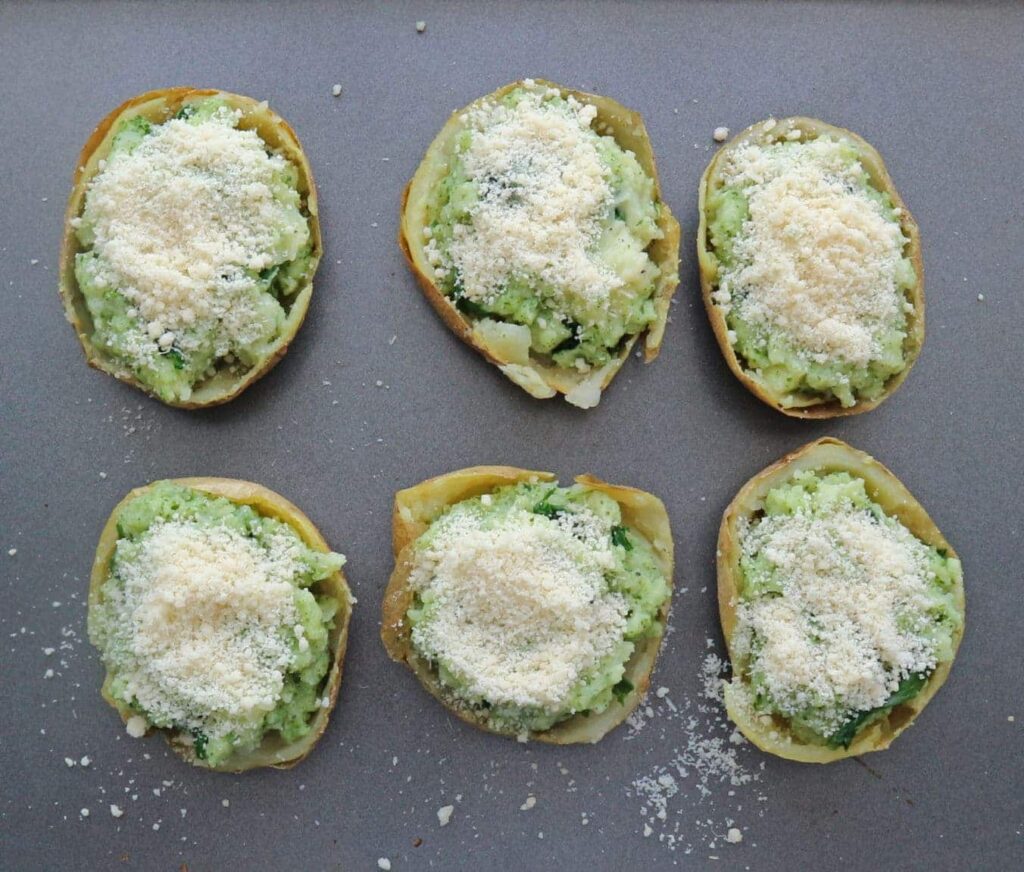 Place the baking tray under a hot grill/broiler and cook until the cheese melts, around 1-2 minutes depending on your grill.
Serve with mixed salad for lunch and/or extra vegetables for dinner.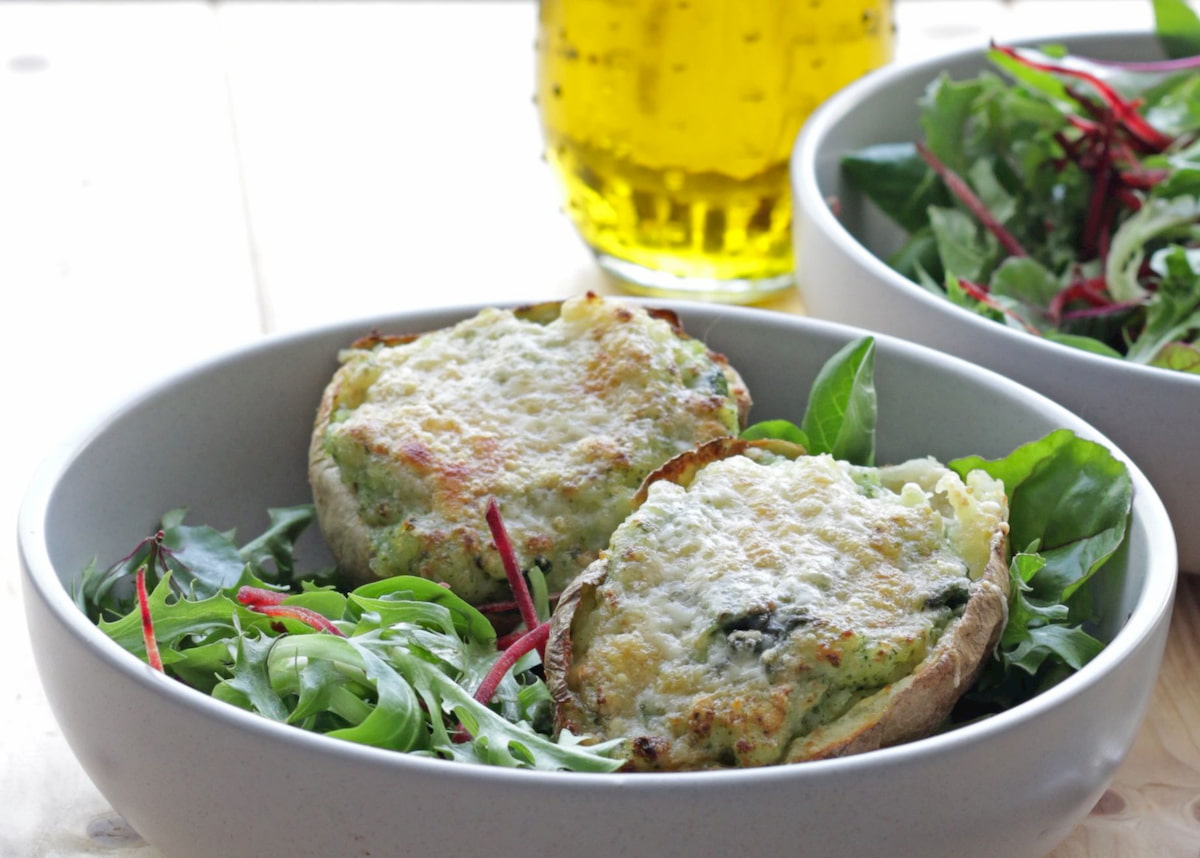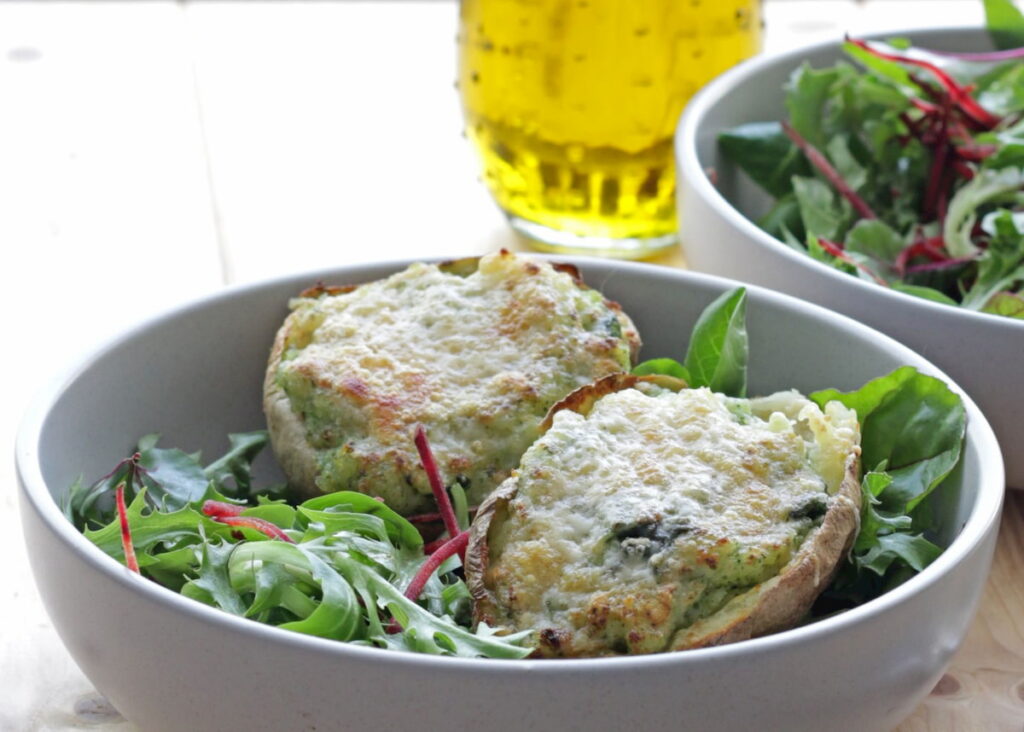 Recipe FAQ's
Can Cheesy Parsley Pesto Baked Potatoes be made in advance?
For the most part, but the potatoes are best baked when needed, although you can reheat if necessary. I find the potato is fluffier when just baked. The Parsley Pesto, however, can be made up to 2 days before and kept refrigerated ready to use. We also use frozen Spinach if necessary, but you will, of course, need extra time to cook the Spinach if from frozen.
Can I use any Pesto?
Yes. We used our own homemade Parsley Pesto in these oven baked potatoes, but there are many variations of pesto's and any, the traditional basil and pine nuts version, for example, would be just as delicious! And, of course, store bought pesto if you are in a time crunch.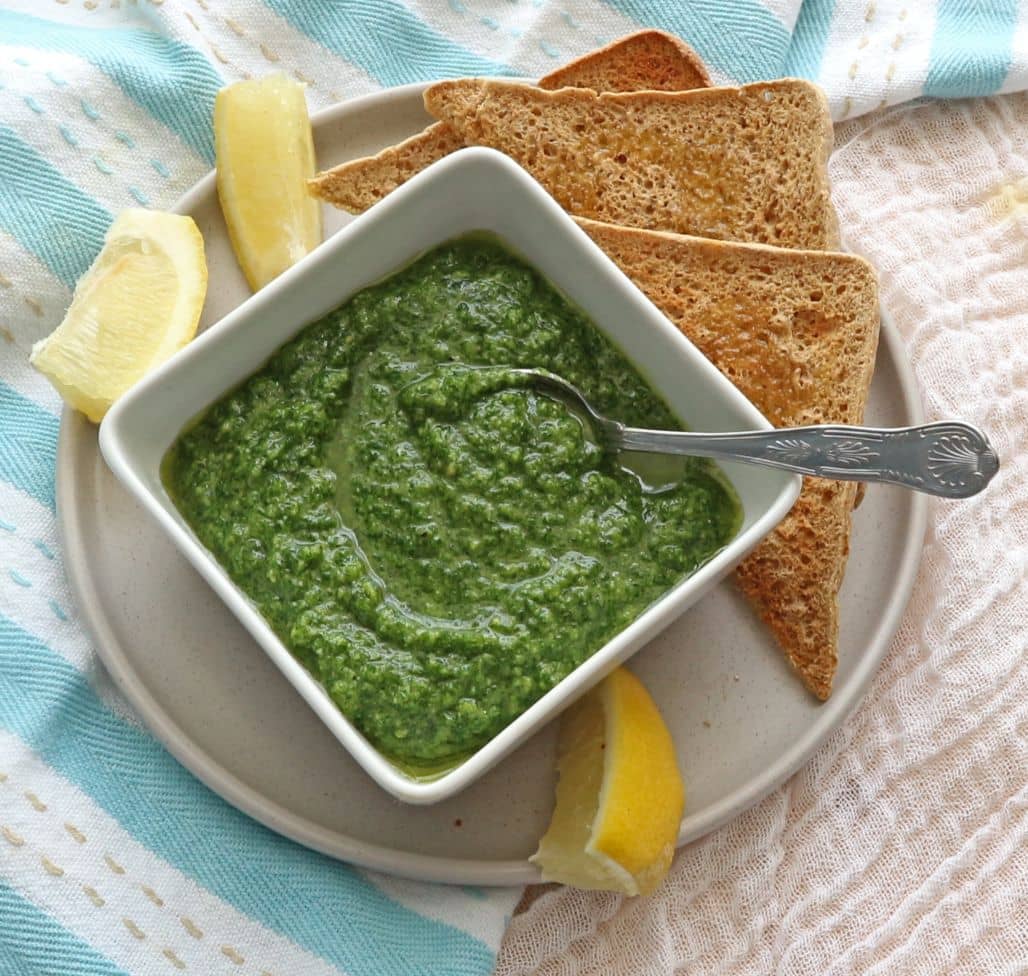 Are oven baked potatoes good for you?
As these potatoes are oven baked without any oil except for a small amount of butter to mash them, they are a good alternative to fried or oil roasted potatoes. You can also substitute the butter for a little milk to mash them with.

Potatoes have fibre-rich skins, we always eat ours, delicious too! A lot of nutrition can be found just under the skins of many fruits and vegetables.
Which potato is best for baking?
We buy specifically labelled baking potatoes but varieties such as Maris Piper or King Edward are both good. Any floury potato variety will give you a soft, fluffy potato.
How can I get a crispy skin on my oven baked potatoes?
- always place your potatoes directly onto the oven shelves, the potatoes will get baked evenly all round.
- don't wrap them in foil. This will just result in them being steamed from the inside essentially and this creates unwanted moisture on the skins.
Nutritional Info Links: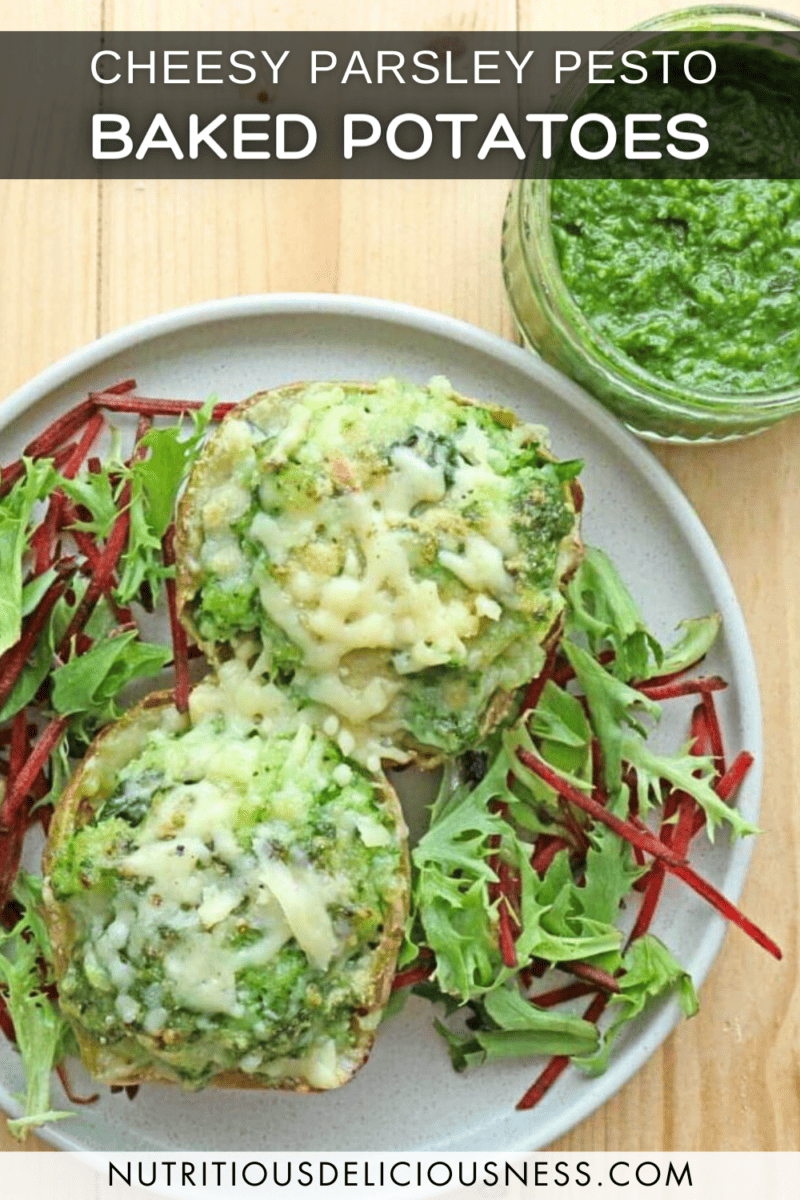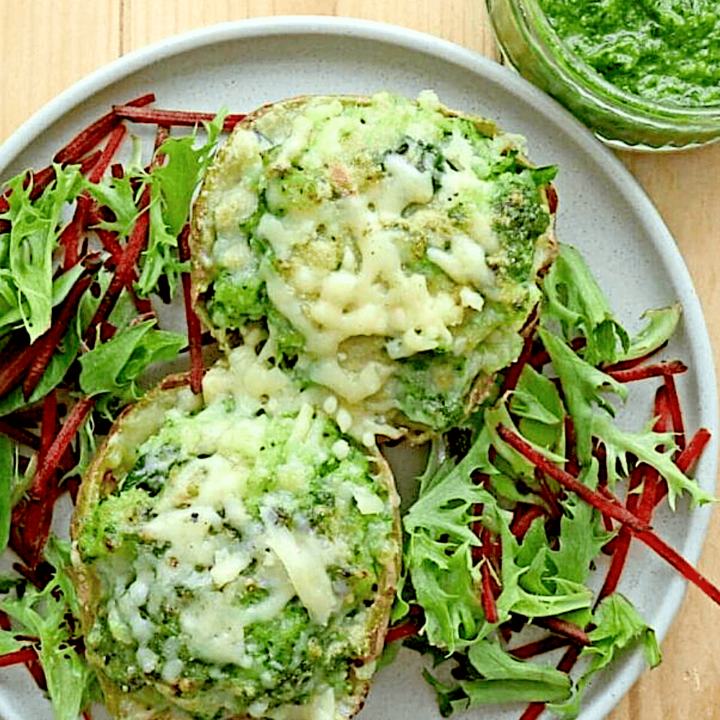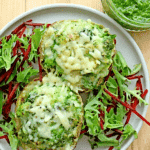 Cheesy Parsley Pesto Baked Potatoes
These Cheesy Parsley Pesto Baked Potatoes are great for lunch, dinner or just a snack. The wonderful flavors from the Parsley Pesto combine so well with the Spinach mashed baked potato.
Servings 3
Ingredients
3 medium-sized baking potatoes
2 cups fresh spinach leaves
2-3 tablespoons Pesto* see notes below
3 Tablespoons Parmesan cheese
1-2 tablespoons unsalted butter
½ tsp sea salt
½ tsp fresh ground black pepper
Instructions
Preheat your oven to 400°F.

Wash and scrub the potatoes, then pierce each one with a sharp knife or fork several times.

Oven bake for around 1 hour until crisp on the outside and soft and fluffy on the inside. Give them a little squeeze to check on them and if necessary give them another 10 minutes.

Remove the potatoes from the oven and slice each on in half lengthwise.

Scoop out most of the potato and place into a large bowl. Keep the scooped out skins to one side. Do not discard!

Place the skins on a small baking tray.

Add the butter to the potatoes and mash together until well combined.

Stir in your pesto* see notes below.

Then gently fold in the Spinach.

Stuff the pesto potatoes back into the potato skins.

Scatter grated Parmesan and/or Cheddar Cheese over each potato.

Place the baking sheet under a pre-heated hot grill for around 1-2 mins until the cheese has melted and lightly browned.

Serve with a crisp green salad or with baked.
Recipe Notes
*We used our homemade Parsley Pesto in this recipe but any Pesto will be delicious. This recipe really is a "adjust ingredients to suit your own taste"
Rate this Recipe
*Nutritional data is provided as a courtesy and is accurate to the best of my knowledge. You can verify it using the nutrition calculator of your choice. All data is based on net carbs, without sugar alcohol: Swerve, Erythritol, Monk Fruit or Allulose.
© Copyright for Nutritious Deliciousness. Please use the share buttons to share on social media, but please do not copy/paste the recipe.