This Coconut Almond Fruit Loaf combines butter with some coconut oil to make a deliciously moist cake. With the addition of ground almonds to boost healthy nutrients and a low-sugar content, it makes a lovely tea-time snack.
Coconuts contain trace amounts of some micronutrients, vitamins E & K plus a little iron. Coconut oil is high in lauric acid, a saturated fat that enhances the immune system through its antiviral and antibacterial effects. It is mostly made up of MCFA's (medium chain fatty acids) and is said to speed up metabolism and be good for your joints. It is a stable oil when used at high temperatures and easily digested. There are studies that show that lauric acid can increase your HDL (healthy) cholesterol and lower your LDL (bad) cholesterol.
Coconut Almond Fruit Loaf has butter and coconut oil and it is a great combination and along with the buttermilk content, made a wonderfully moist cake. If you cannot source buttermilk, just mix some fresh lemon juice with milk or use yogurt.
More recipes with coconut or almonds:
This recipe was originally posted in 2014 and now updated with coconut sugar.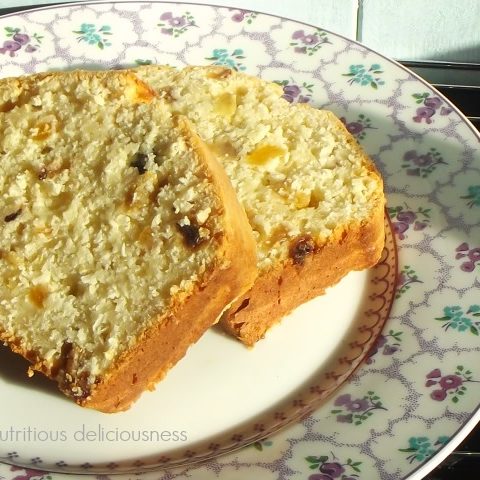 Coconut Almond Fruit Loaf
Servings 1 Loaf - 8-10 slices
Ingredients
75 g unsalted butter, softened
20 g organic virgin coconut oil, softened
zest of 1 lemon
1 tsp vanilla extract
85 g light soft brown sugar
2 large organic eggs, lightly beaten
200 g self-raising flour
2 tsp baking powder
70 g shredded/dessicated coconut
50 g ground almonds
200 ml buttermilk
150 g raisins, apricots, sultanas
or whatever your favourite mix is
Instructions
Pre-heat your oven to 160C, gas 4 & grease and line a large loaf tin.

Beat the butter and coconut oil with the sugar until creamy.  Add the lemon zest and vanilla extract with the eggs and gradually beat in.

Sift in the flour and baking powder and lightly fold into the butter/coconut/egg mixture.

Add the coconut, ground almonds, buttermilk and dried fruit and fold in until well combined.

Pour into the prepared loaf tin and bake for around 1 hour or until baked through (check with a piece of dried spaghetti, it should come out clean when ready) and golden brown.

Enjoy with a hot, steaming cup of tea.
Rate this Recipe
*Nutritional data is provided as a courtesy and is accurate to the best of my knowledge. You can verify it using the nutrition calculator of your choice. All data is based on net carbs, without sugar alcohol: Swerve, Erythritol, Monk Fruit or Allulose.
© Copyright for Nutritious Deliciousness. Please use the share buttons to share on social media, but please do not copy/paste the recipe.