Way back in the day before we had children and we were both commuting 5 days a week, every Friday and Saturday evening would find us in a restaurant for dinner, not wanting or having the inclination to cook.
Without fail back then I would always ask for a doggy bag and every restaurant would oblige happily and present me with my foil wrapped leftovers shaped like a swan or suchlike.  I haven't asked for one for years, these days the restaurant visits are fewer but I do still take home half of my cake or sandwich, etc as I usually cannot eat a whole one at one sitting (portion sizes are often huge!) and it is lovely to enjoy the rest with a cuppa later.
Sarah Wilson has written this very interesting article called A Note to Restaurants Owners about Doggy Bags which highlights Food Waste, something I am very keen to lessen here.  I really love the Foodie Bag box below but simply providing paper bags for customers to DIY their own leftovers rather than having to wrap in a paper napkin or 2 and find it all unwrapped at the bottom of my handbag is a fantastic idea, take a look at the innovative couple who provided these at their wedding buffet in Sarah's post, love it!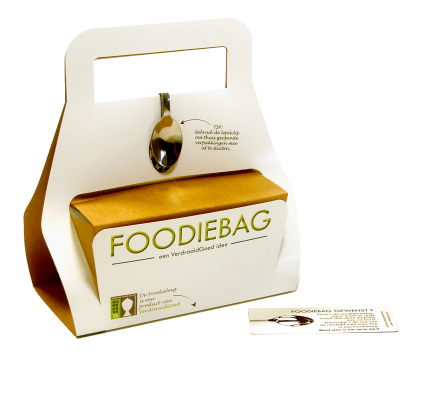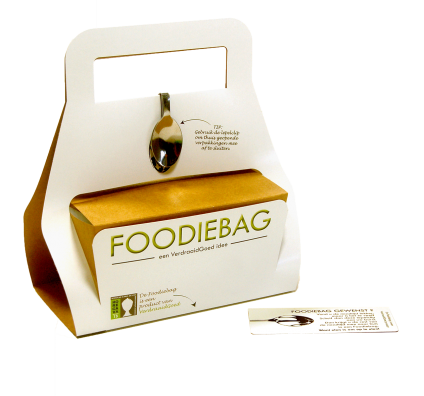 Image from verdraaidgoed.nl
Or take a look at the Doggy Box from Too Good To Waste where restaurants can purchase and supply to customers.  I would love to see these on show and not kept back in the kitchen, let the customer know it is ok to ask for a doggy box!
It's not just the food waste, we've all also paid for our food.  Miss ND likes a glass of milk when we stop for tea and I now ask for it in a takeaway paper cup as they always give her what seems to be half a litre (even though I ask for less) and will only drink maybe a third at that time but will happily finish it later.
Not every foodstuff lends itself to a doggy bag but so many do and in a bid to cut the vast tonnes of food waste we generate each year, asking for a doggy bag could go a long way to seeing that reduce, every little helps!
Have you ever asked for a doggy bag or does the embarrassment factor stop you?  Love to hear your views on food waste and taking your leftovers home!
..