This French Apple Tart (Tarte aux Pommes) consists of a store-bought puff pastry sheet which has a wonderfully crisp texture and a sweet buttery flavour. The puff pastry base is covered with smooth apple purée with apples slices arranged on top.
We are lucky to have four apple trees in our garden. They are beautiful when they blossom each year and they have been very prolific in producing some amazing fruit (except one year, see my post here on the weather saga).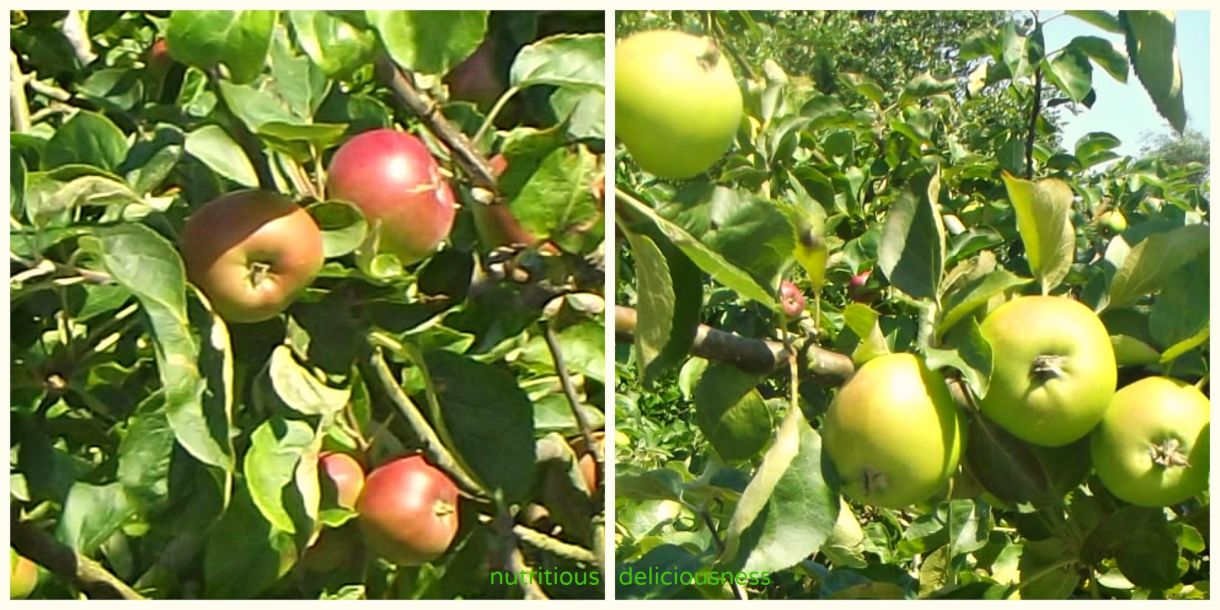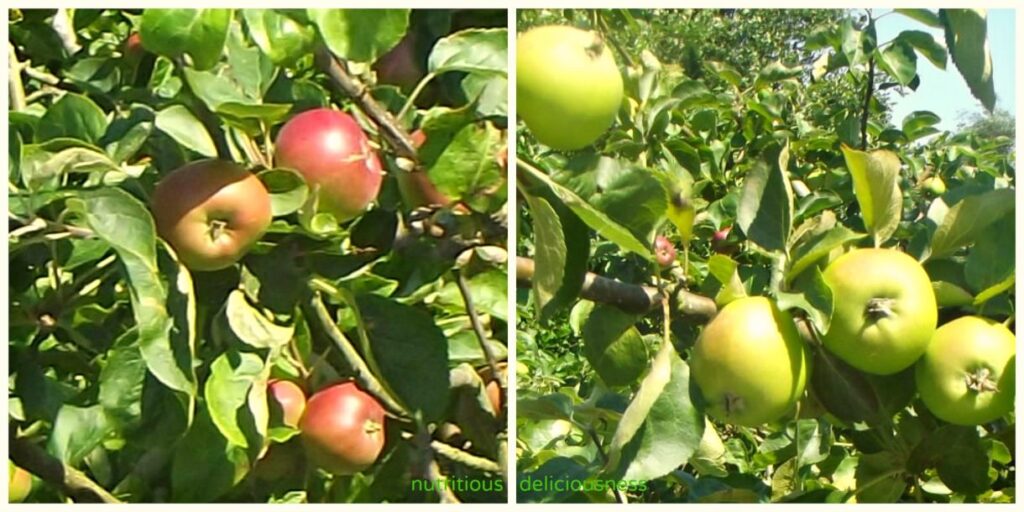 Every year we find ourselves baking and making like crazy from the end of August until the Autumn and stuffing the freezer with as many apple goodies as we can fit in. By October I'm all appled-out but it's lovely to be able to have access to the apples in the freezer in the winter and spring months when there are none on the trees.
What is a Bramley Apple?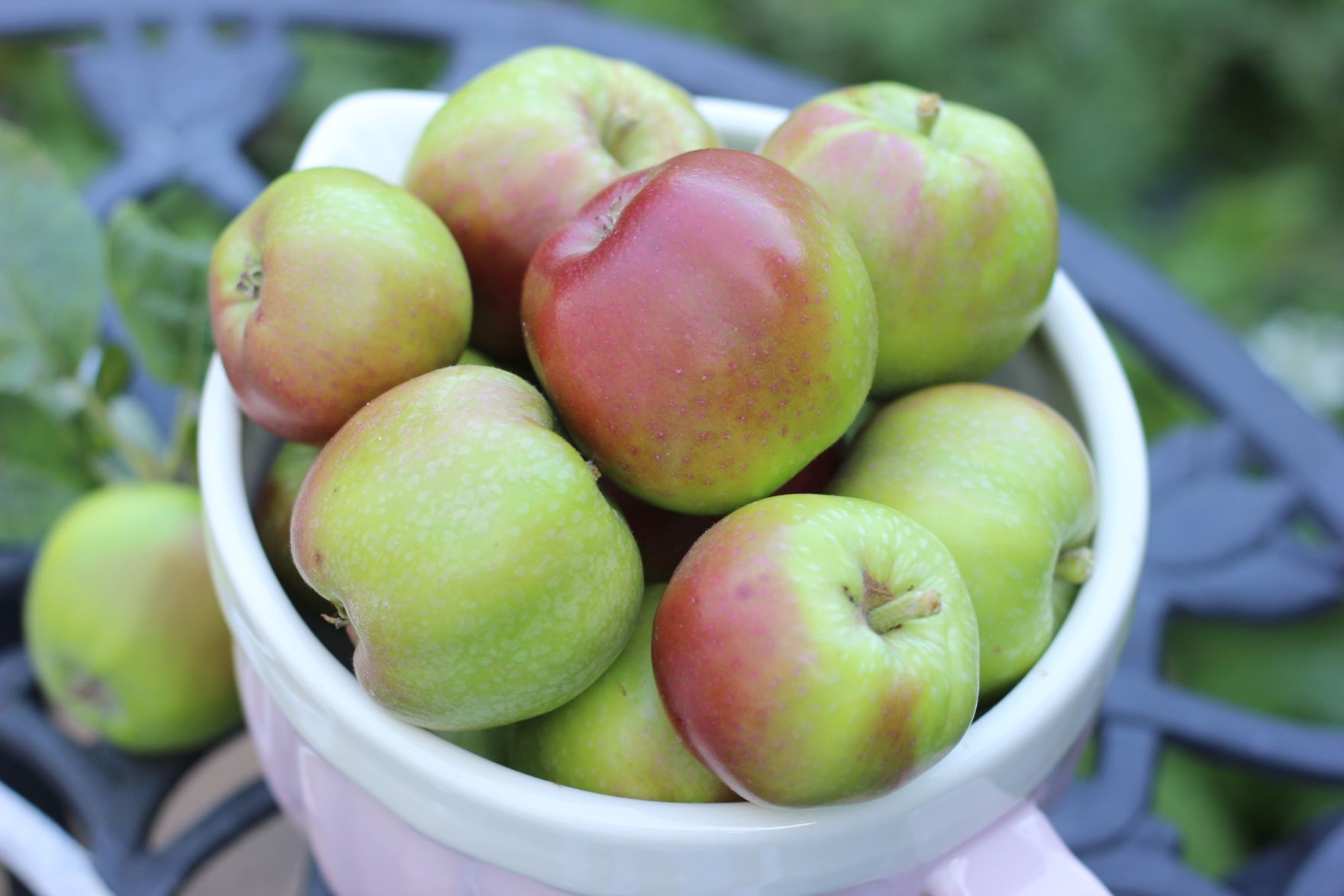 Bramley apples are large cooking apples. They are mostly green in appearance but also have a red blush from ripening in the summer sun. They are very juicy and acidic and are more sour than dessert apple varieties.
Apples are a good source of pectin which is a type of soluble fibre found naturally in apples.
Cooking apples can be used in a number of ways:
Sliced and stewed in a little water until soft and then mashed or pureed.
Use the stewed apple purée in desserts with natural yogurt or serve with custard.
Swirl through hot porridge for a delicious breakfast.
We use them in all apple cakes, add a little extra sugar of your choice if you prefer.
Bake them whole, no need to peel, just core and fill the cored hole with dried fruits.
Who doesn't love an apple pie or strudel or apple puddings.
It's not often I can get tree-ripened, truly organic, fresh from the tree, produce to cook with. It doesn't get better than that!
What you'll need to make French Apple Tart
Bramley cooking apples.
Store-bought puff pastry sheet.
Egg wash.
Butter.
Lemon juice.
Golden caster sugar or coconut sugar.
How to make French Apple Tart
Peel and roughly chop the 2-3 cooking apples.
Add a couple of tablespoons of water (more if necessary) to a pan with the chopped apples.
On a low heat, stew the apples until they are soft and broken down. Take off the heat and set aside to cool.
Unroll the puff pastry sheet, keeping the parchment paper it was wrapped in, onto a large baking sheet pan/tray.
Score a border of around 1 inch around the pastry. Prick the pastry all over inside the border with a fork. This will let any air escape and will prevent the pastry from puffing up where you don't want it to.
Brush the pastry with the beaten egg. Leave for a couple of minutes.
With the other 2-3 cooking apples, peel and slice, coat with lemon juice to avoid browning.
Beat the apple purée until smooth and spread all over the pastry leaving out the outer margin.
Layer the apple slices over the apple purée.
Brush the apple slices with the melted butter and sprinkle with caster sugar.
Bake for 25-30 minutes until the pastry is golden brown and the apples are soft and lightly golden brown.
Note: you can add more apple slices on top as they do shrink once baked if you like more fruit per bite.
Nutritional Info Links:
More delicious baking recipes: