I've been using various combinations of ingredients for these little sweet morsels, trying to keep the little girl's mind on healthy treats.   And with Valentine's Day at the end of the week, they also make a lovely gift for the one I love.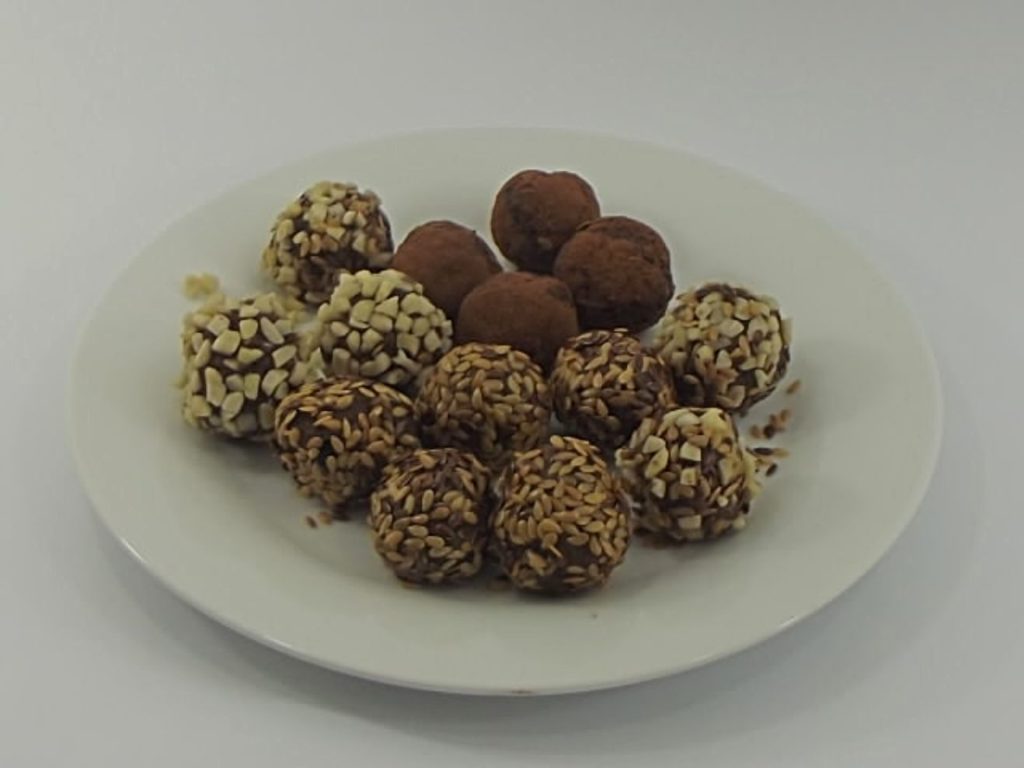 These are sugar-free, the dates gives them their super sweetness and the cocoa that soft chocolatey taste, the seeds and nuts are blitzed finely (or hidden in the case of the toddler) and the coconut oil makes these truffles silky smooth.   For children I would roll in a smoother coating such as ground almonds or coconut rather than chopped nuts.
Healthy Date, Walnut and Seed Truffles
Prep TIme:  30 minutes
Chilling Time:  20 minutes
Makes 20-24
 Ingredients
125g dates
50g walnuts
50g mix of sunflower, pumpkin, sesame, flaxseeds
2 tablespoons cocoa powder
1 tablespoon coconut oil
100g fresh blueberries
To finish: flaxseeds, cocoa, chopped or ground almonds,
chopped hazelnuts, coconut
Method
Soak the dates in warm water for a few minutes to soften, then blitz the dates, walnuts and seed mixture in a food processor until smooth.
Add the cocoa powder, coconut oil and blueberries and gently pulse until well combined. Place the mixture in the fridge for an hour to firm up a little.
Form into small balls and roll in coatings of your choice, see above for suggestions.
These truffles will keep in the fridge for a week, not that I've ever had to test out that theory!
Quick Nutritional Info:
Dates are rich in Polyphenols, a plant antioxidant that has a higher capacity to reduce oxidative stress.  An excellent source of Potassium, Calcium and magnesium, with a good balance of manganese, zinc, copper, iron and selenium.  Vitamin K and B complex.
Walnuts:  Good source of Potassium, iron and magnesium, plus B6  and omega 3 fats.
Cocoa Powder (unsweetened):  Phosphorus, magnesium, and calcium, flavenoids.
.