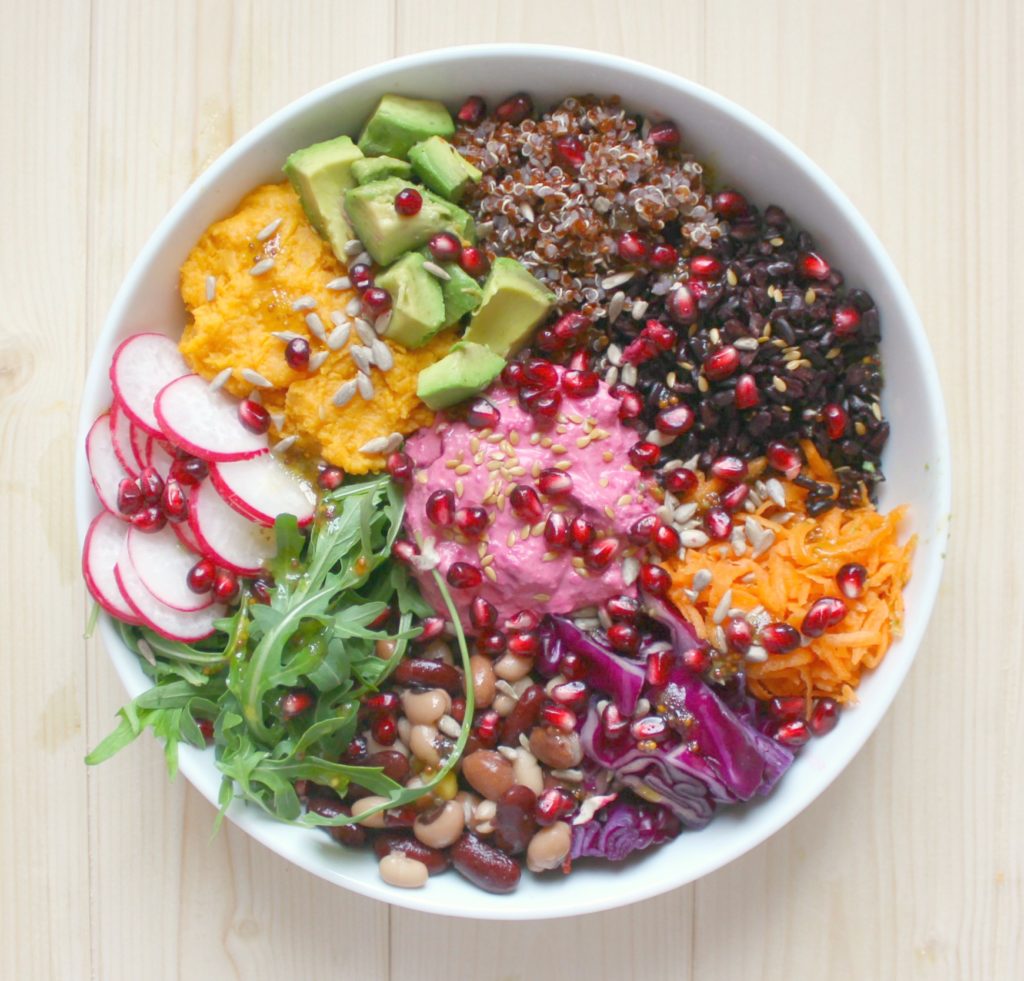 I absolutely LOVE eating food from a bowl, it seems to be a trend now but even if and when it wanes I shall still be eating from a bowl whenever I can! I've heard of so many names for the same thing, Power bowls, Abundance Bowls and so on.
What some don't realise though is that the bowls of delicious food they see all over the internet aren't just flung together, no, a bowl of food needs to be planned and the components prepared in advance for optimum ease of pulling it all together!
I do keep some things to hand in the fridge a lot of the time, e.g. cooked quinoa (to add to Miss ND's porridge for protein) and black rice which I love, but there are a lot of food items that can be sourced quickly like hummus, avocado, beans, etc to add good fats and protein to your bowl.
There are so many permutations, but it's important to balance your bowl of food with protein, carbs and good fats. Add in some colourful raw or cooked vegetables and for more texture, some nuts and seeds. Walnuts and Pumpkin seeds are my favourite combination. Hard boiled eggs and Avocado, another favourite too!
How to Build a Bowl: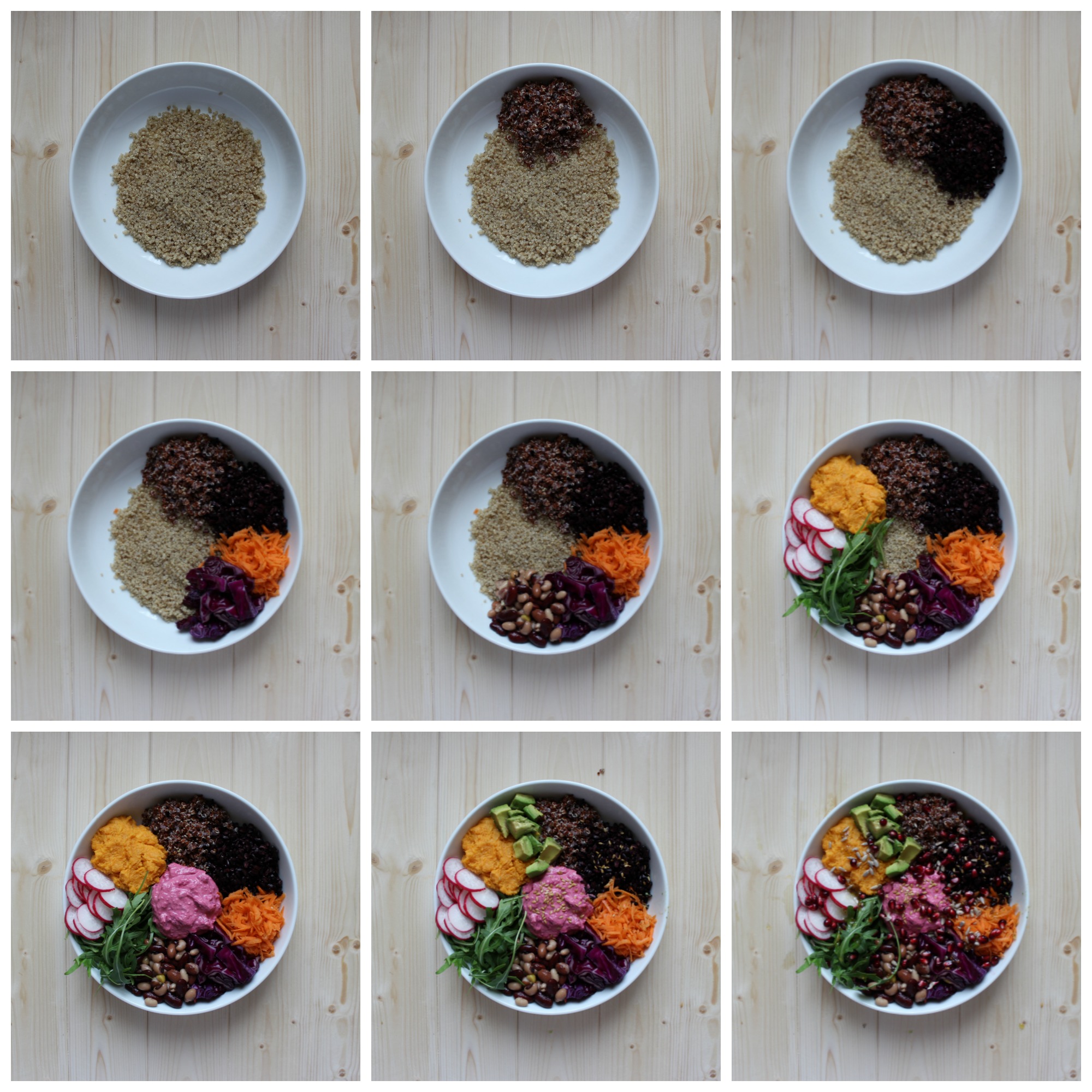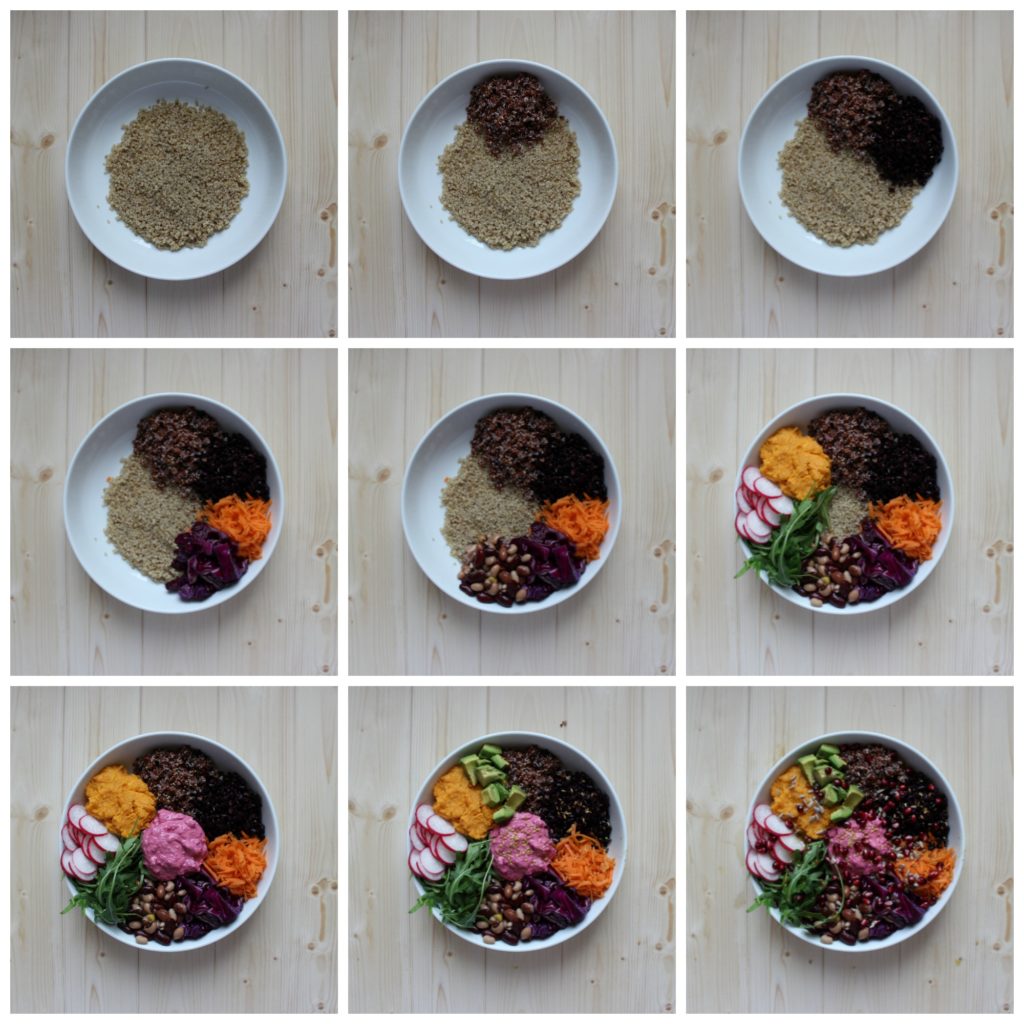 As mentioned before, forward planning is recommended, anything that can be cooked in advance and stored in the fridge is a time-saving bonus. For this particular bowl I used:
Cooked white Quinoa for the base. Protein-rich, quinoa contains all nine of the essential amino acids, making it a complete protein, plus anti-inflammatory phytonutrients, some omega-3 essential fatty acids and iron and zinc.
Cooked red Quinoa - red and black Quinoa have more health benefits than white because they have significantly more antioxidant content.


Cooked Black rice, provides the richest nutritional value, providing higher levels of vitamins, minerals and fibre of any rice and one of the highest levels of anthocyanin antioxidants!
Grated carrot contains a good source of beta-cartotene, vitamin K, potassium and antioxidants.
Red Cabbage Kraut, homemade and so easy to prepare.  It is a probiotic rich nutrient-dense superfood great for immune and gut health.
Beans!  Protein-rich and highly nutritious.  I used kidney, Borlotti and Black-eyed beans.
Radishes and Rocket leaves.  Take a look here for the nutritional benefits of radishes, truly amazing little salad vegetable.  And Rocket (Arugula) another nutrient-packed food, so many benefits read about them here too.
Cooked and mashed Sweet Potato - an excellent source of beta-carotene. Very good source of vitamin C, manganese, copper, pantothenic acid and vitamin B6 and a good source of fibre, potassium, vitamins B1, B2, B3 and phosphorus.
Avocado - another nutritional powerhouse, high in good, healthy omega-3 fatty acids, many essential vitamins and minerals, antioxidants and fibre.
Beetroot Hummus - homemade, chickpeas, tahini, olive oil, garlic. lemon juice and Beetroot!
Beetroot is an acquired taste, quite earthy but in hummus it totally works.  Beetroot contains magnesium, iron, potassium, iron, vitamins A, B6, folic acid and C.  Plus antioxidants due to it's vibrant colour and soluble fibre.
Chickpeas have a whole host of health benefits too, protein-rich, good source of folic acid, (veg) iron, zinc, copper, manganese and phosphorus.
And finally! A good few handfuls of Pomegranate seeds and a sprinkling of crunchy sunflower and flaxseeds over everything to finish off with a flourish.
Pomegranate seeds, loaded with vitamins B6, C, K, folic acid, phosphorous and potassium with very powerful antioxidant values.
Sunflower seeds - good source of vitamins B1,B3, B6, E, folic acid,manganese, selenium, phosphorus, copper and magnesium.
Flax seeds, I used golden this time, but also use brown.  Another excellent source of omega-3 essential fatty acids, vitamin B1, B6, iron, copper, zinc, manganese, magnesium, selenium, phosphorus and are high in fibre.
If you like a dressing on your food, try a tablespoon of olive oil and honey and a teaspoon of wholegrain mustard, mix and drizzle, delicious!
You only need a small portion of everything but all put together in a balanced bowl of food like this one, can give you health benefits in abundance!