I've been meaning to try out my Burger maker to make some Quinoa, Lentil Burgers for some time now, not enough hours in the day for everything I want to make! There are a few veggie burger combinations I have in mind so expect a few posts in the not too distant future!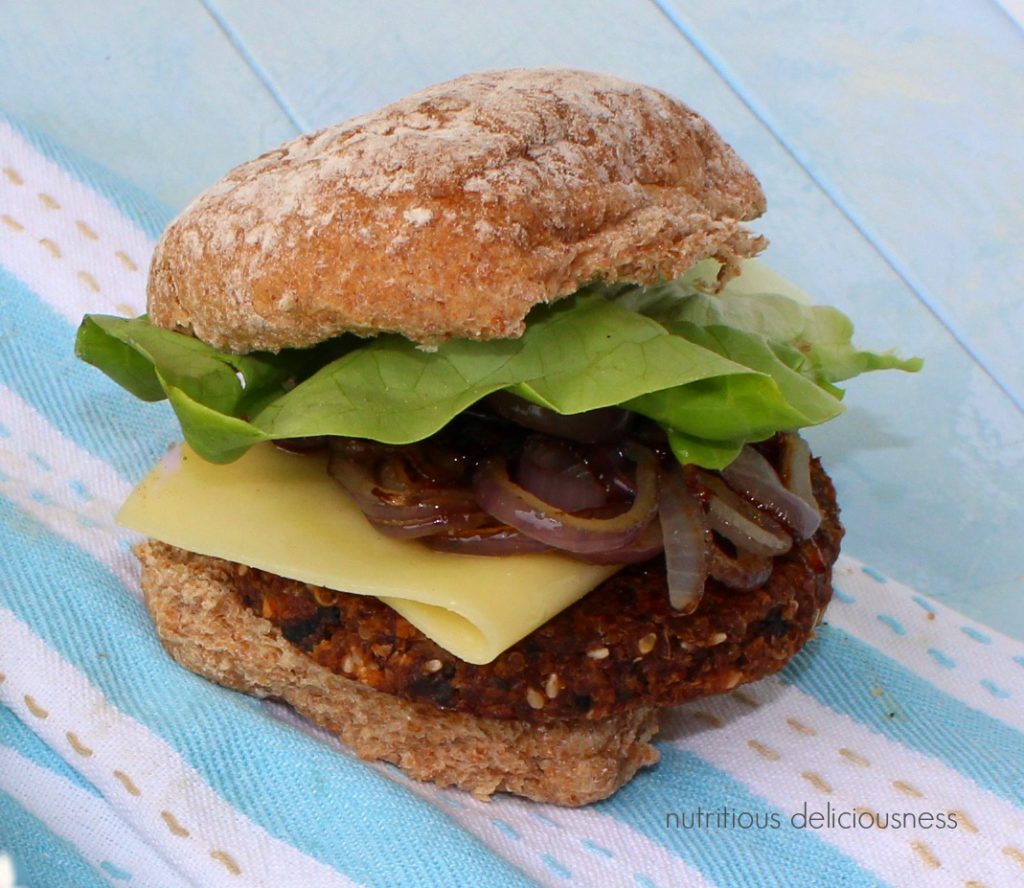 I really enjoy the whole burger experience, the patty, the soft bun, the onions, cheese, gherkins and French mustard, it has to be French mustard for me.
We haven't eaten red meat burgers since Mr ND became a vegetarian many years ago but I remember when I was pregnant I was craving burgers, the baby needed a burger, she got a full on Quorn burger that day made by Mr ND, I remember it well, strange how we crave when pregnant, our bodies way of telling us what we need.
So, for my first foray into making my own veggie burgers I have chosen Quinoa and Green Lentils as my base.  I love Quinoa, been using it for years, protein-rich and gluten-free it is a versatile addition.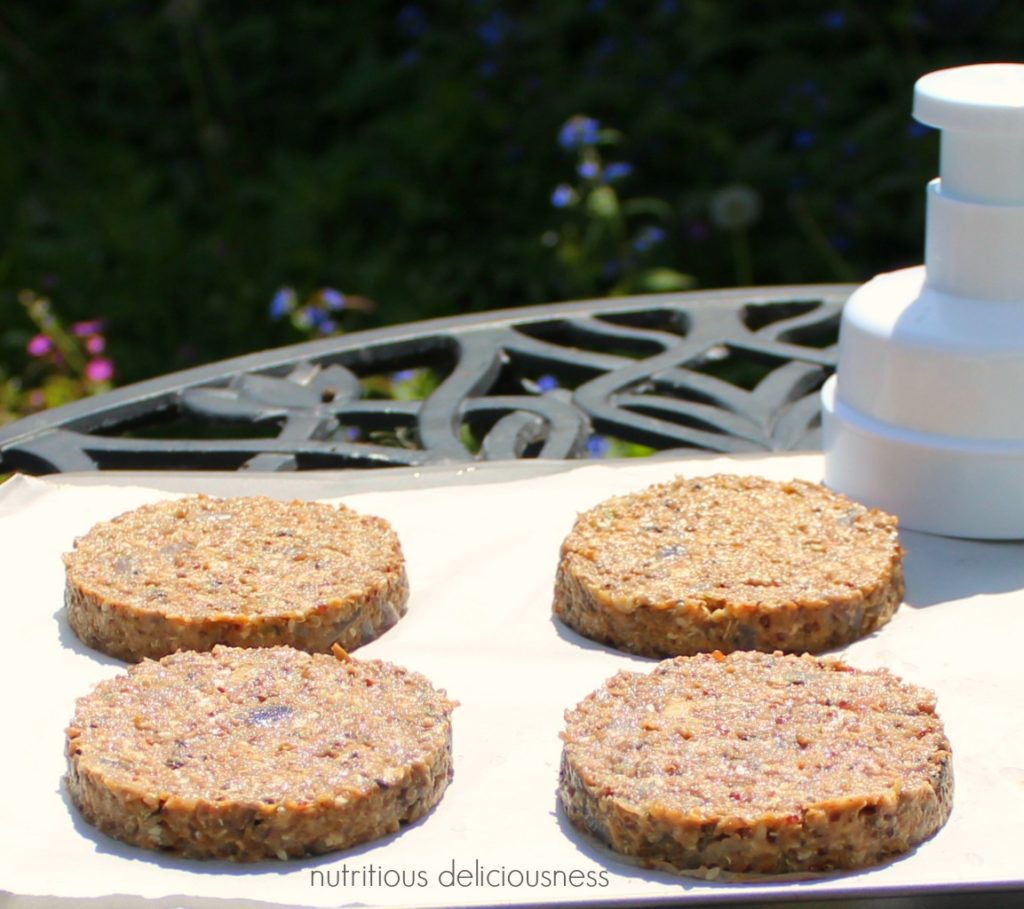 I've kept the Burgers quite simple but I can see other ingredients that will make it into future burgers such as walnuts, chickpeas, kidney beans, black beans, flaxseeds, etc.
Quinoa and Lentil Burgers
Prep Time:  30 minutes  :   Cook TIme:  5 -20 minutes
Makes approximately 5 large burgers
Ingredients
1 red onion, finely chopped
1 garlic clove, minced
150g Chestnut Mushrooms, chopped
400g Green Lentils (I used tinned)
60g Quinoa, cooked
1 tablespoon Tomato purée
1 medium egg, beaten
5 tablespoons oats
Paprika and Cayenne to taste
Parsley to taste
2 tablespoons sesame seeds
Salt and Black Pepper to taste
Method
Gently sauté the red onions and garlic for a few minutes then add the mushrooms and cook for a further 2 minutes or until soft.
Drain the Green Lentils and rinse, put into food processor along with cooked Quinoa, Tomato purée, beaten egg, salt and black pepper.  Pulse ingredients until you have the consistency you want.  For the next Quinoa burger I make I may just add the Quinoa to the bowl rather than the food processor for a little extra texture, remember this is my first one!
Pop the mixture into a large bowl and add the oats, use as many tablespoons as needed, 5 was about right for mine, Paprika, Cayenne, Parsley and sesame seeds, mix well.
Refrigerate for an hour or so or overnight to firm up a little.  I baked mine for 15 minutes so stop them from breaking up when I fried them off after but next time I will probably use either more oats and/or some wholewheat flour.  But with careful handling I got perfect, unbroken burgers!
Once you have the base burger mix done, you can separate it up and customise the burgers to everyone's taste if need be.   Extra chilli flakes and maybe Pumpkin seeds for me!   This batch made 5 really decent sized burgers and 1 little one for a little one to try.   Easily freezable too,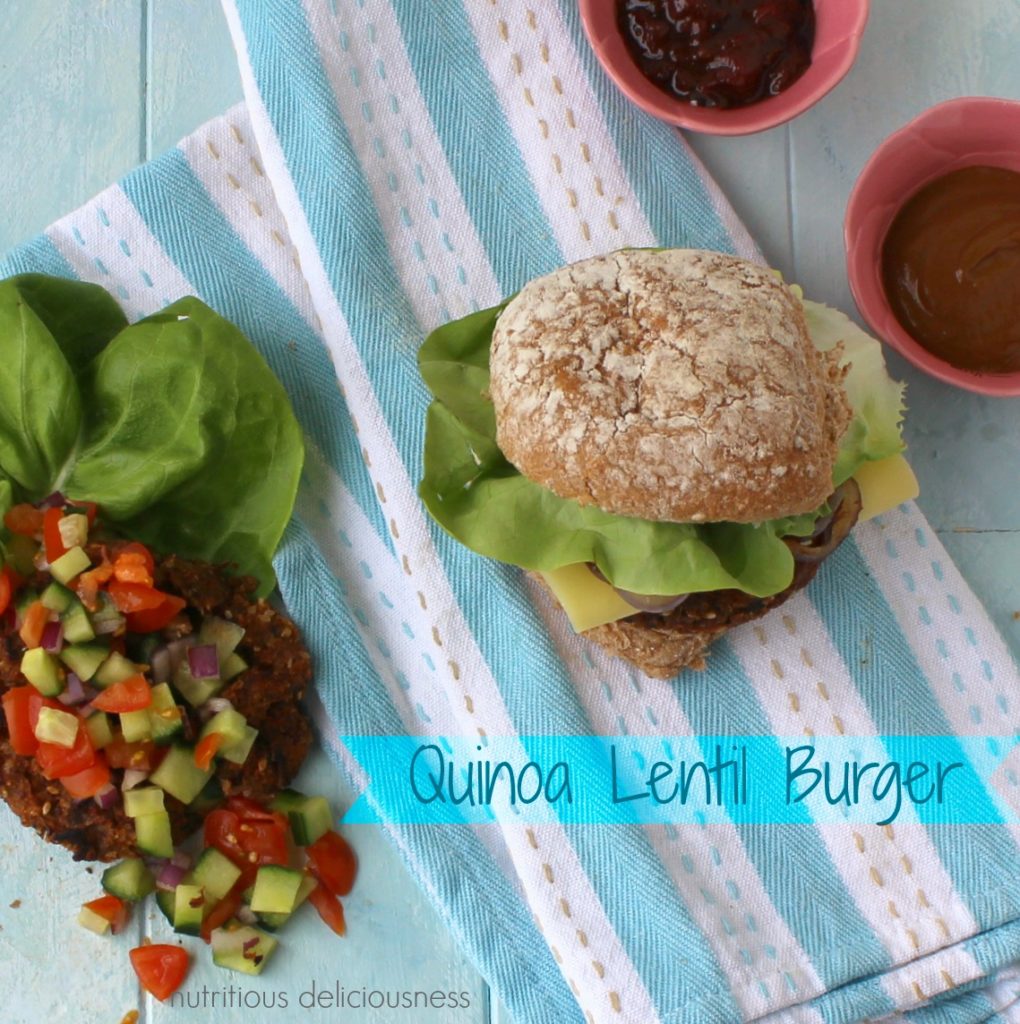 Serve in a bun of your choice or between Lettuce leaves garnished with homemade salsa for a gluten-free version.
 | Facebook | Twitter | Pinterest | Instagram |