These easy, healthy 4-seed crackers are loaded with goodness. They are wheat-free, gluten-free, dairy-free, low-carb and vegan. The crackers are lovely and crisp, they won't disintegrate when dipping.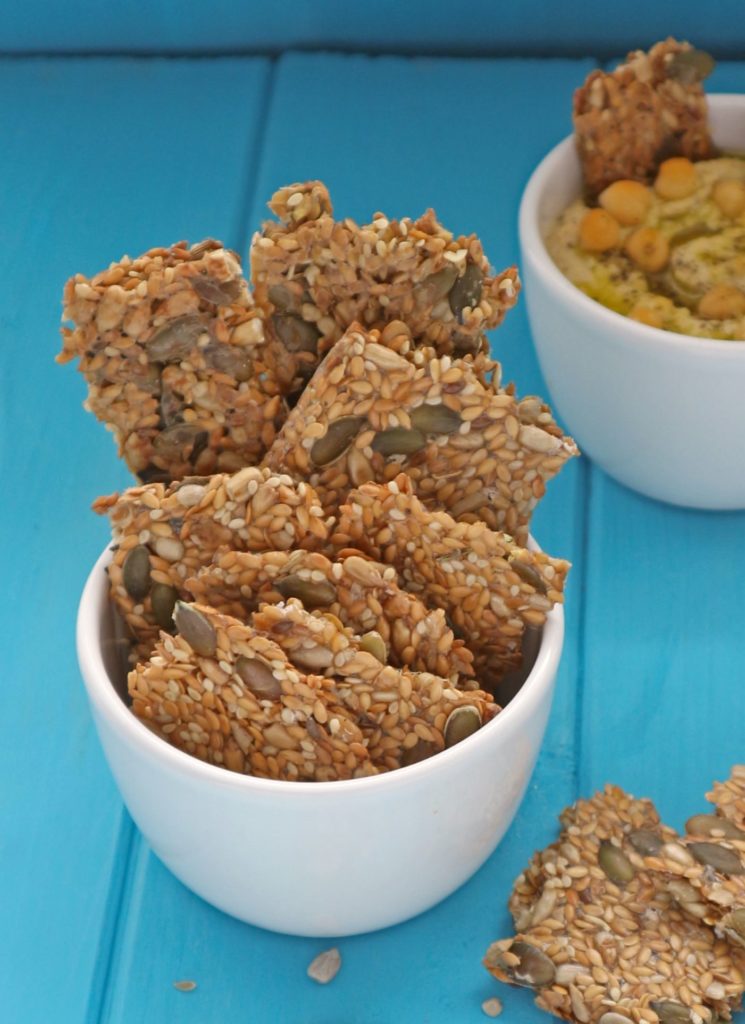 Jump to:
Why make your own?
When you make your own, at least you know what's in them, simple as that. No fillers, no preservatives or unpronounceable ingredients! You can also customise your crackers to your liking or health concern, adding your favourite herbs and spices.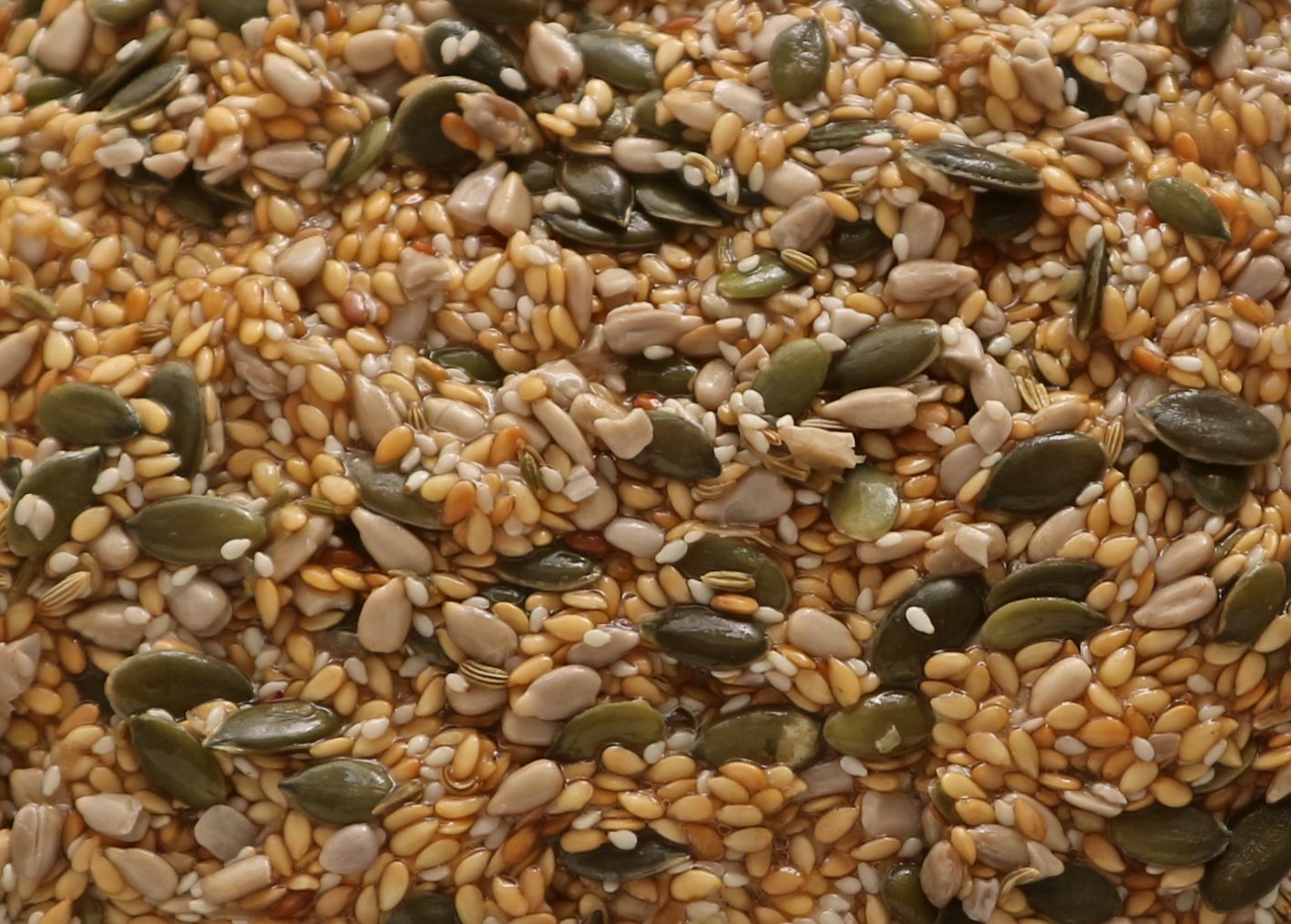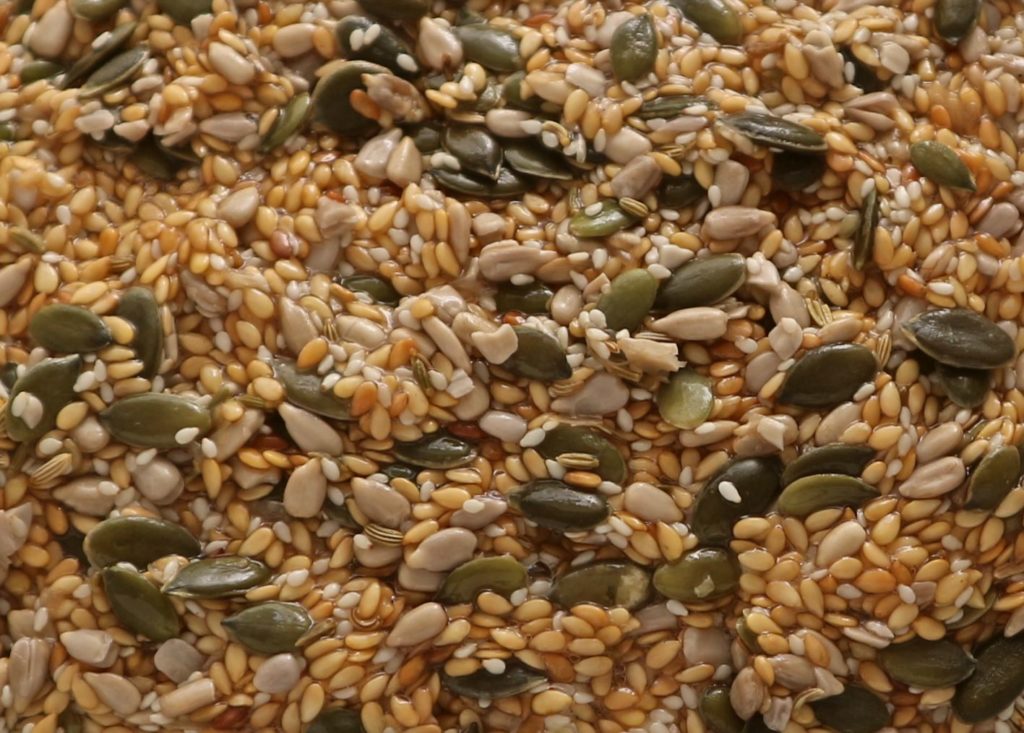 What's in 4 Seed Crackers
I keep mine fairly simple, I like the combination of Flaxseeds (Linseeds), Pumpkin seeds, Sunflower seeds and Sesame seeds. This combination gives you omega-3 fats from the Flaxseeds (Linseeds), Zinc and Magnesium from the Pumpkins seeds, B vitamins from the Sunflower seeds and calcium, iron and vitamin E from the protein rich Sesame seeds. For a more detailed nutritional profile of all the seeds see the nutritonal info links at the bottom of this post.
The crackers are seasoned with a teaspoon or two of sea salt and some black pepper. Add in any herbs and spices of your choice.
Do I Need to Prep the Seeds in Advance?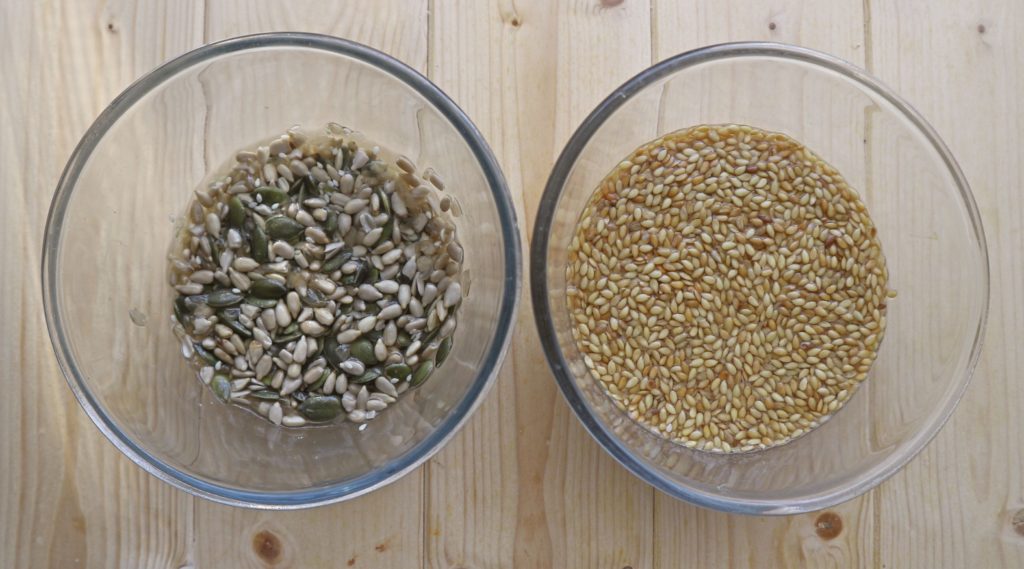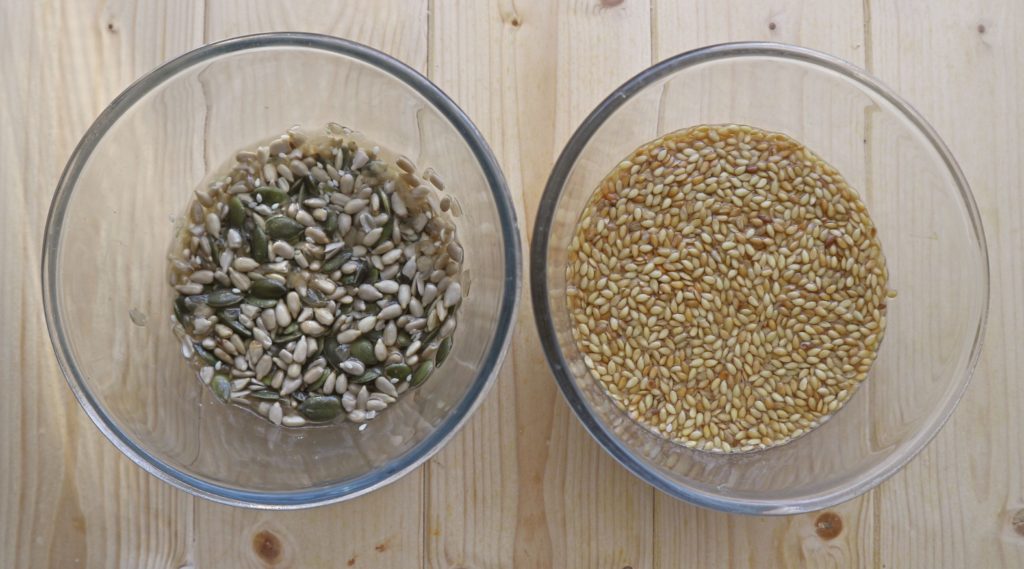 The seeds should be soaked for at least 2 hours, I usually soak them overnight though. The Flaxseeds do need to be soaked separately from the Pumpkin, Sunflower and Sesame as we need to rinse those out. The Flaxseeds need no rinsing as you want to retain the gelantinous quality which binds the seeds together once combined.
How do I prepare the Crackers?
Once you have rinsed the Pumpkin, Sunflower and Sesame seeds, they are combined with the Flaxseeds and mixed thoroughly. Add in your seasoning and herbs/spices at this stage and make sure all are mixed in well. One of my favourite additions is fennel seeds.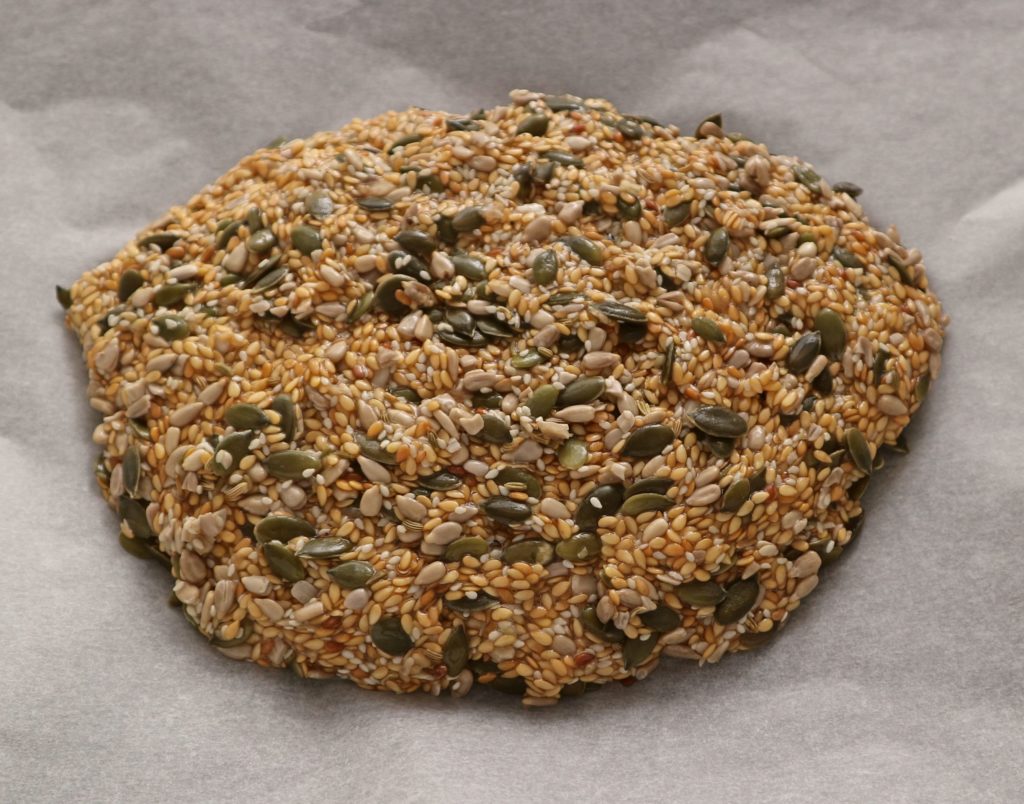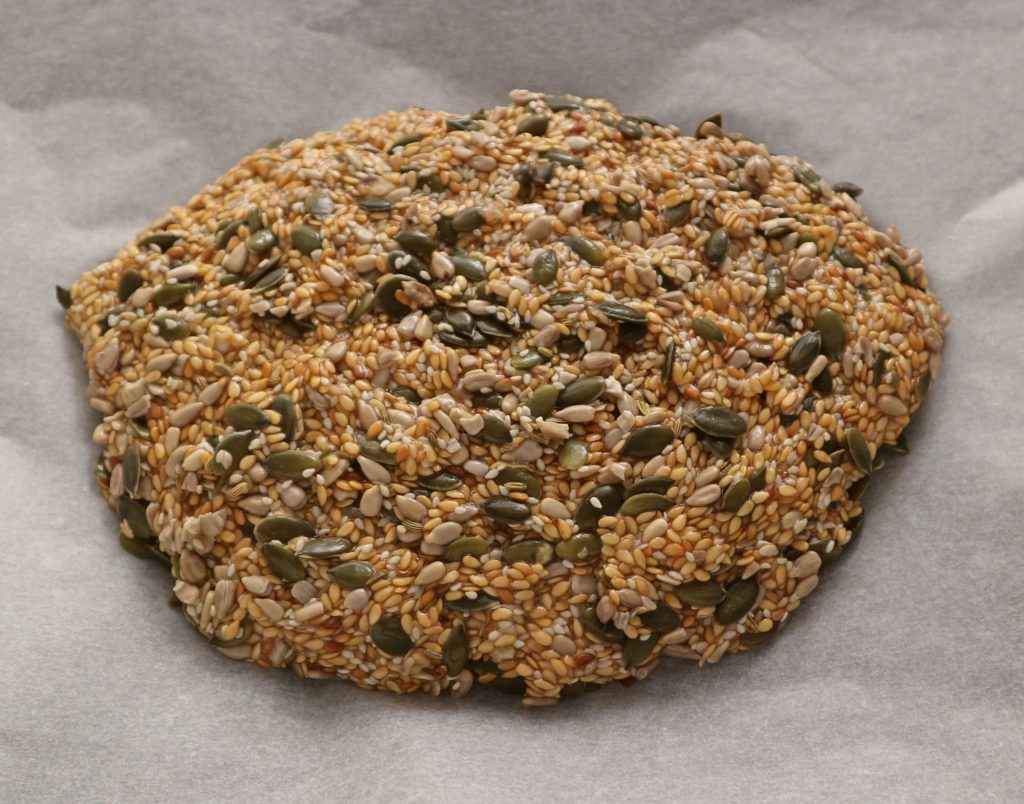 The mixture can then be placed onto a baking tray and the surface smoothed out to your desired thickness. If you like them thin, keep them less than ¼"/5mm. A touch thicker are great for scooping up hummus though.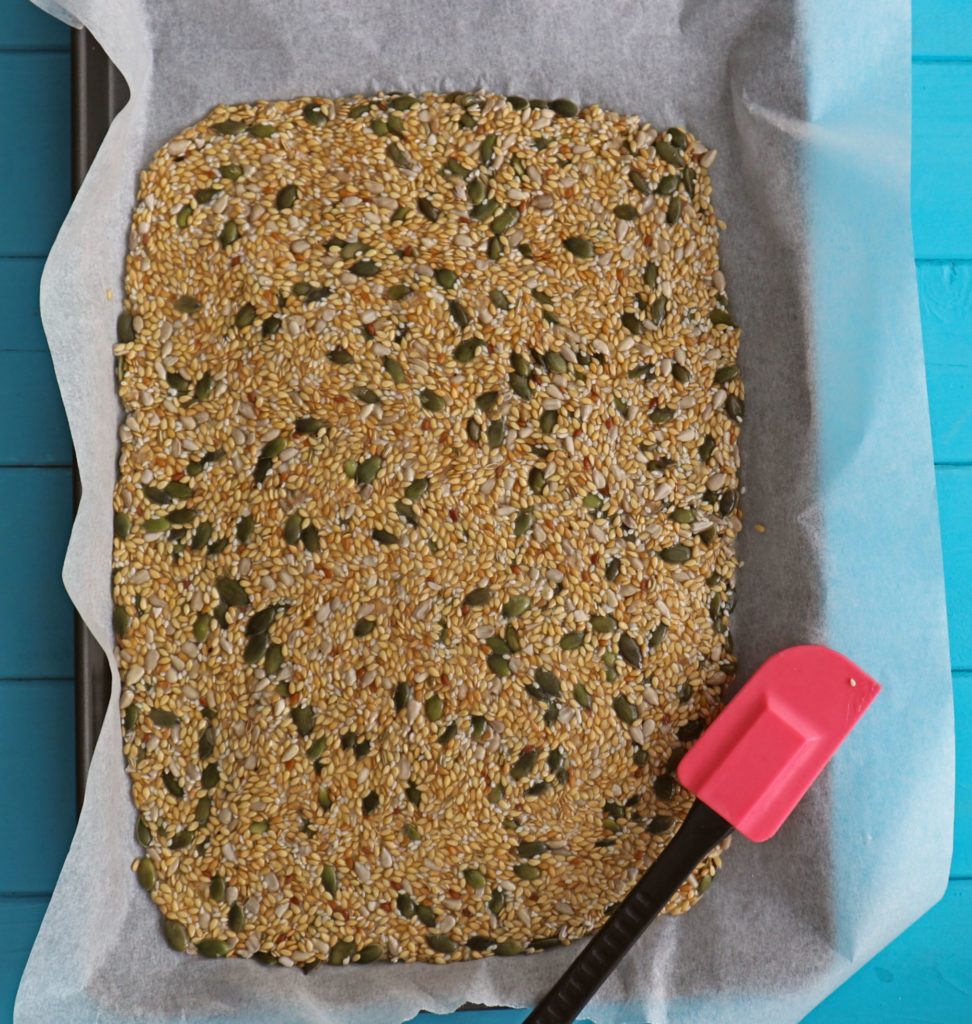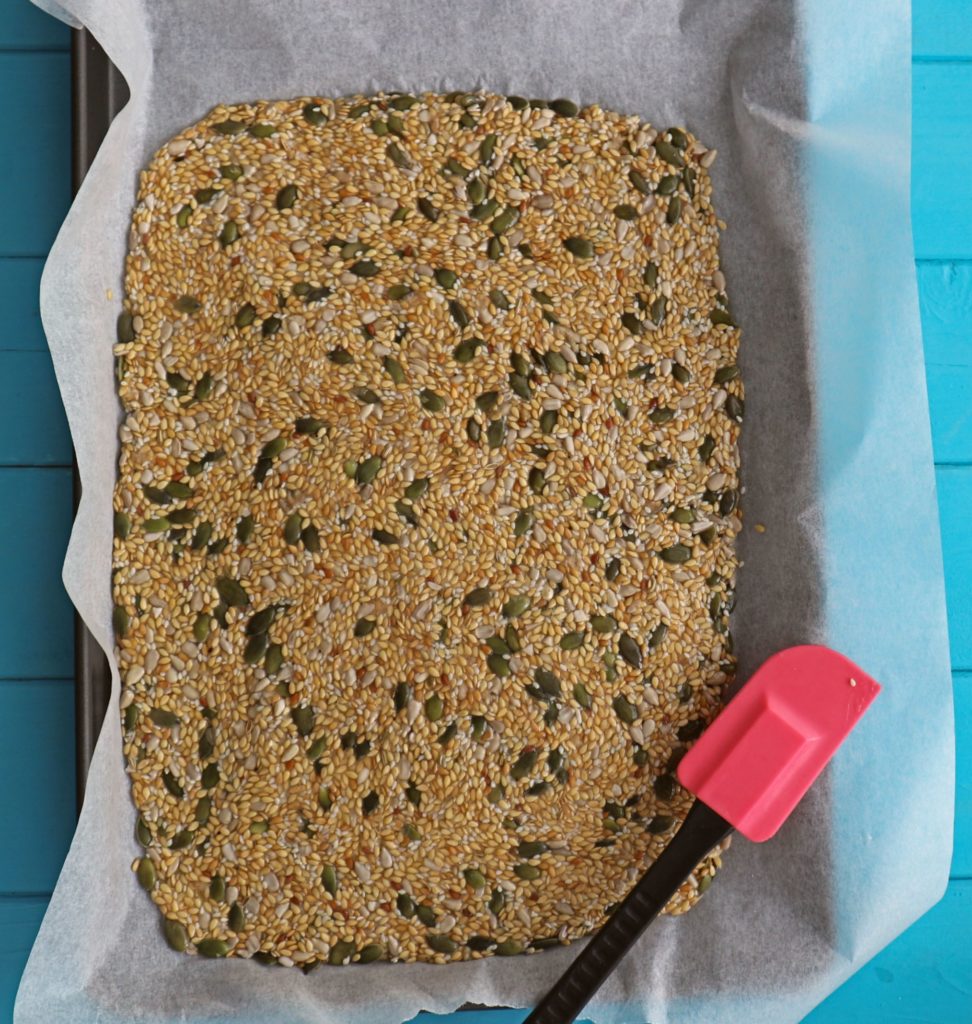 You can also score the seed mixture with a knife so that they break into more uniform shapes. I quite like snapping the crackers into random, uneven shapes.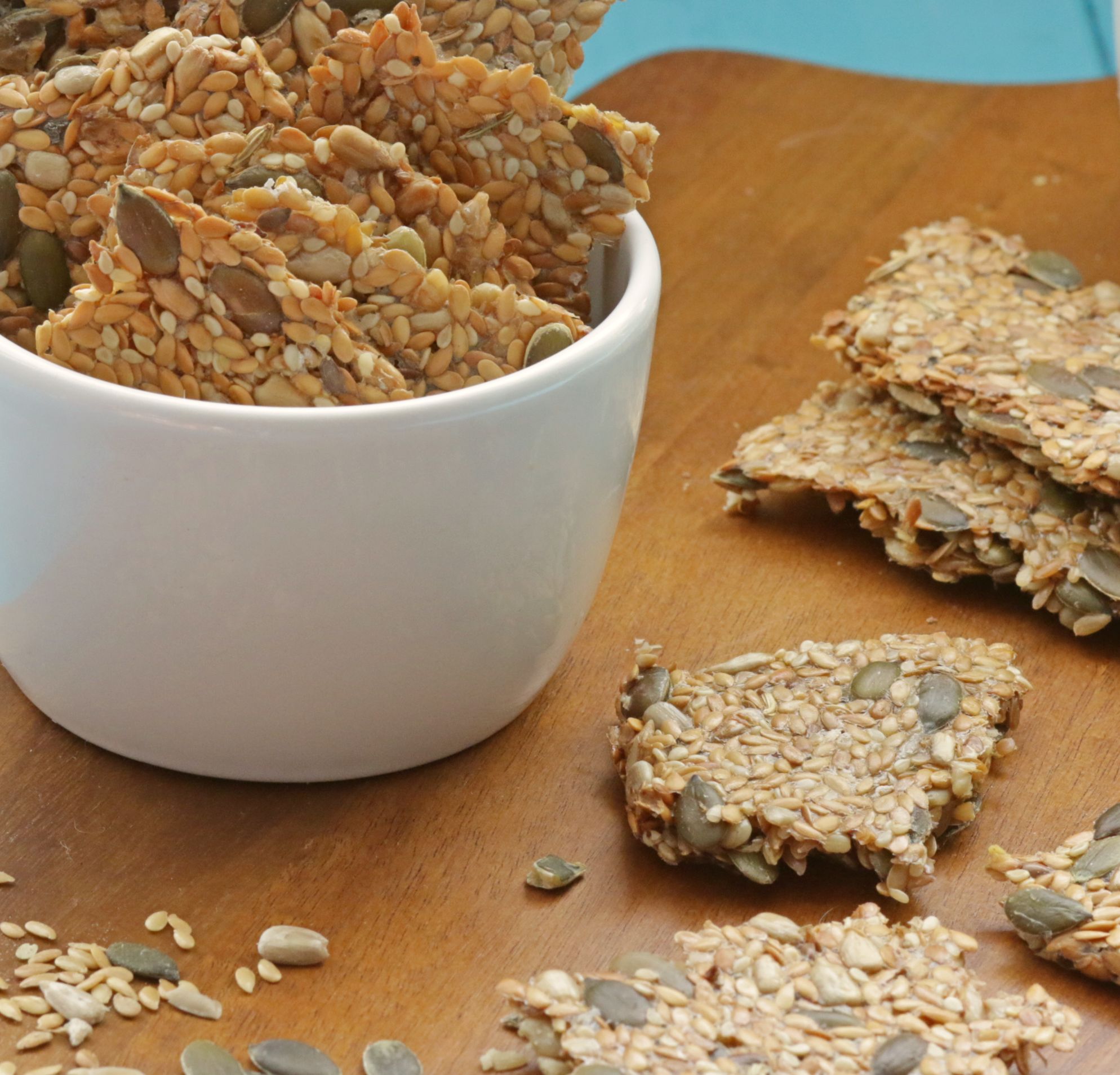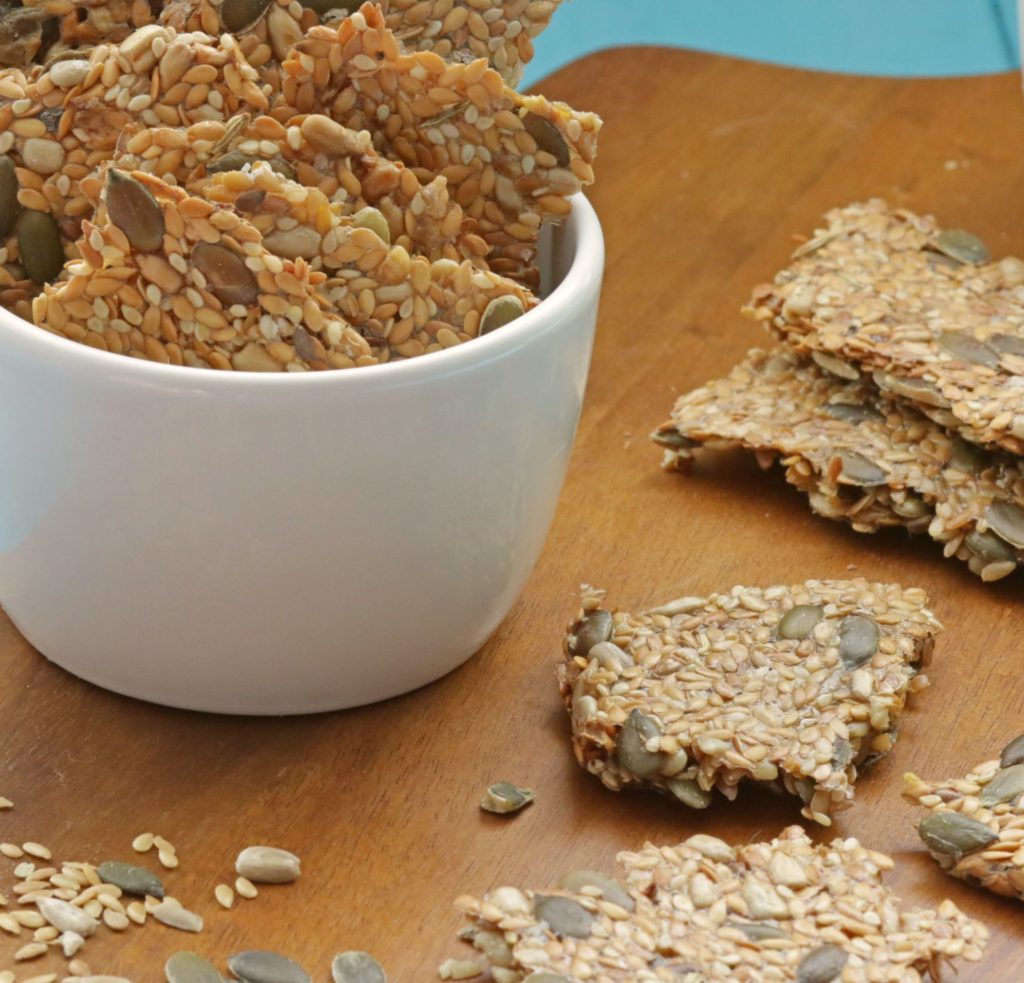 The crackers are baked initally for 1 hour, then removed from the oven and if stiff enough, you should be able to flip the sheet over and peel off the parchment paper to expose the underside of the crackers. Put back into the oven for another 30 minutes. They are ready when they are firm, golden round the edges and have turned into a crispy, crunchy cracker. Allow to cool, then break up as you like. I do some small and some longer, thin ones for dipping.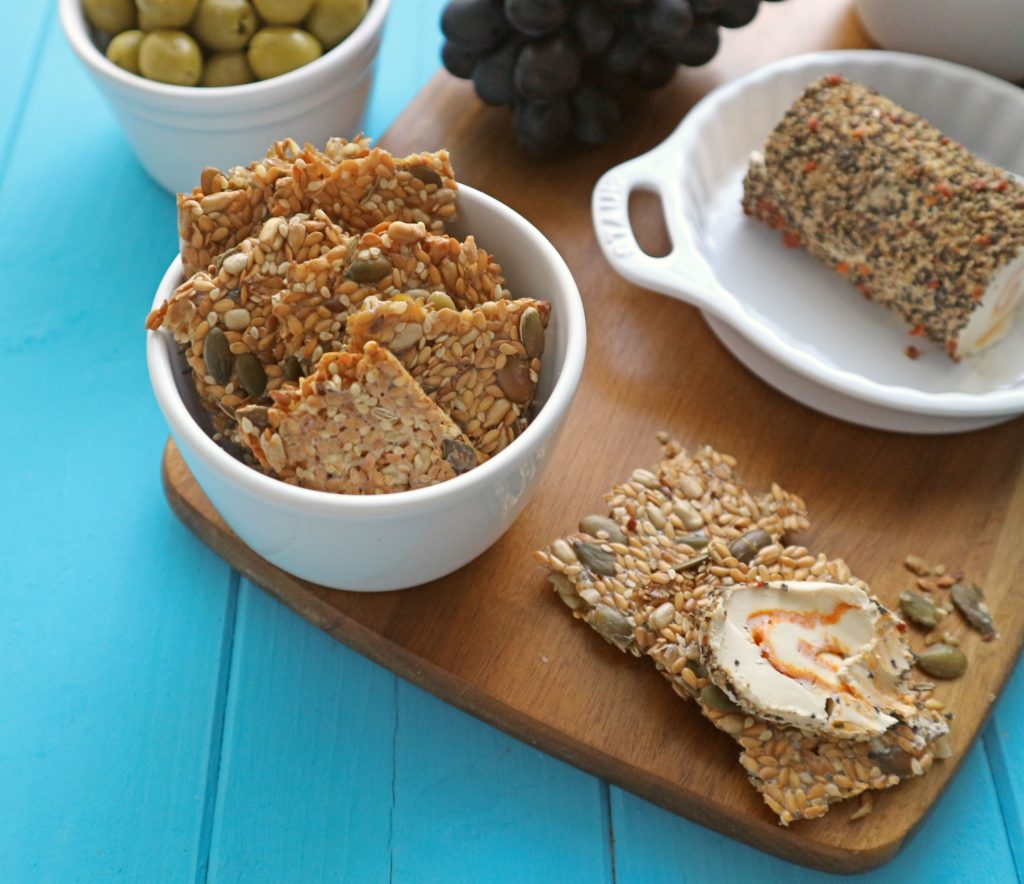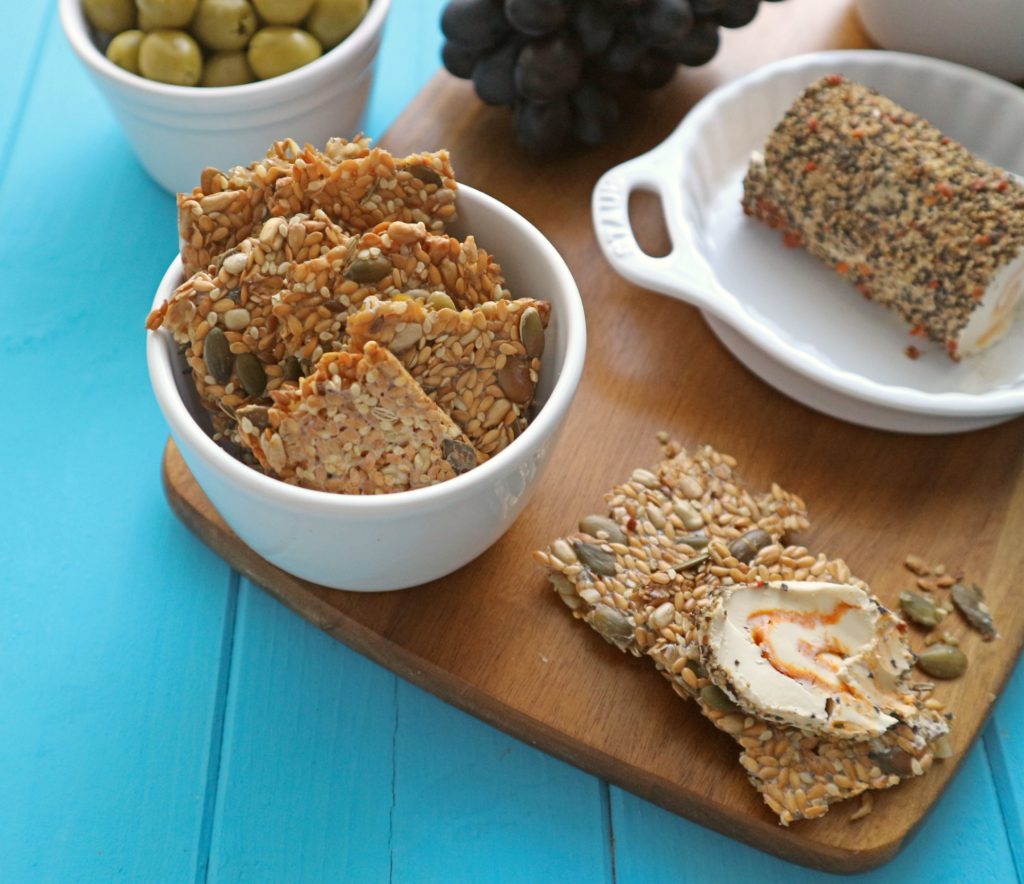 Try this Roasted Beetroot Hummus with the crackers for a super healthy, anti-oxidant rich, high protein source snack.
Nutritional Info
Flaxseeds/Linseeds
Pumpkin seeds
Sunflower seeds
Sesame seeds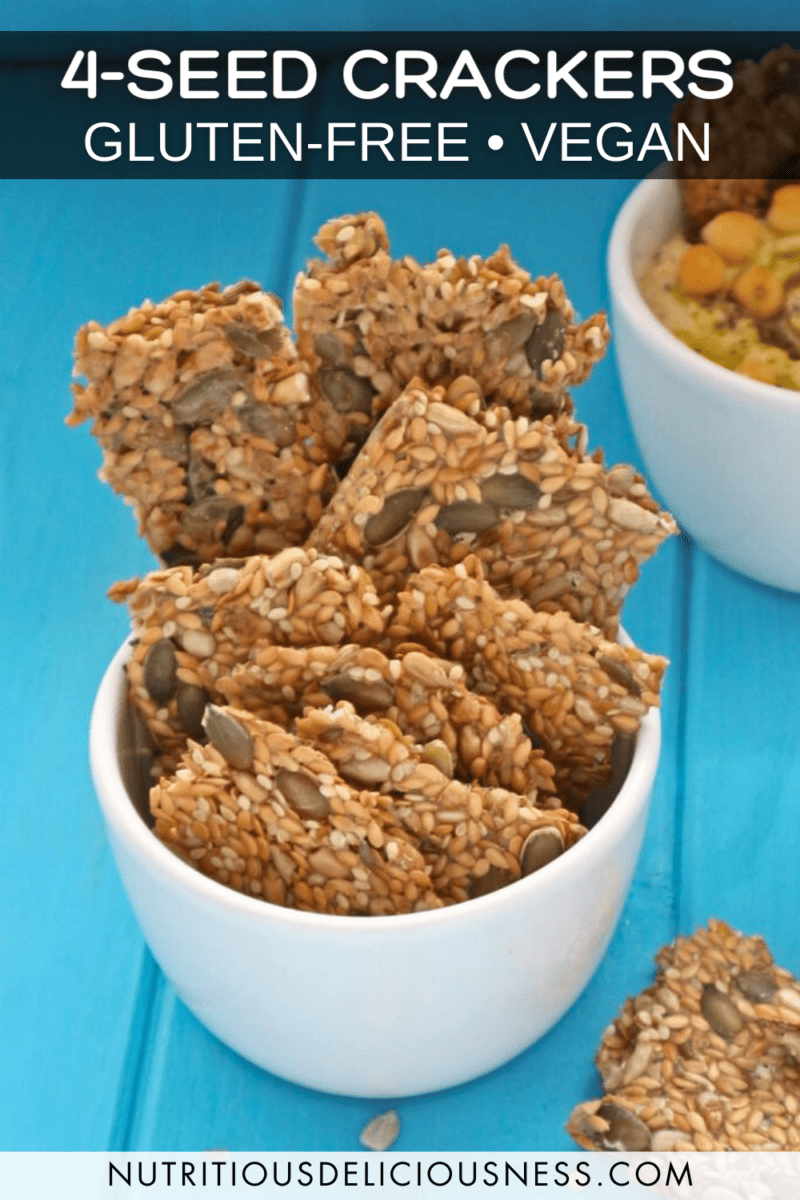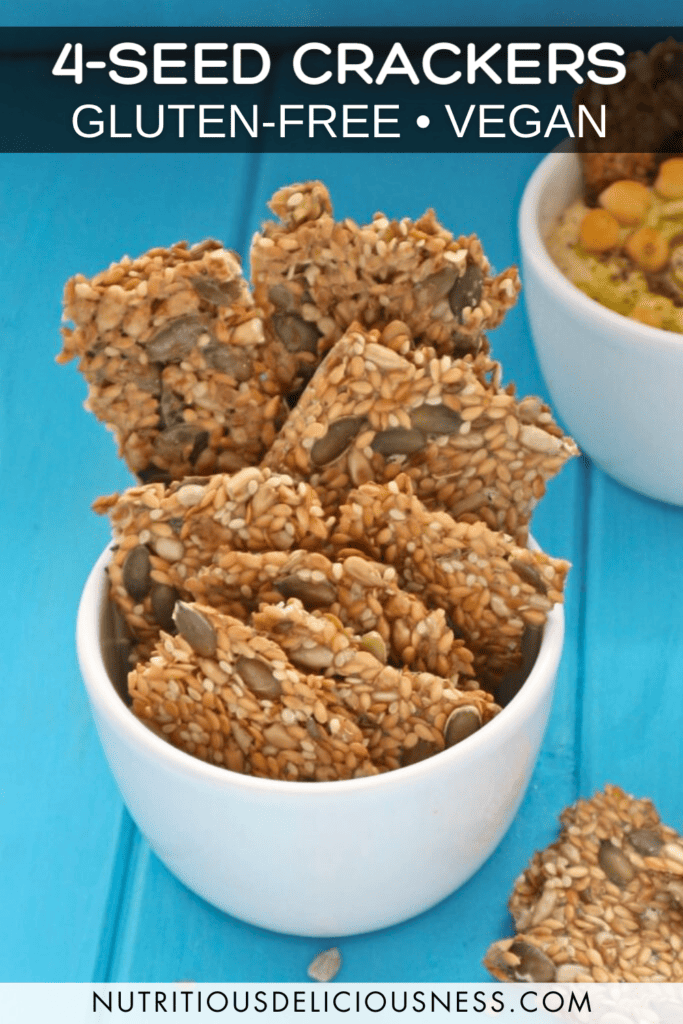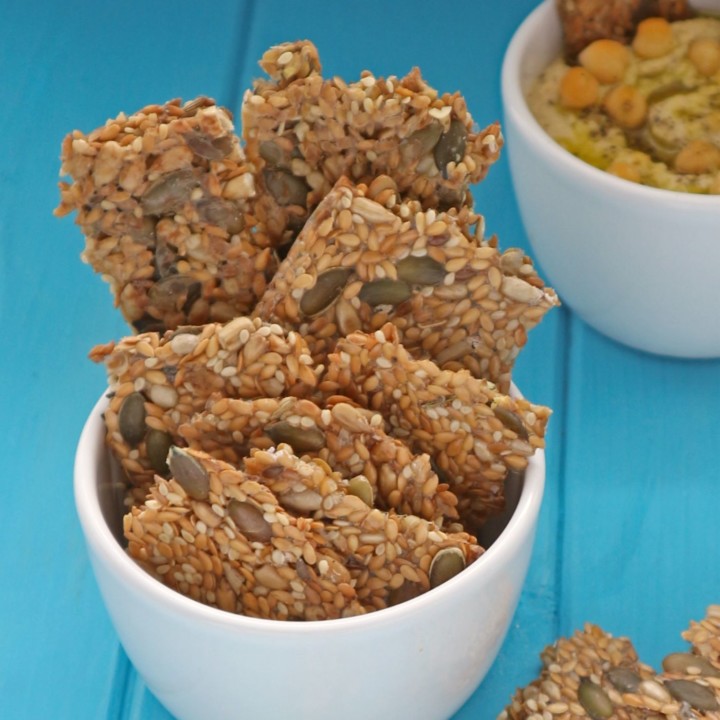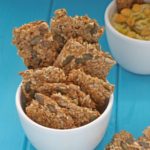 Healthy 4-Seed Crackers
These easy, healthy 4-seed crackers are loaded with goodness. They are wheat-free, gluten-free, dairy-free, low-carb and vegan.
Servings 5
Instructions
Place the Pumpkin, Sunflower and Sesame seeds into a bowl and add enough water to cover the seeds.

Place the Flaxseeds/Linseeds into a separate bowl and also add enough water to cover the seeds. You may need to add more water as these seeds soak up the water fast.

Leave both bowls for at least 2 hours or overnight.

Drain the Pumpkin, Sunflower and Sesame seeds and rinse well.

Drain the Flaxseeds/Linseeds without rinsing. They should have a gelatinous feel to them.

Combine the seeds together along with the Fennel seeds, sea salt and black pepper.

Preheat your oven to 280°F.

If you want to score them, do so now.

Bake for around 1 hour, check them, especially in the middle to make sure they are firm enough.

Flip the cracker (still in one piece) over, remove the parchment paper carefully and return to the oven to bake the underside.

Bake for around another 30-40 minutes until the crackers are firm and golden.

Remove from the oven and allow to cool completely before breaking into pieces
Recipe Notes
The crackers may need more time in the oven on a lower heat if they middle of the cracker is not firm enough.
Rate this Recipe
*Nutritional data is provided as a courtesy and is accurate to the best of my knowledge. You can verify it using the nutrition calculator of your choice. All data is based on net carbs, without sugar alcohol: Swerve, Erythritol, Monk Fruit or Allulose.
© Copyright for Nutritious Deliciousness. Please use the share buttons to share on social media, but please do not copy/paste the recipe.