This is an easy how to make Almond milk recipe that is perfect for using in smoothies, over muesli, in oatmeal, in baking, in coffee or just to drink! As an added bonus the leftover Almond pulp can be used in other recipes too.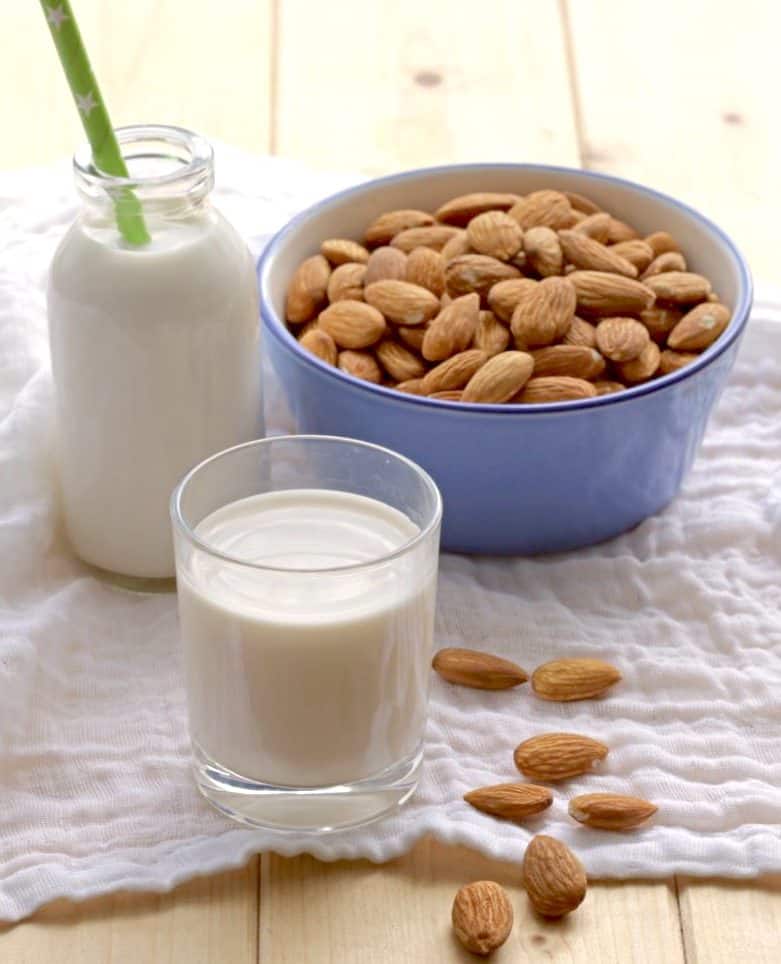 Jump to:
What are the advantages of making your own Almond milk?
Well, as with everything I make from scratch, I can choose what ingredients go into our food and drink. You can make informed choices with no additives or preservatives or long sounding names! No preservatives means, though, that you need to make and use the product within 3-4 days and keep refrigerated.
How to make Almond milk
I used the Froothie Evolve High Speed Blender to make my Almond milk. After soaking the Almonds for 4-6 hours, blend the almonds and water together until the almonds are completely blended into the water. In the Froothie Evolve it took less than 3 minutes so do adjust the time to suit your blender.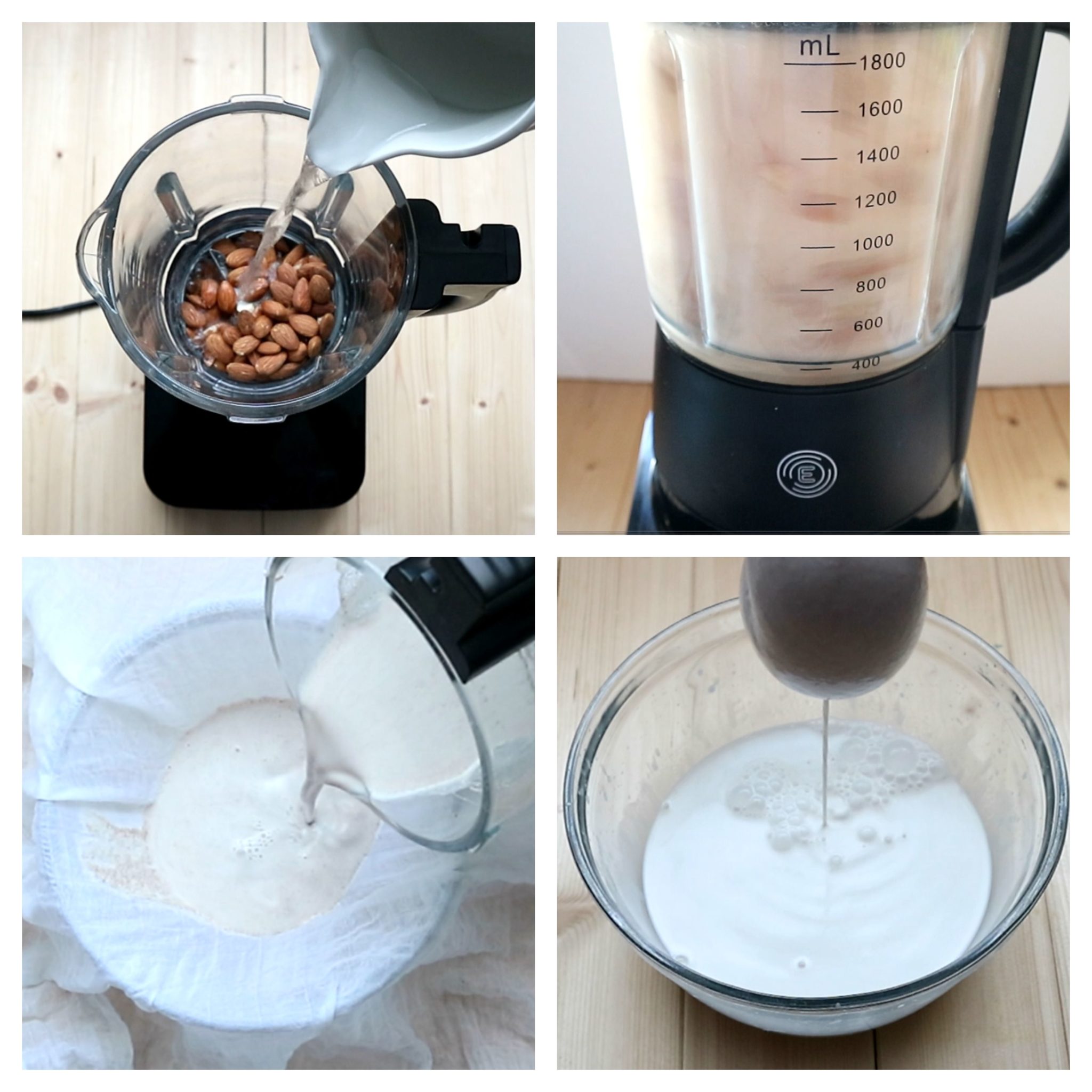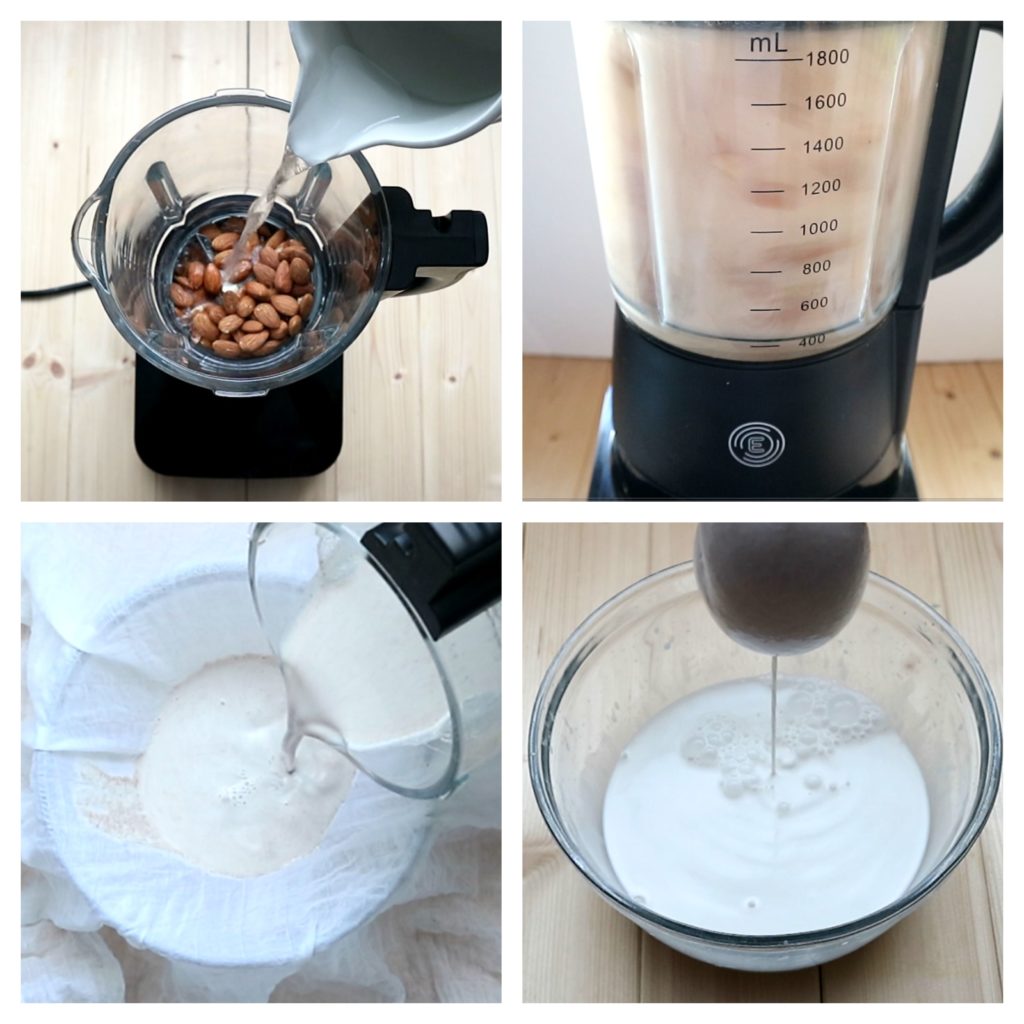 If you'd like to add some sweetness to your milk, you can do so by popping in 2-3 dates before blending or coconut, maple syrup or honey to your own taste, experiment! I add a touch of vanilla extract, it's a delicious combination. For children, adding 1-2 tablespoons of cocoa powder (along with a little honey) is a winner!
The next step is to strain the Almond milk. Take a muslin and place into a large bowl or jug . Pour the blended Almond milk into the muslin, gather up the four corners and squeeze the "milk" into the bowl/jug.
The muslin, rather than a sieve will give you a "milk" that is a smooth consistency with a subtle almond flavour that can be used in tons of recipes that uses dairy milks.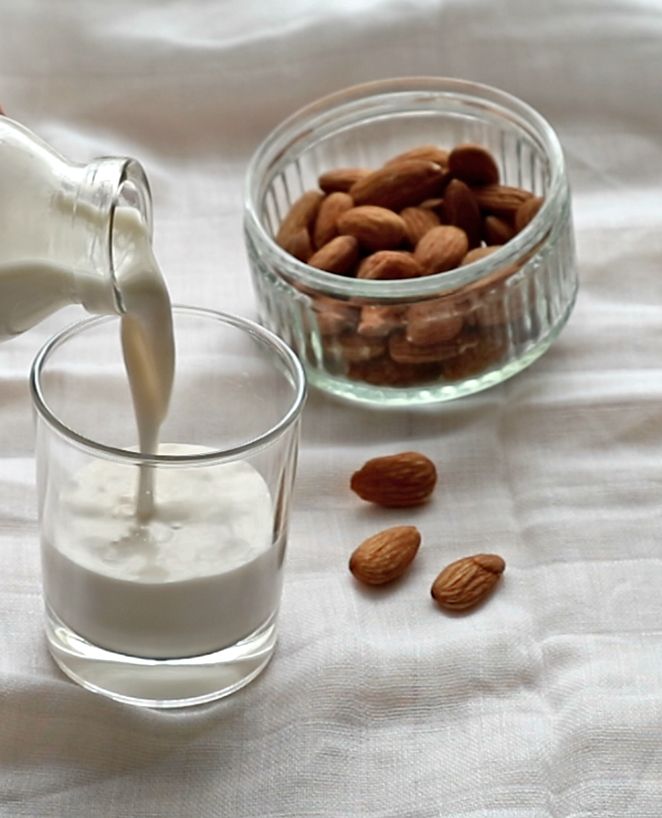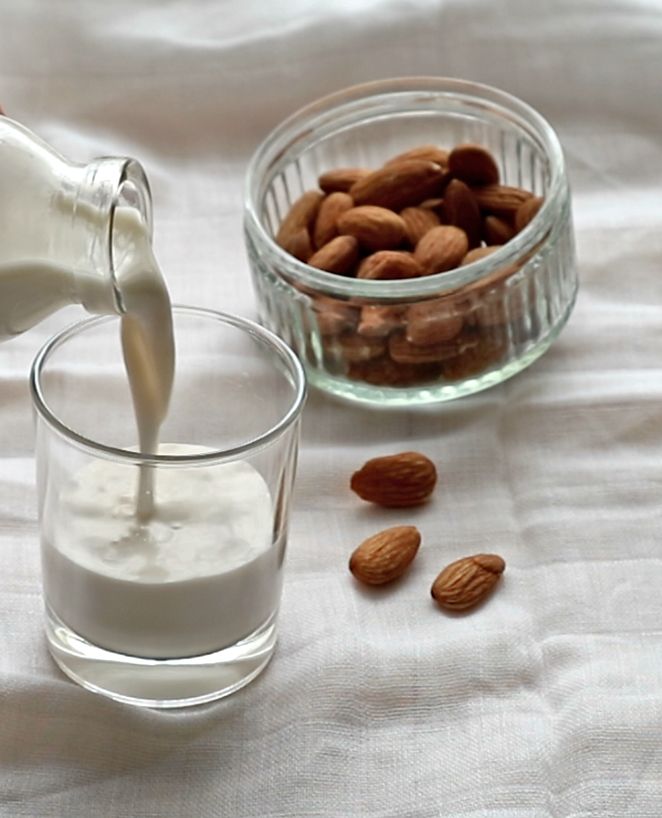 Can I freeze Almond milk?
Fresh Almond milk will keep in the fridge for at least 3-4 days, I've usually used mine well before that but have left some just to see how long it would keep fresh. It is better made and used as you need it. Adjust portion sizes accordingly.
You can definitely freeze Almond milk, just thaw at room temperature and use as usual. Freezing should not affect the nutrients of the milk. If you are not keen on the altered texture of the nut-based milk, just use in cooking or baking, etc
Is Almond milk expensive to make?
Bearing in mind when you make your own Almond milk you are using 1 cup of raw Almonds to 4 cups of water instead of the 1% of Almonds to around 4¼ cups (1 litre) of water in store bought versions.
What are the health benefits of Almonds?
Almonds make a great snack all on their own. They contain vitamin E, Magnesium, Manganese, Protein, healthy fats and fibre. They also contain decent amounts of vitamin B2, Calcium, Potassium, Phosphorus and Copper.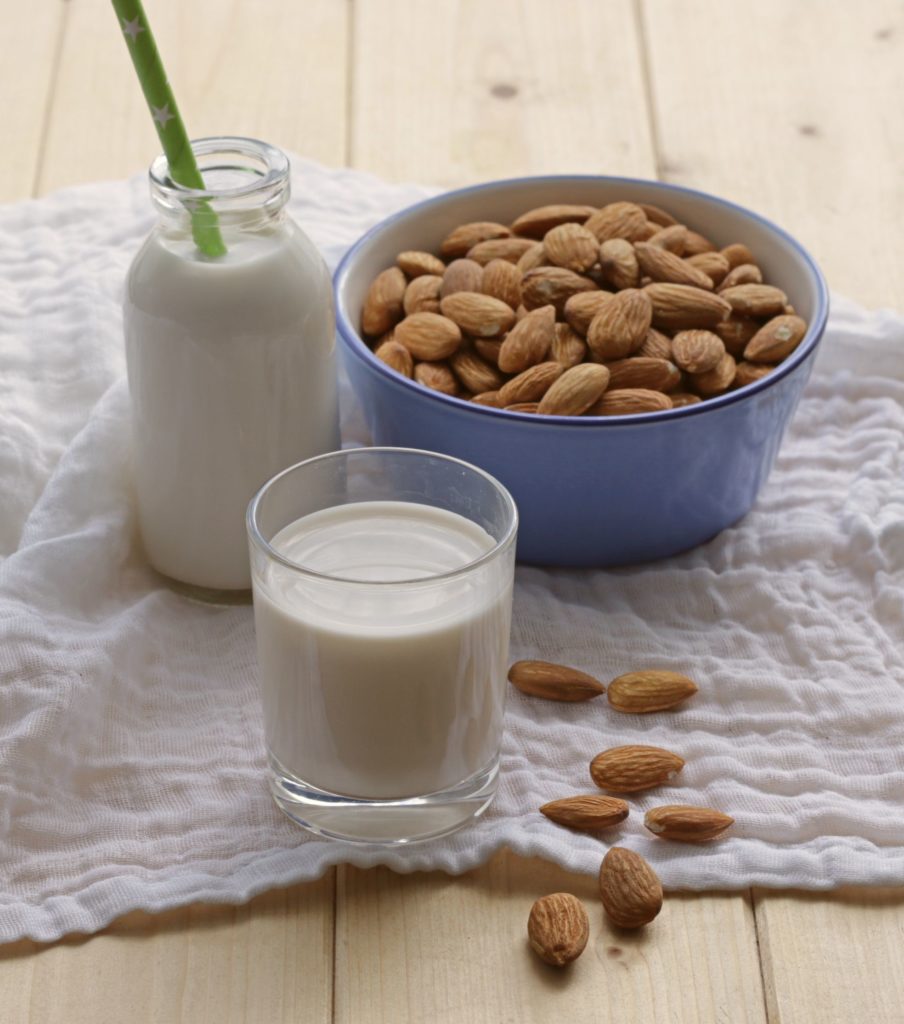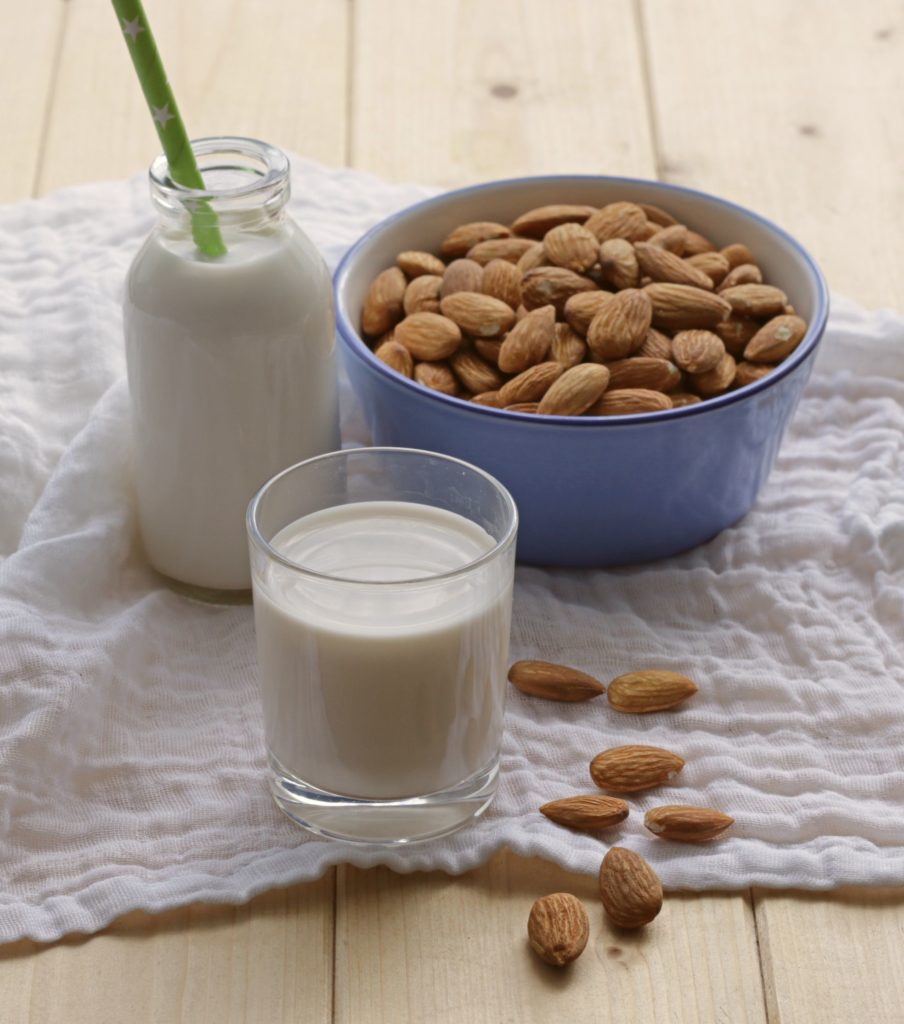 What can I do with the leftover Almond pulp?
I sometimes use mine in baking cookies, you may need to add some moisture, e.g. oil, fat or water to compensate for the loss of some of the fat from the almonds when blended for milk. If you like making power balls aka "bliss balls", almond pulp is a great addition.
Also another great way to use up the almond pulp is to make it into almond flour or ground almonds by drying in the oven and then grinding the dried almond pulp into flour. Super easy to do and no waste!
What if I don't like Almonds?
Using the same blending method try out other nuts and seeds, such as sunflower or hazelnut. Oat milk is a favourite of ours and makes a deliciously creamy milk.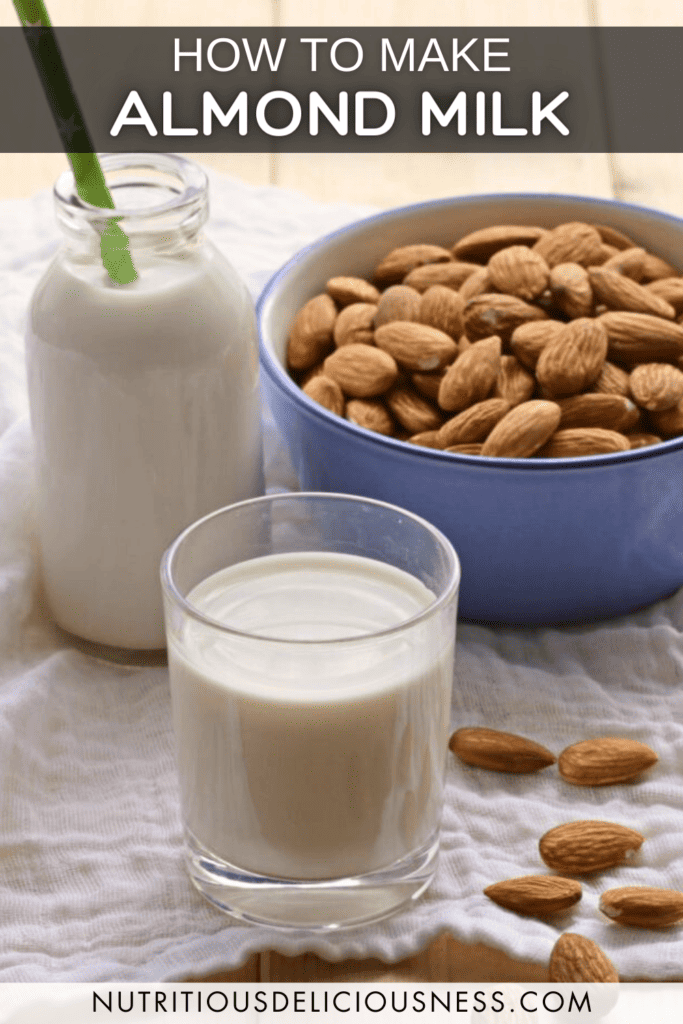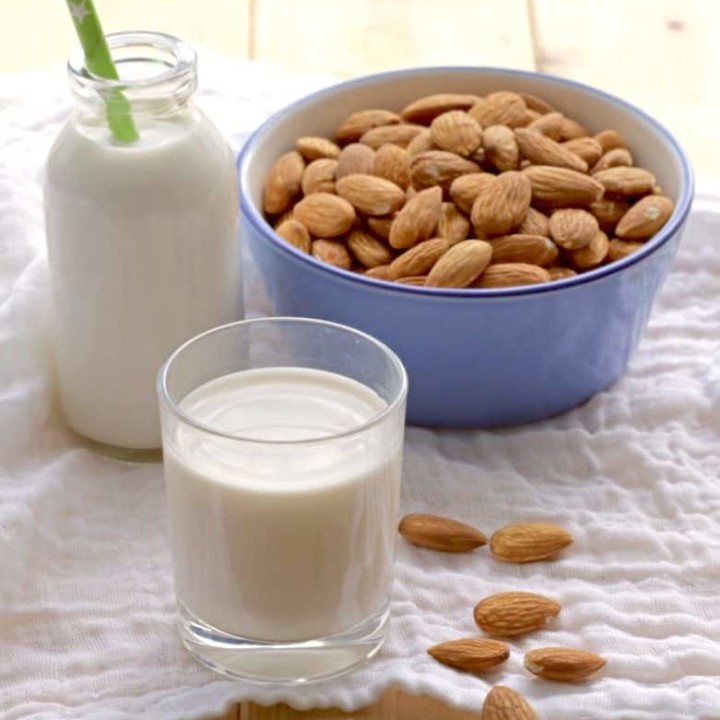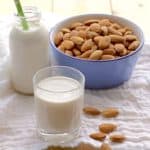 How-to Make Almond Milk
This is an easy how to make Almond milk recipe that is perfect for using in smoothies, over muesli, in oatmeal, in baking, in coffee or just to drink!
Servings 4
Ingredients
1 cup raw Almonds, soaked for 4-6 hours.
4 cups water
Instructions
Add the water to the Almonds.

Blend for 2-3 minutes or until all the Almonds have broken down.

Blend again as necessary to make a smooth milk.

Pour the blended Almonds and water into the muslin.

Gather up the 4 corners of the muslin and squeeze out the Almond milk.

Set the pulp aside.

Pour the Almond milk into a suitable container and keep refridgerated.
Recipe Notes
Keep the Almond Pulp in the fridge to make into Almond Flour. To add a touch of sweetness use 2-3 dates or experiment with honey or maple syrup. Almond milk should keep in the fridge for 3-4 days.
*Make sure to scroll up and read the post for substitutions, additions and helpful tips for making this recipe.
Rate this Recipe
*Nutritional data is provided as a courtesy and is accurate to the best of my knowledge. You can verify it using the nutrition calculator of your choice. All data is based on net carbs, without sugar alcohol: Swerve, Erythritol, Monk Fruit or Allulose.
© Copyright for Nutritious Deliciousness. Please use the share buttons to share on social media, but please do not copy/paste the recipe.