Quinoa has is incredibly healthy and such a great source of protein! Read all about impressive Quinoa and easy ways to use it.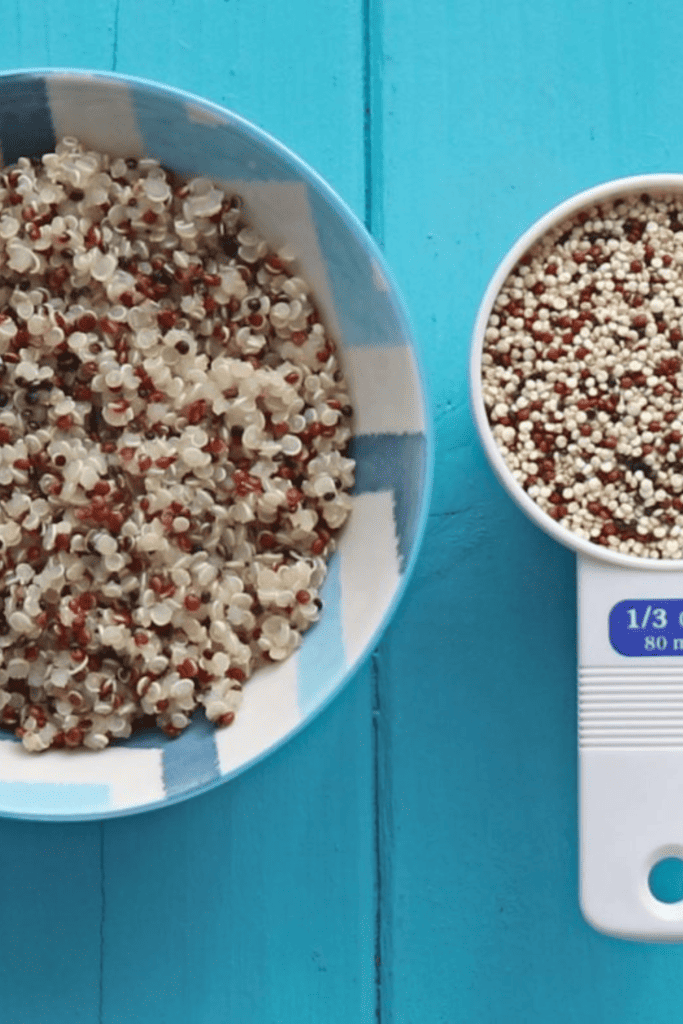 Jump to:
Simply adding a couple of heaped tablespoons of cooked Quinoa to established dishes like chilli or casseroles will give an extra nutritional boost. Quinoa is great to add texture to soups or stirred into porridge at breakfast giving extra protein.
What is Quinoa?
Quinoa, pronouced keen-wa, is a nutrient-rich, high protein superfood containing complex carbohydrates. It is known as the mother grain and is indigenous to the Andes mountain region of South America, specifically Bolivia, Chile and Peru where it has been cultivated for thousands of years.
2013 Quinoa was declared International Year of Quinoa by the United Nations. This was to recognise the nutritional, ecological, and economic benefits of Quinoa.
Technically Quinoa is not actually a grain but a grain-like seed. It is not a cereal grain but is sometimes referred to as a psuedo-grain. It can be used in the same way as most grains.
The flowering plant that produces Quinoa is actually in the Amaranth family. Quinoa is botanically related to spinach and beetroot!
Quinoa is available in black, red and white. The red and black can increase the nutrient and antioxidant values in your diet. They do take a little longer to cook but tend to hold their shape more than the white version.
Quinoa is also available in flour and flake forms which are really useful for baking. Quinoa flakes have the same texture as rolled oats and can be prepared in the same way and substituted for oats in some recipes.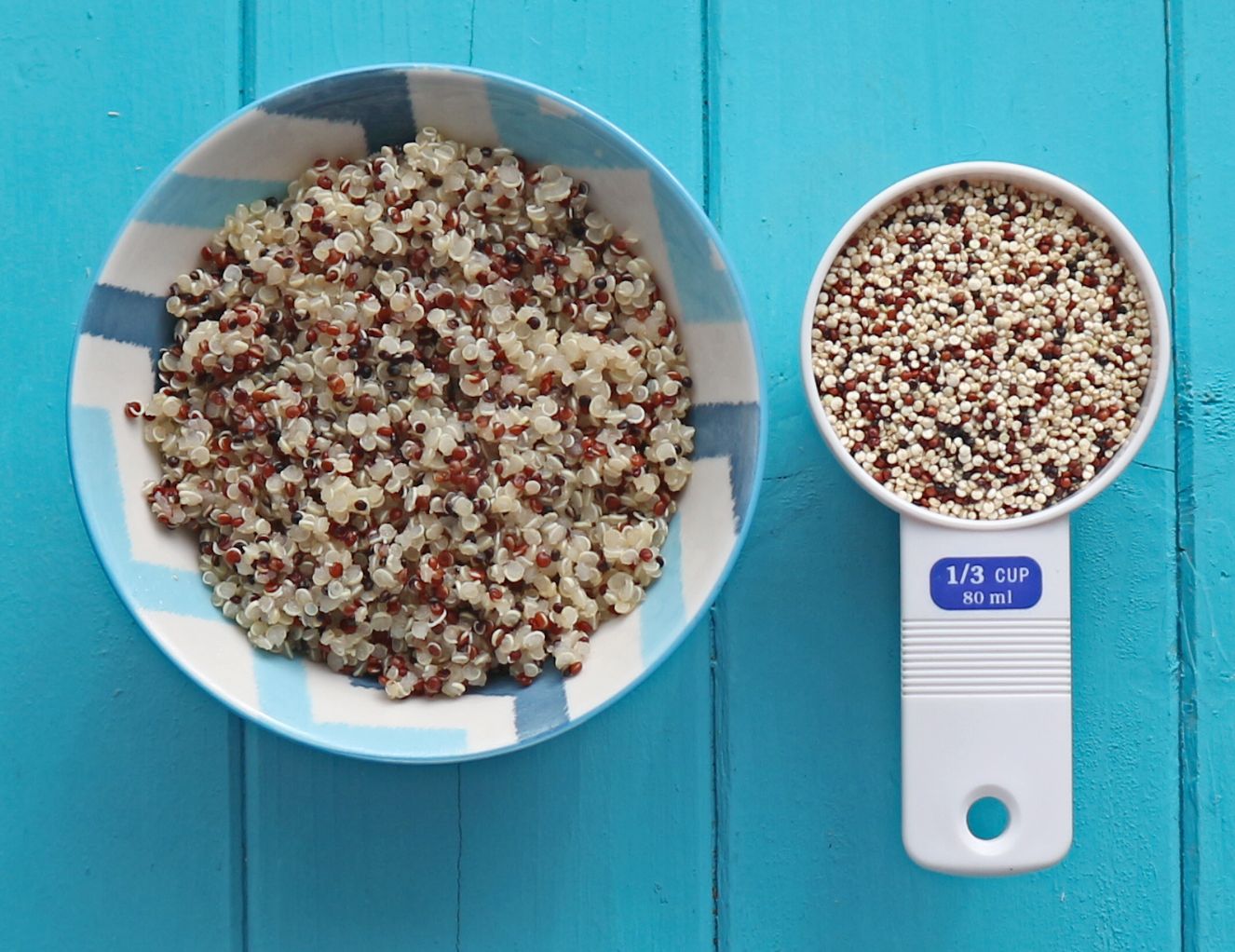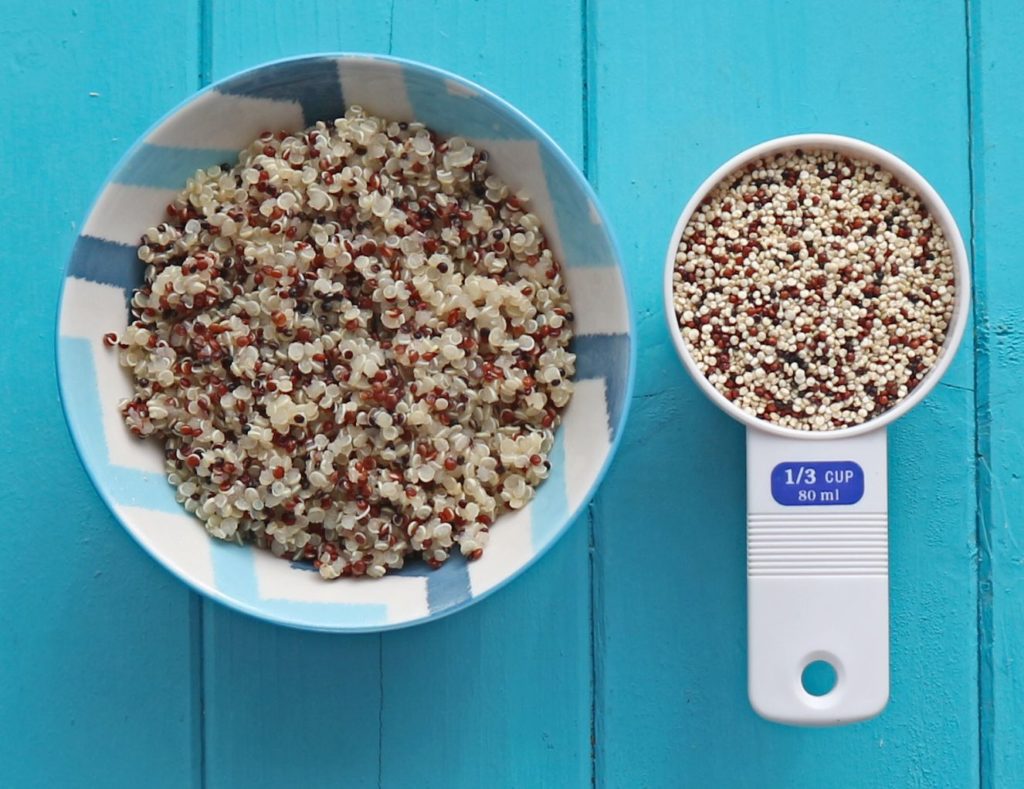 What are the health benefits of Quinoa?
Unlike rice or wheat Quinoa has a great amino-acid profile. It is a complete protein source containing all 9 essential amino acids in a healthy balance.
Quinoa's high protein content is a great replacement for high-carb, low protein grains. Protein in the diet helps the body to repair cells and make new ones.
It has a deliciously nutty flavour and is amazingly full of vitamins and minerals which you can see listed in the nutritional info link below. The prebiotic nutrients in Quinoa also help to feed the good probiotic bacteria microflora in our intestines.
It is easily digested, high in soluble fibre and very versatile in its use.
Other health benefits of Quinoa include assisting with controlling diabetes as it has a low glycemic index and is a complex carbohydrate. Sugars digest slowly which can help maintain correct insulin levels.
Quinoa promotes cardiovascular health and contains heart-healthy fats that can help boost your good cholesterol and aid in lowering bad cholesterol levels to help prevention of accumulation of plaque in the arteries.
Quinoa is high in anti-oxidants. Anti-oxidants help neutralize free radicals and are believed to help fight ageing and many other diseases.
This truly is an amazing little seed!
Is Quinoa gluten-free?
Yes, if you are gluten-intolerant or avoiding gluten, it is completely, naturally gluten-free and a great alternative to gluten-containing grains.
How to cook Quinoa
Quinoa is so easy to prepare, cook in the same way you would cook rice. Add the Quinoa to around twice the amount of water (you may need to experiment with more or less water to the amount of Quinoa you use), add stock if preferred, bring to the boil then cover and simmer for around 8-10 minutes.
When ready each seed will have tiny tails of the germ appearing.
Drain and use as required. Cooked Quinoa will fluff up and expand to around 3 times volume of the uncooked amount, a little seed goes a long way!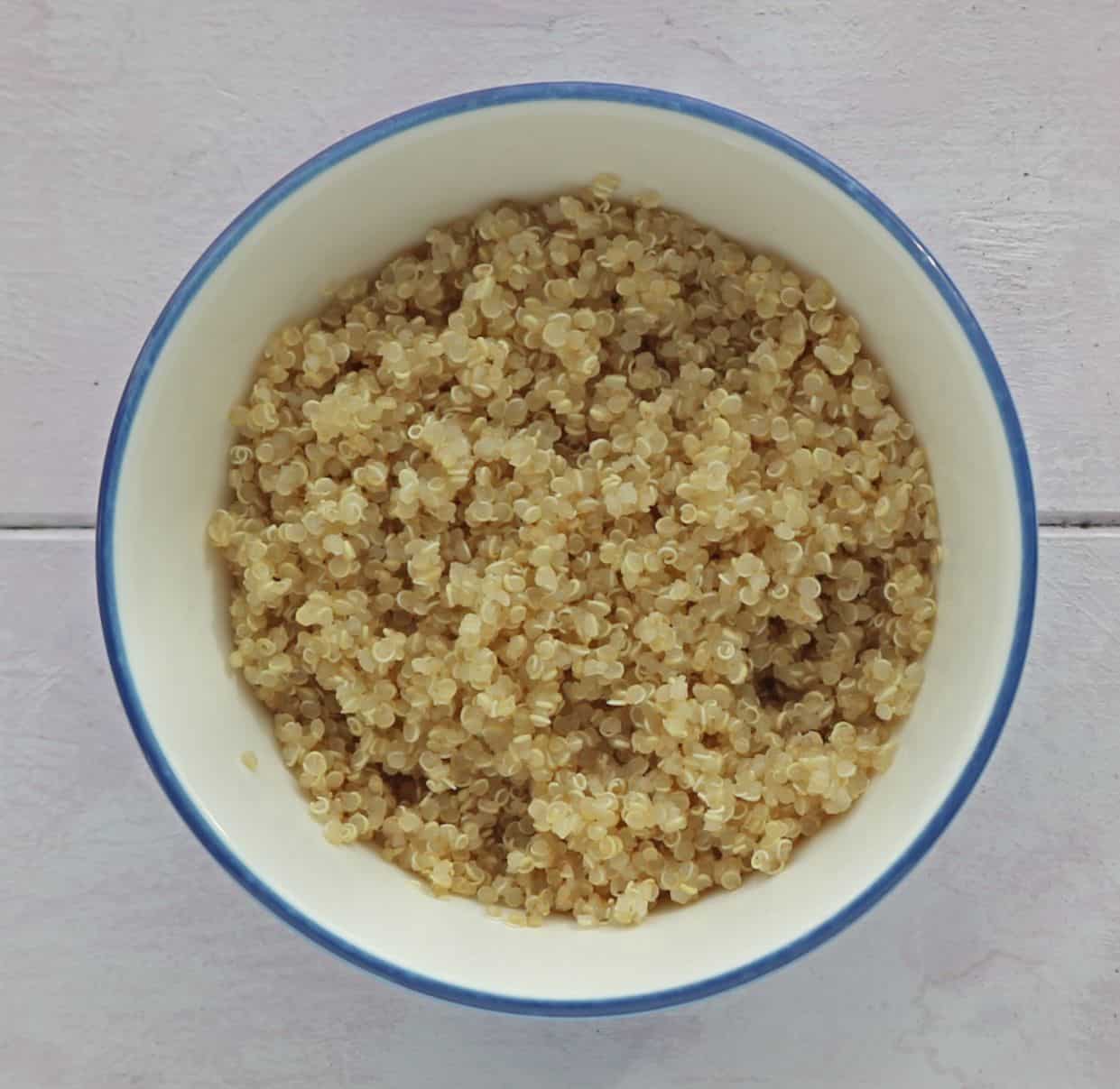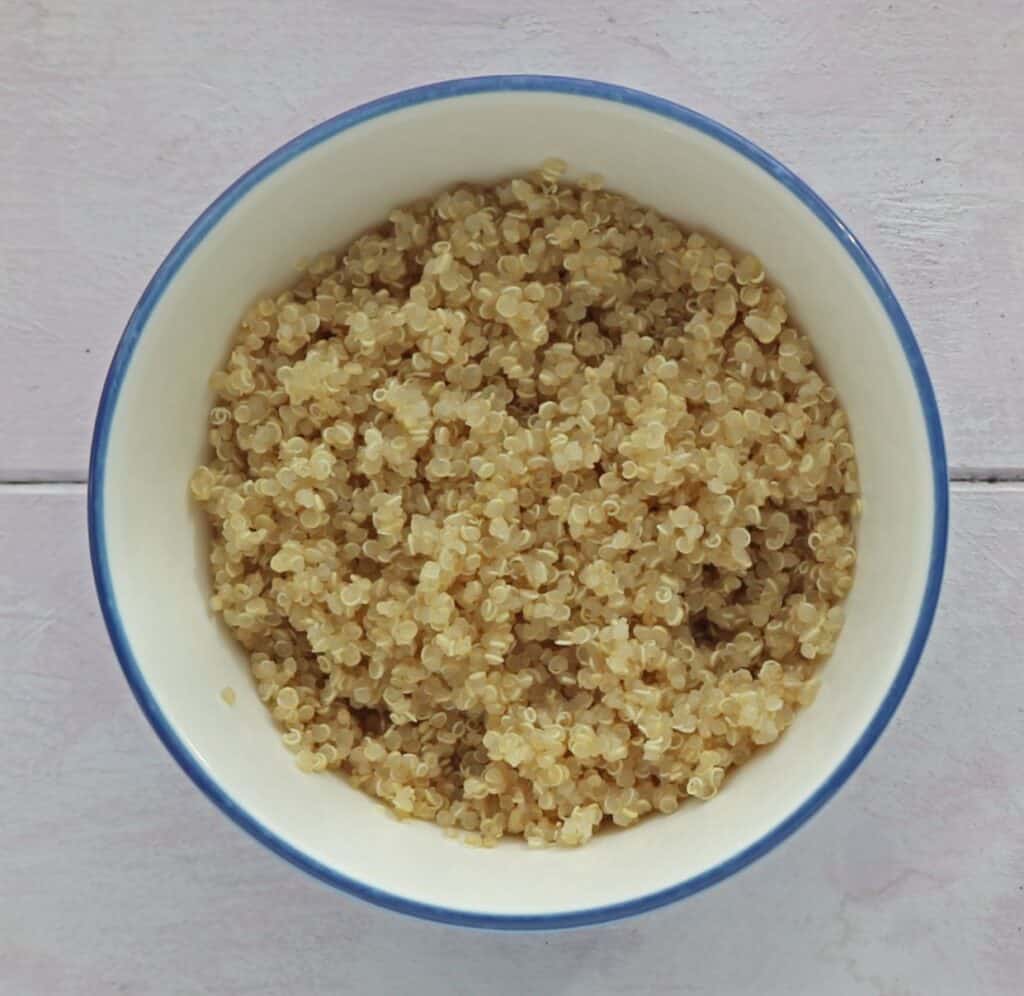 Quinoa can also be added to a slow cooker when making soups, casseroles, stews, etc. Just make sure you add enough liquid when adding the Quinoa halfway into the total cooking time.
If you are using a rice cooker or pressure cooker, follow the manufacturers instructions as we have only used the methods above so far.
Can Quinoa be prepared in advance?
Yes, very much so. We cook up a batch and use in various dishes, it is very versatile and can be eaten at or incorporated at any meal. Cooked Quinoa will last in the fridge for a few days, use daily as needed.
Do I need to rinse Quinoa before cooking?
We always rinse Quinoa in a sieve under running water. Sometimes Quinoa can have a bitter taste which is because of the protective coat on the outside of the seed called saponin. Mostly Quinoa is pre-rinsed when you buy it but I would give it a quick rinse just in case.
Ways to use Quinoa in dishes
In its simplest form, cook the Quinoa lightly seasoned with sea salt and black pepper. Add chopped fresh herbs of your choice and a drizzle of extra virgin olive oil to finish.
Add to soups for more texture.
Include in casseroles, stews and chilli dishes.
Subsitute Quinoa for other grains such as rice.
Make a Quinoa porridge with flakes in place of oats for a delicious breakfast.
Add to homemade burgers.
Use as a stuffing.
Use Quinoa flour in baking.
Mix with other grains in salads.
Quinoa recipe links
Roasted Butternut Squash with Quinoa Vegetable Stuffing (available soon)
Nutritional Info Link:
.