This recipe for a Mango Smoothie Bowl combines a tasty combination of smooth and creamy textures with tropical flavors. It's a cool, refreshing, and delicious breakfast or snack that you can whip up in just 5 minutes.
Jump to:
❤️ Why You'll Love This Dairy-Free Smoothie Bowl Recipe
A tasty mix of tropical flavors
Smooth and creamy texture
It only takes 5 minutes to make
Add your favorite toppings like fresh fruit, granola and coconut
Cool, refreshing and delicious
Dairy-free, Gluten-free and Vegan
This mango smoothie bowl is a refreshing and tasty way to start your day. Bursting with tropical flavors and packed with nutritious ingredients, this colorful, creamy, and easy-to-make bowl is both delicious and incredibly healthy.
The base of this smoothie bowl only requires four simple ingredients. But the fun part starts with the toppings. You can add any of your favorites! From shredded coconut and fresh berries to some of this no-grain, gluten-free Granola, the possibilities are endless.
And the best part about this recipe is, you can make breakfast and snack time fun for the kids. Set out a variety of toppings and let them add their own special touch to their bowls.
For other ways to get an extra serving of healthy fruits, try this Triple Berry Smoothie or this nutritious Berry Avocado Smoothie.
🛒 Ingredients for Mango Banana Smoothie Bowl
Frozen mango
Frozen banana
*Exact measurements are listed in the recipe card below.
🥣 Recommended Tools
🔪 How to Make a Vegan Smoothie Bowl
Add the frozen mango chunks to a Ninja blender. You can either freeze your own fresh mango or simply buy a bag in the freezer section at your grocery store.
Add in the frozen banana, unsweetened coconut cream, and start with just 2 teaspoons of honey (or agave). Once you blend it up, you can taste it for sweetness, then add more if you need to.
Tip: Slice, then freeze the bananas so they freeze faster.
Blend until completely smooth and creamy.
Pour into 2 small bowls and top with your favorite (optional) toppings. I added fresh sliced banana, blueberries, granola, chia seeds, and unsweetened shredded coconut, but the possibilities are endless! See the post for other great topping ideas. Serve immediately, and enjoy!
☑️ Storage Instructions
Smoothie bowls are best when freshly made while the ingredients are still cold. But if you have extra leftovers or if you want a morning shortcut, you can freeze the smoothie mixture.
Just add the mixture to ice trays or small portion-sized containers. Then add them to your blender when you're ready to serve them. You may have to add a little almond milk or extra coconut cream if the consistency is too thick.
💡 Tips for Freezing Fresh Fruits
Whether you have an abundance of fresh fruit that you aren't able to eat before it goes bad or happen to hit a sale at the farmers market, freezing it is a great way to make it last. Here are some easy tips to keep in mind:
Keep in mind that not all fruits freeze well. Fruits with high water content like watermelon and cucumbers are best used fresh.
Freeze fruits when they are at the peak of their ripeness. This is when they are the sweetest.
Even if you are peeling them, make sure to wash and dry the fruit well to wash off any pesticides or fertilizers.
Pre-freeze them before adding them to freezer bags or containers. To do so, place the pieces of fruit in a single layer on a sheet pan. Stick it in the freezer for about an hour. Then add them to the bag and place it in the freezer.
Label and date the bag. For optimal freshness, frozen fruits should be eaten within 6-8 months.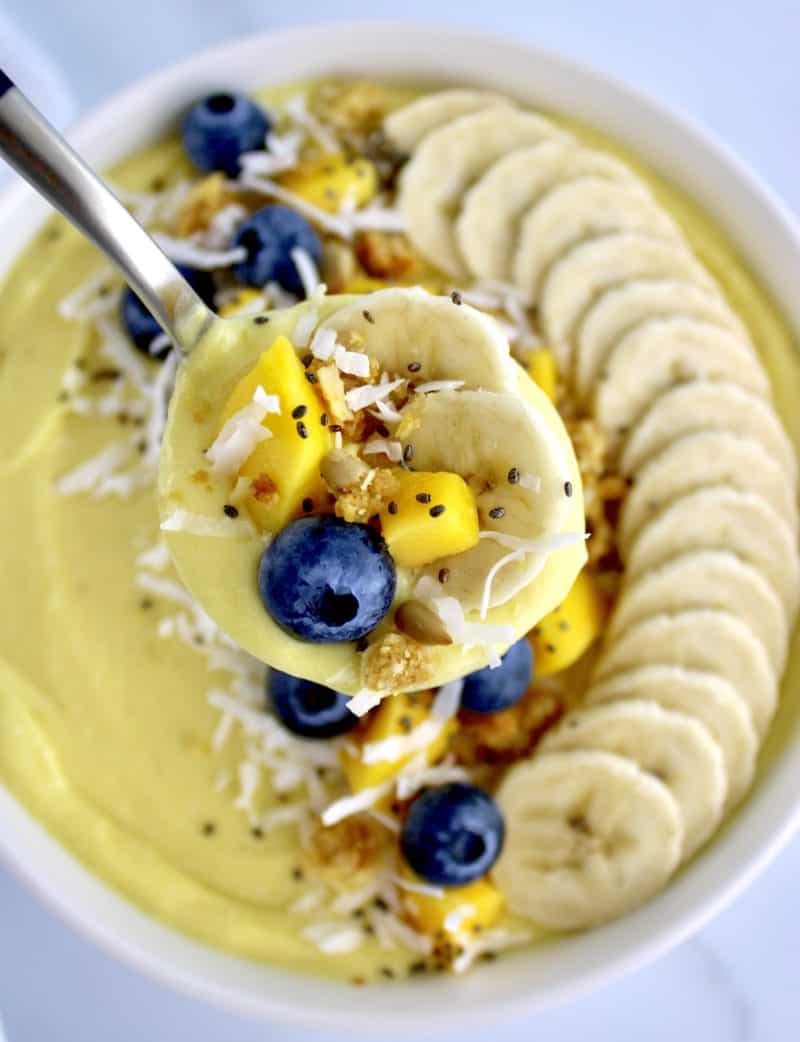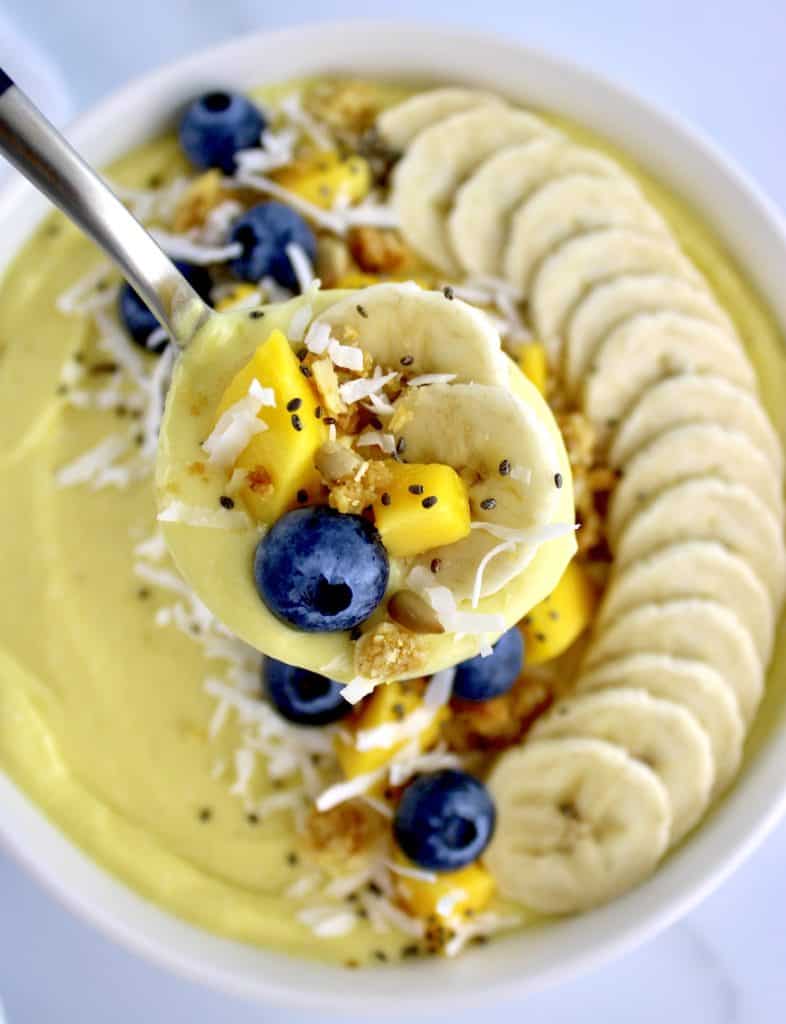 🔄 Substitutions and Smoothie Bowl Topping Ideas
Pineapple: Add a handful of frozen pineapple chunks for an extra tropical flavor.
Fresh berries: For added antioxidants, blend in a handful of frozen mixed berries, like strawberries, blueberries, and raspberries.
Greens: Sneak in a handful of spinach or kale for added nutrients without affecting the flavor.
Nut butter: For an extra kick of protein, add a spoonful of all-natural almond butter, peanut butter, or cashew butter.
Protein powder: If you're needing this smoothie bowl to hold you over for several hours, add a scoop of your favorite protein powder.
Stone fruits: Peaches, nectarines and plums are always great in smoothie recipes.
Other tropical fruits: Kiwi, guava, passion fruit, and dragon fruit are typically more costly than other types of fruits, but they add a tropical twist to your bowl.
Tasty toppings: Sliced fruit and berries are a great choice. For a little crunch, sliced almonds, macadamia nuts, pistachios or pumpkin seeds work really well.
What is a smoothie bowl made of?
A smoothie bowl is a thicker version of a regular smoothie. The base is still made by blending similar ingredients, such as fruits, vegetables, liquids, and add-ins, but with less liquids to give them a thicker consistency.
How do you thicken a smoothie for a smoothie bowl?
Frozen fruits, especially bananas, are a fantastic way to add thickness and creaminess to your smoothie bowl.
Use less liquid compared to a regular smoothie. Start with a small amount of liquid and gradually add more as needed to reach the desired thickness.
Adding a spoonful of Greek yogurt not only adds to the creaminess but also adds a delicious tangy flavor.
A ripe avocado can add thickness and extra creaminess to your smoothie bowl. It also adds extra healthy fats.
Is this Smoothie Bowl Healthy?
Mangoes are rich in vitamins, particularly vitamin C and vitamin A. They also provide dietary fiber, antioxidants, and natural sweetness. Bananas are a good source of potassium, vitamin B6, and dietary fiber.
Coconut cream is high in healthy fats, which can leave you feeling satisfied with extra energy. Honey and agave are natural sweeteners, but they are sources of added sugars, so be mindful of how much you use. You can also choose to use a sugar-free honey substitute or other sugar-free liquid sweeteners.
🍽️ More Nutritious Breakfast Recipes