This Penne Alla Vodka recipe combines tender pasta and prosciutto smothered in a rich and creamy tomato-based pink sauce. It's a comforting and flavorful Italian classic that the whole family will love.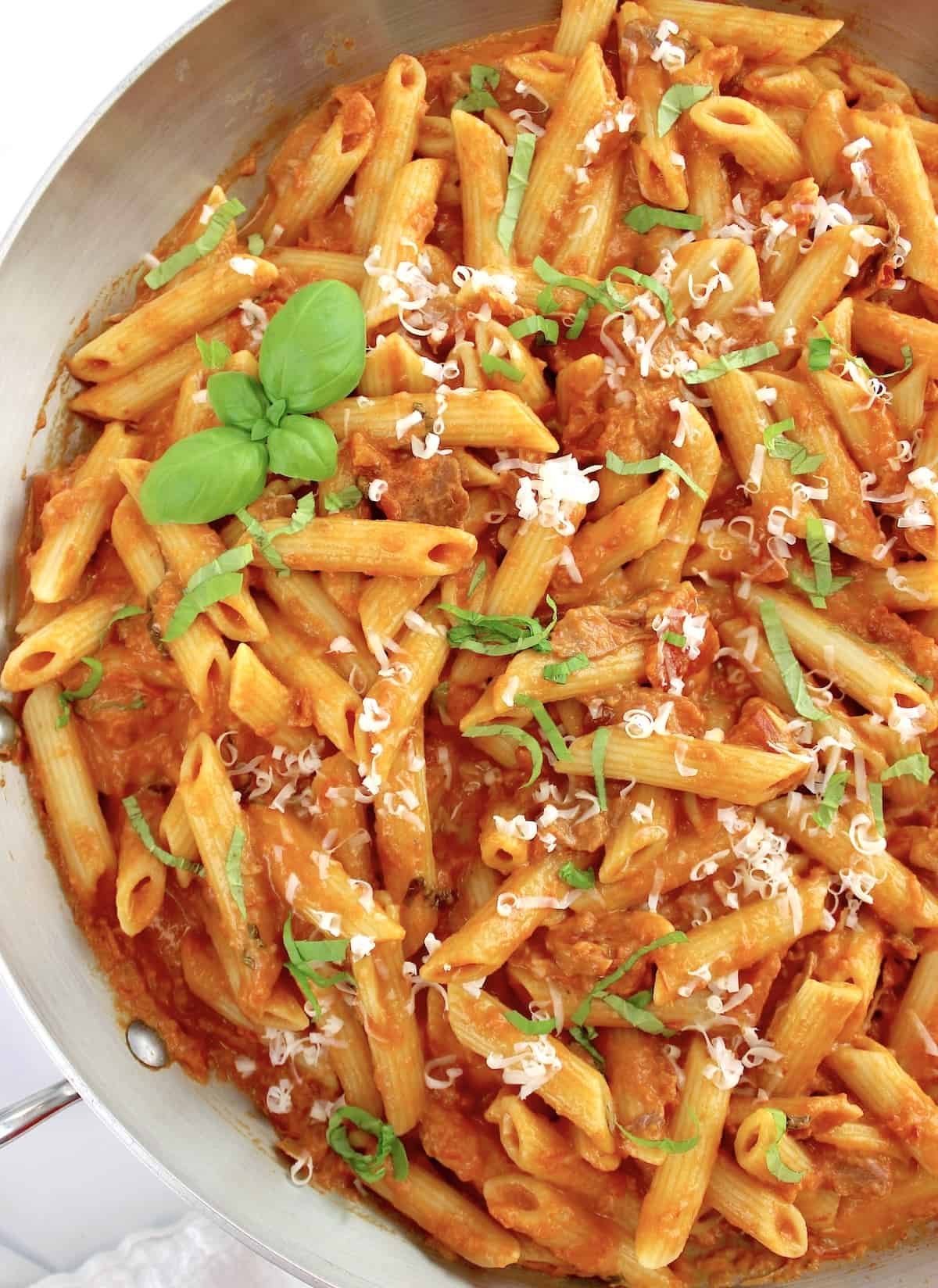 Jump to:
❤️ Why You'll Love This Penne alla Vodka Recipe
Tender penne pasta smothered in a creamy tomato sauce
Prosciutto gives this pink sauce lots of great flavor
A classic Italian pasta dish made easy in around 30 minutes
Family friendly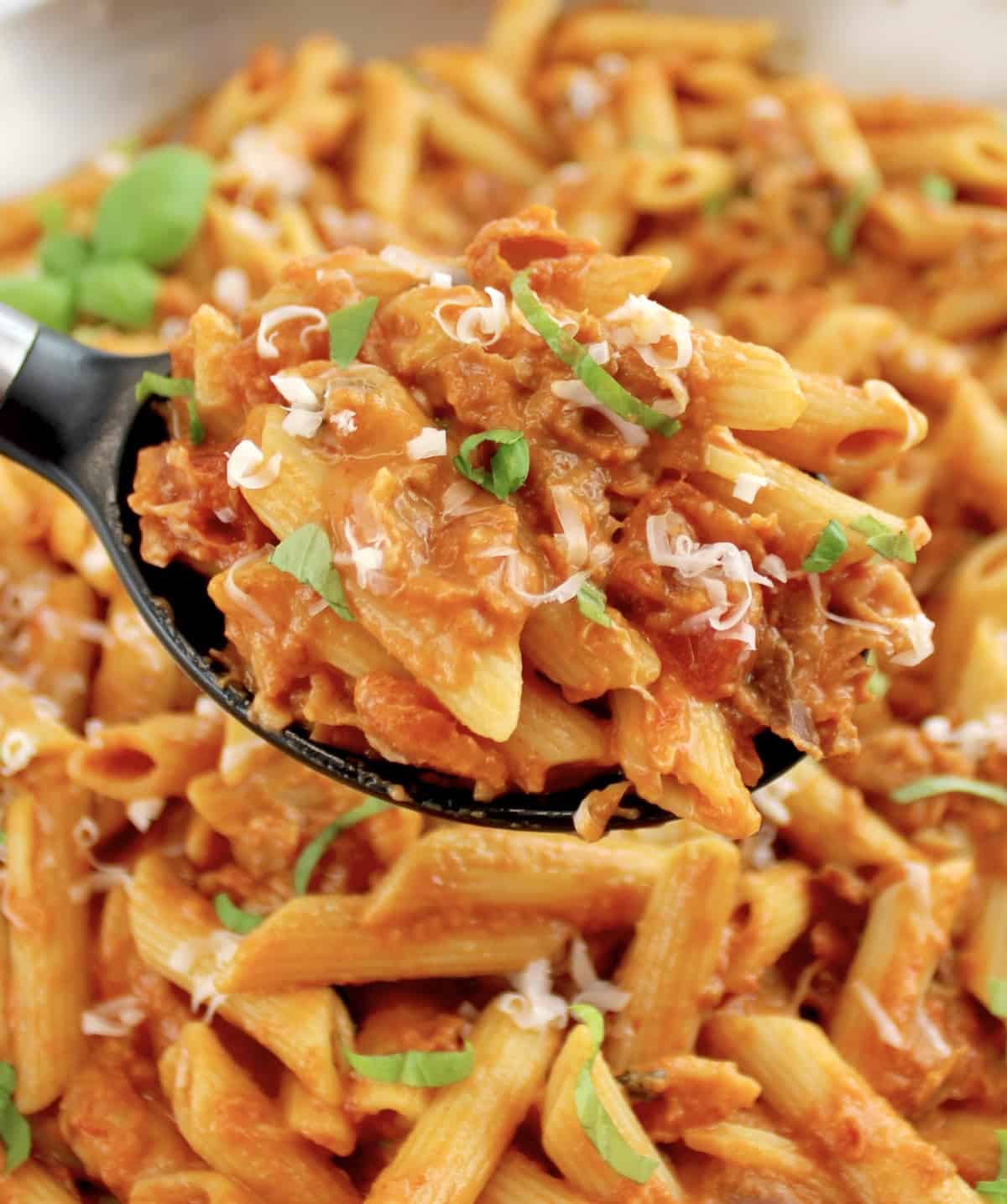 When it comes to Italian cuisine, pasta dishes are always crowd favorites. And among the many choices, penne alla vodka stands out as a timeless classic that never disappoints. I've actually been making this sauce since I learned to cook and it's still one of my favorite dishes of all time.
This recipe uses penne pasta in a creamy tomato-based sauce infused with vodka and the rich flavors of pan-sauteed prosciutto. As the vodka simmers, the alcohol cooks out, enhancing the velvety sauce and giving the dish a unique depth of flavor.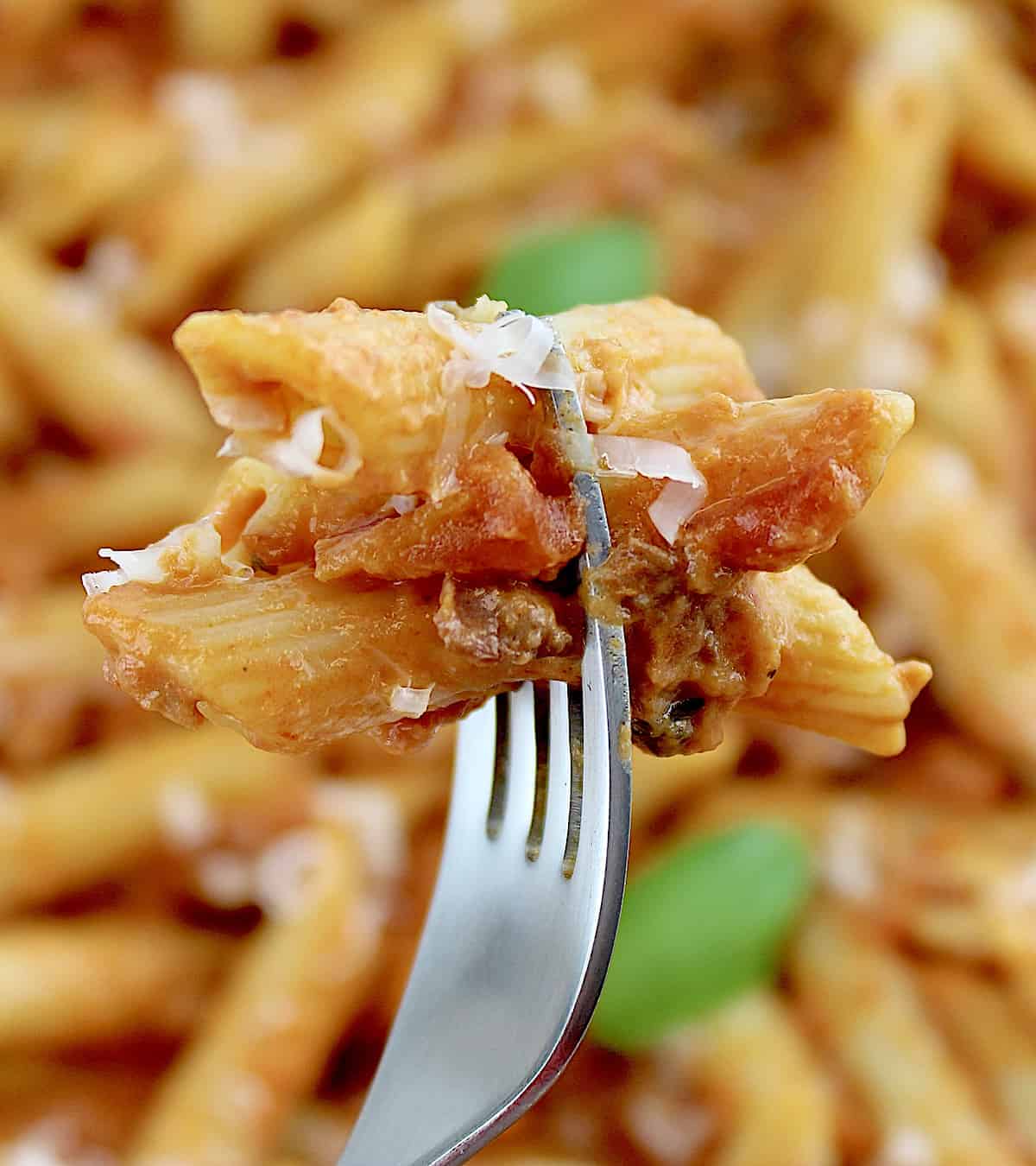 If you love exploring new flavors of Italian dishes, you also try this Italian Spaghetti Squash Casserole and Shakshuka with Italian Sausage.
🛒 Penne Alla Vodka Ingredients
Penne pasta
Prosciutto
Heavy cream
Vodka
Garlic
Fresh basil
Salt
Ground black pepper
Parmesan cheese
*Exact measurements are listed in the recipe card below.
🥣 Recommended Tools
🔪 How to Make the Best Penne Alla Vodka
Heat a large skillet to medium-low and add in the olive oil and prosciutto. Sauté for just a minute or so, you're not looking to brown or crisp it up, just allow it to gently release it's flavor.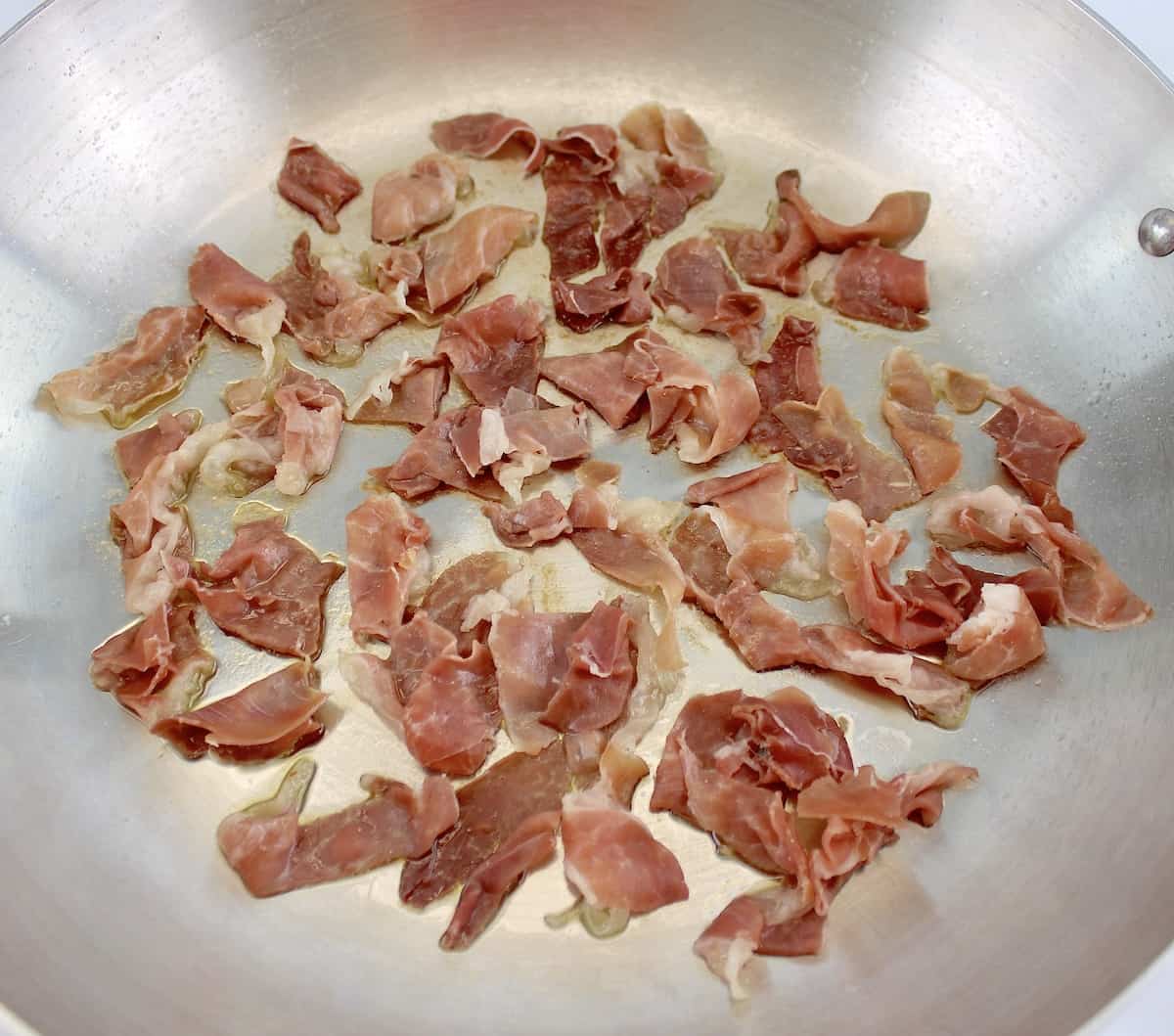 Add in the minced garlic and sauté for another 10 seconds.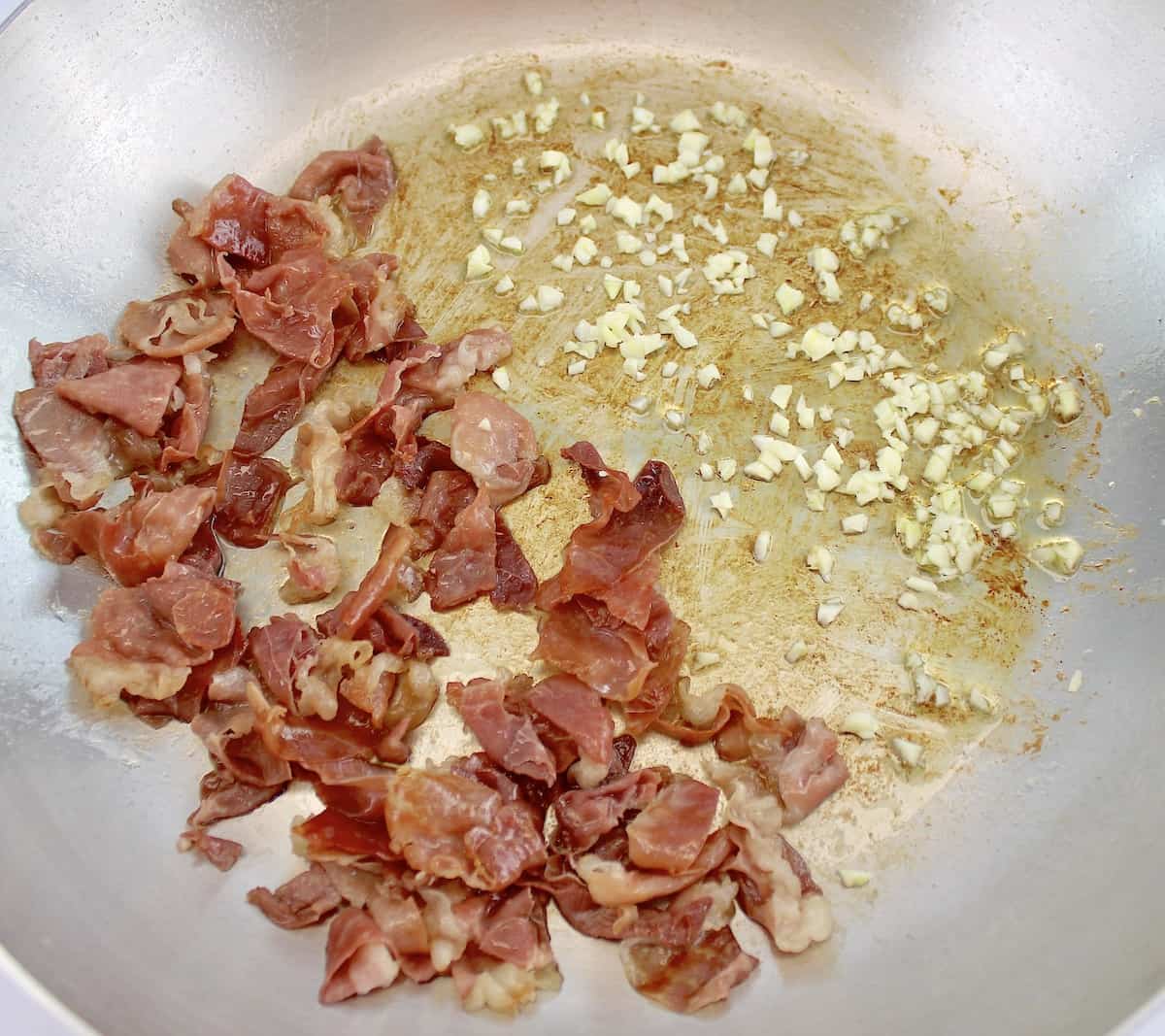 Pour in the vodka to deglaze the pan, scraping up any brown bits of flavor.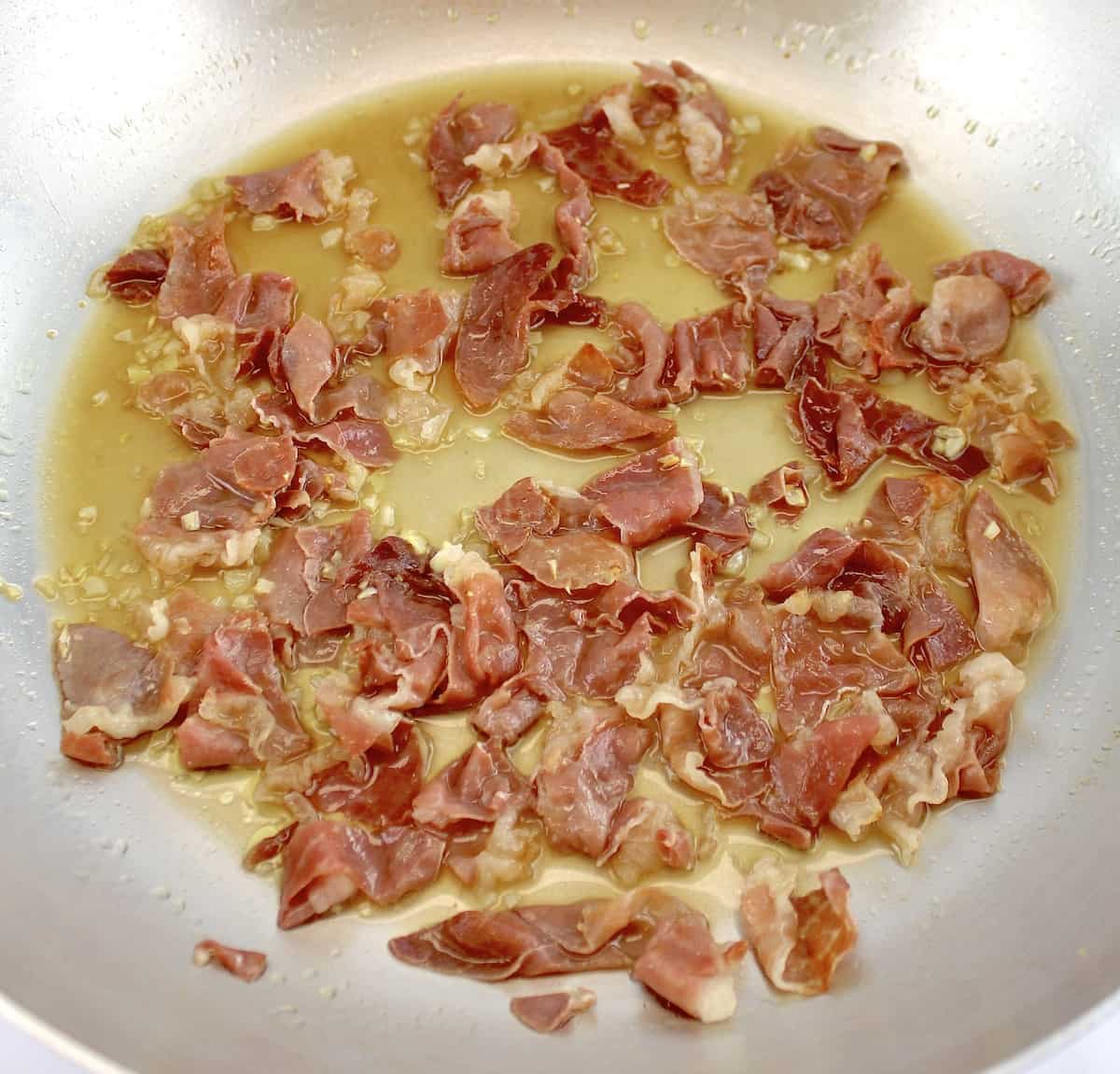 Allow the vodka to reduce slightly, then add the crushed tomatoes, diced tomatoes, tomato paste, basil, salt, and pepper and stir to combine.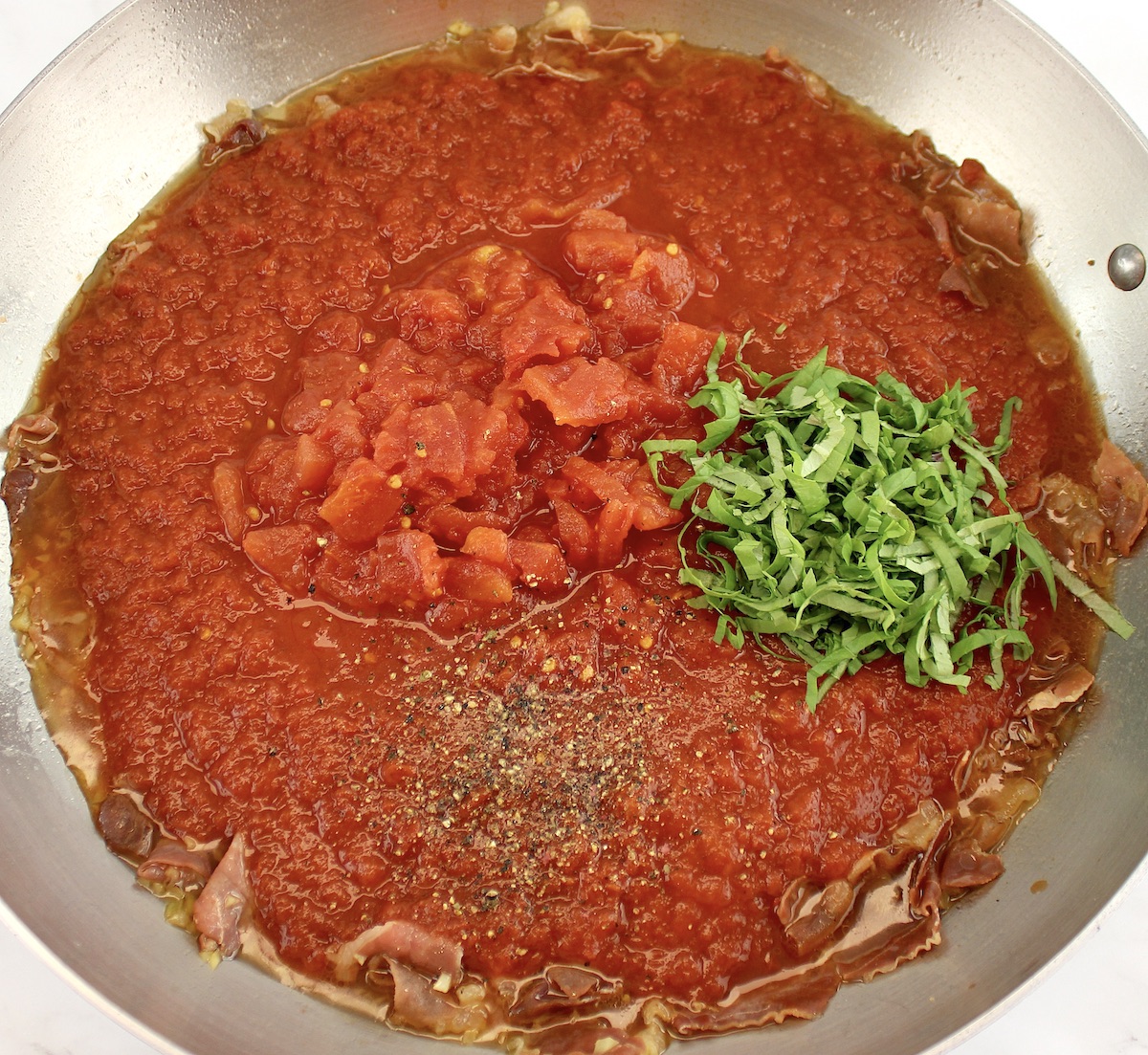 Mix in the heavy cream and stir until you no longer see streaks in the sauce.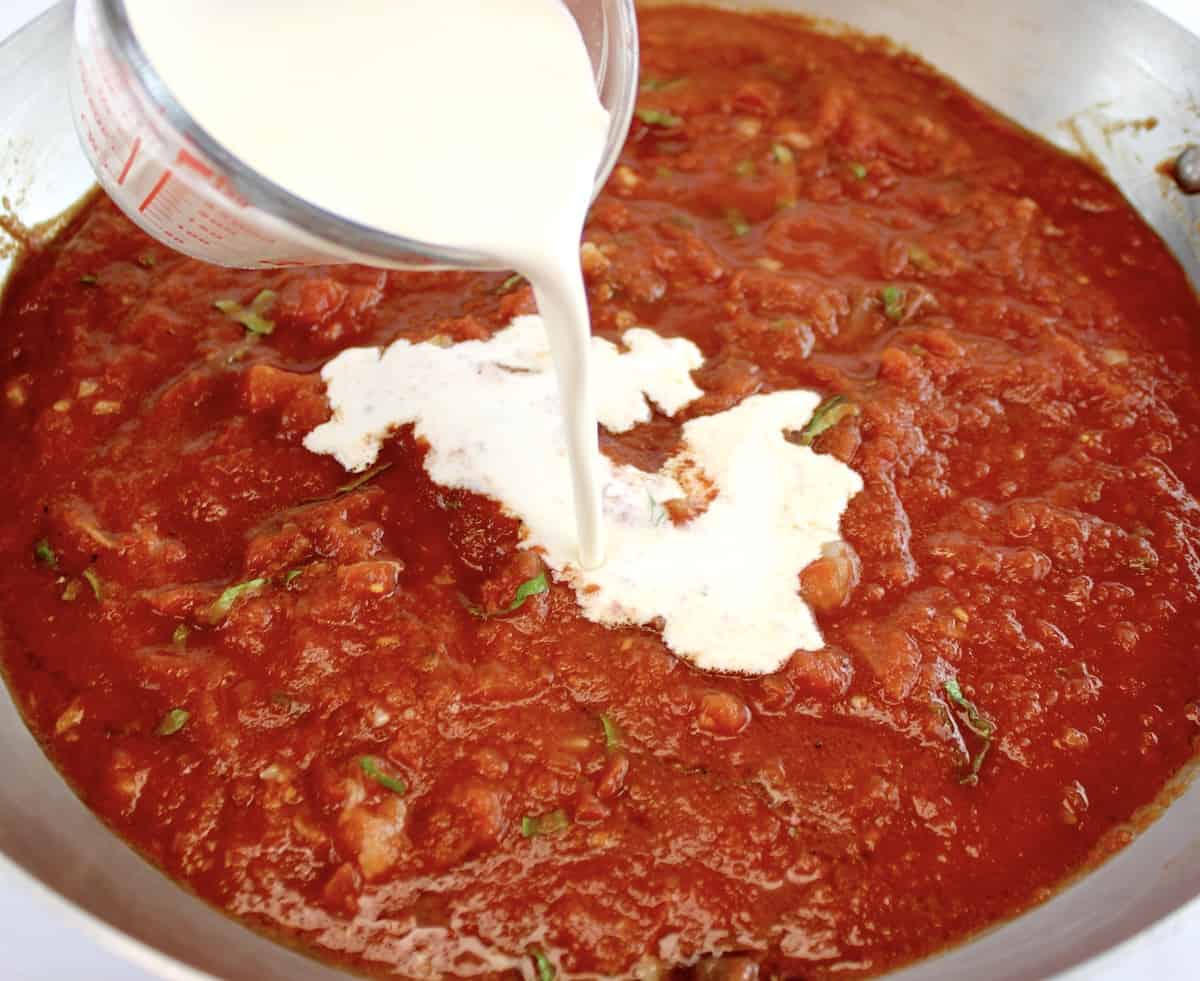 Simmer with the lid mostly covered for 25 minutes, stirring occasionally.
15 minutes into the sauce cooking, heat a large pot with water to a boil. Once boiling, add some salt and the penne.
Cook the penne according to the instructions on the package until it is almost al dente. You want it slightly undercooked because it will finish cooking in the sauce.
Reserving a little of the pasta water, pour the almost completely cooked pasta into the sauce.
Stir until the pasta is well coated and continue simmering until it is cooked through. If the sauce becomes too thick, add in a little pasta water.
Serve with some (optional) parmesan cheese and a little more basil over the top.
💡 Top Tips
Don't overcook the prosciutto: Prosciutto is very delicate and cooks very quickly. While sautéing is not the time to walk away. It should only take a minute or two to crisp.
Simmer the vodka: Once you have deglazed the pan, allow enough time for the vodka to reduce some. The reduction adds a wonderful depth of flavor.
Save the pasta water: Pasta water is full of starch that cooks out of the pasta. This starchy water is a great way to adjust the sauce's consistency, if it becomes too thick.
Slightly undercook the pasta: Unlike pasta salad, the pasta in this recipe continues to cook as it simmers in the sauce. To prevent mushy pasta, strain it right before the al dente stage, then add it to the sauce to finish cooking.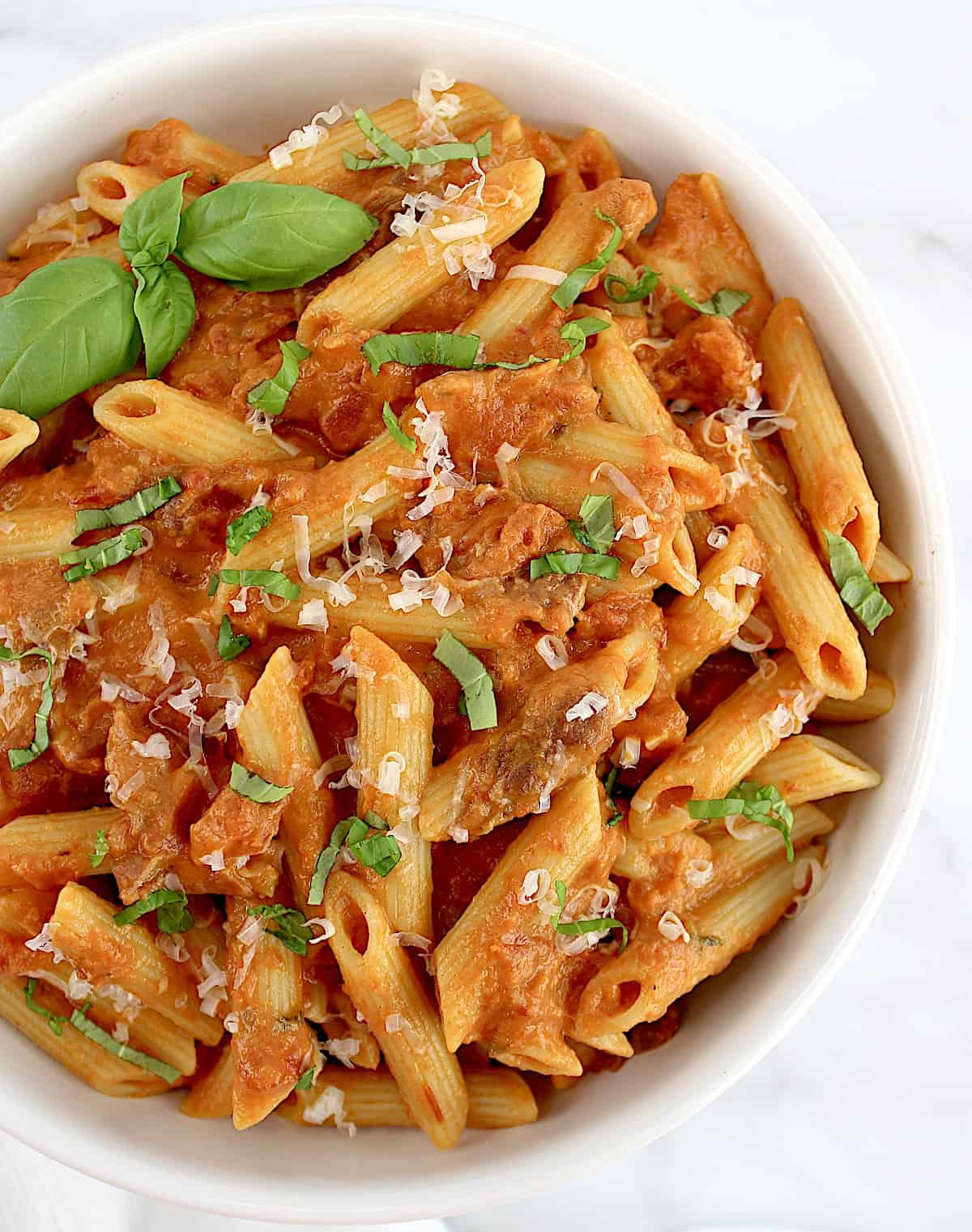 ☑️ Storage Instructions
This pasta dish is best served when freshly made, but you can store leftovers in an airtight container for up to 3-4 days. Freezing only the sauce also recommended.
🍴 What to Serve with this Creamy Penne Alla Vodka Recipe
This pasta is hearty enough to serve as a main course, so adding an appetizer or salad either before or after would be ideal. Here are some great options to consider: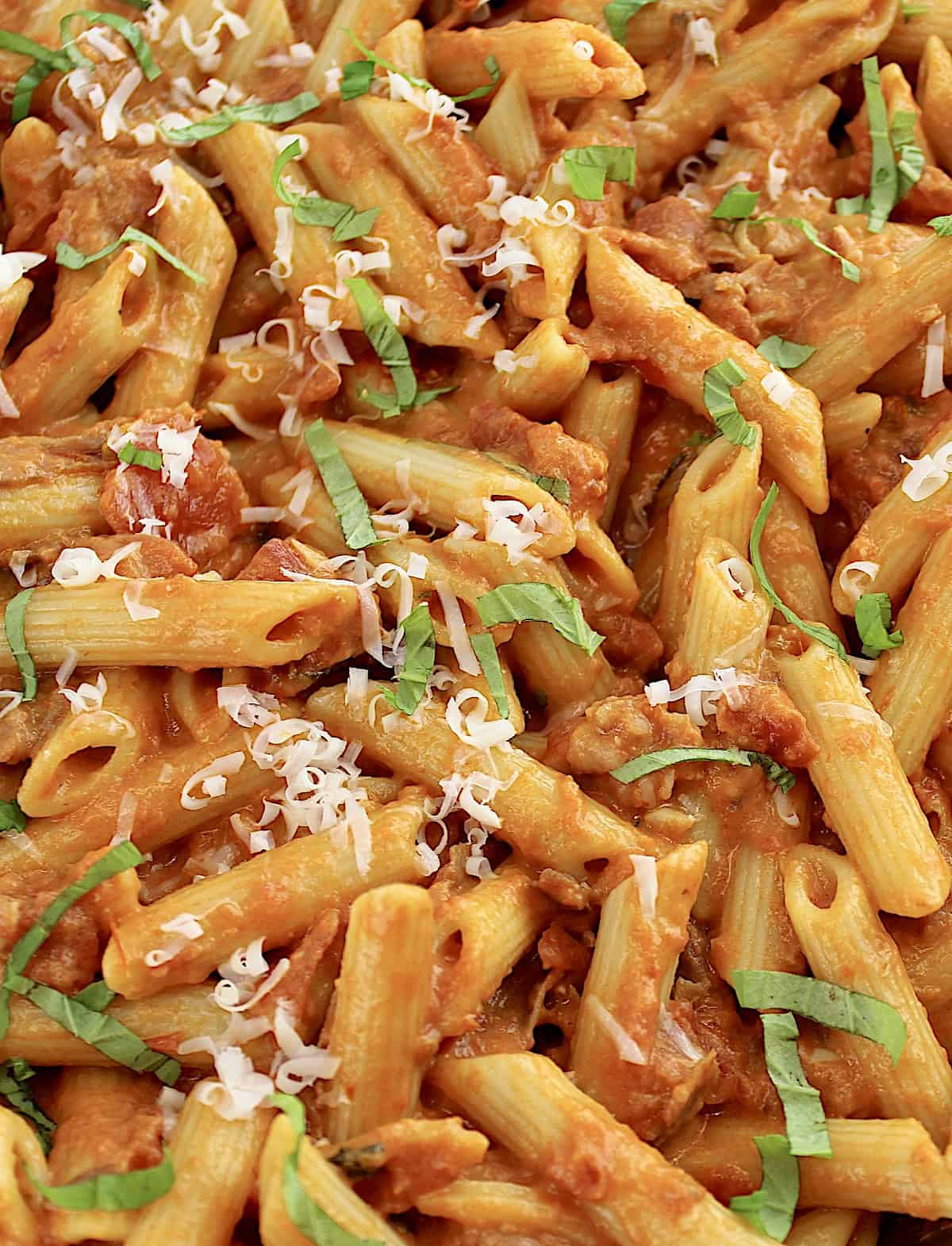 🔄 Substitutions and Additions
Penne pasta: You can substitute penne with other pasta shapes such as spaghetti, fettuccine, or rigatoni.
Prosciutto: You can use bacon or pancetta, if that's what you have on hand. If you prefer a vegetarian version, you can omit it.
Heavy cream: For a lighter version, you can use half-and-half or whole milk.
Parmesan cheese: Instead of grated Parmesan, you can use Pecorino Romano or Asiago.
Fresh veggies: You can add sautéed or vegetables like mushrooms or spinach for added flavor and nutrition.
Protein: Consider adding chicken, shrimp, or Italian sausage for a heartier meal.
Spices: Experiment with spices like red pepper flakes for a little heat, or oregano for additional flavor.
Sun-dried tomatoes: Chopped sun-dried tomatoes can add a sweet and tangy flavor to the sauce.
Roasted red peppers: Sliced or chopped roasted red peppers can provide a smoky and sweet flavor.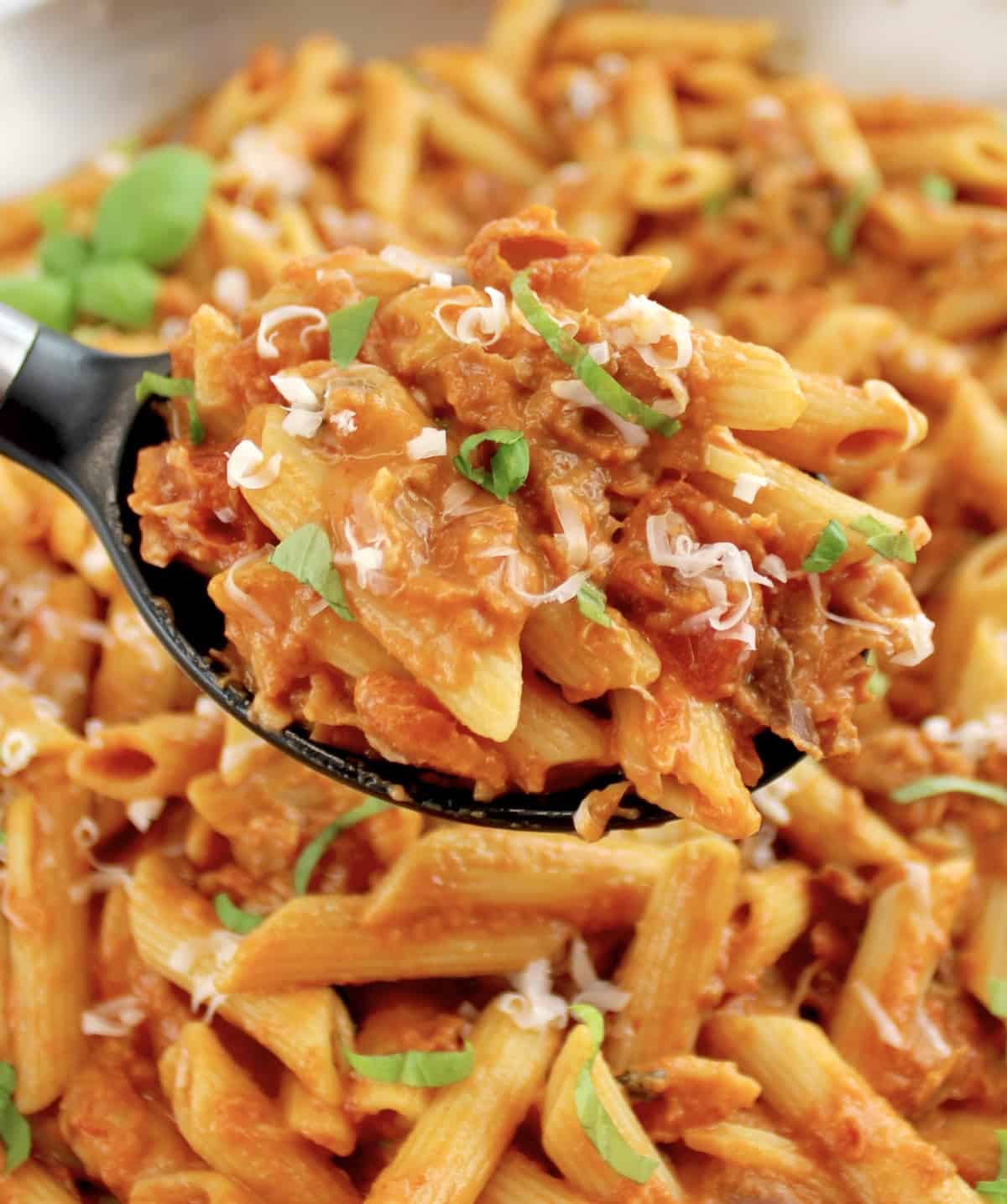 What Does the Vodka Do in Vodka Sauce?
The vodka helps to keep the sauce nice and creamy, acting as an emulsifier. Sure, you could use wine instead, but in a rich sauce like this, it's best to use a small about unflavored alcohol that adds incredible depth of flavor.
What Type of Vodka Should I use in Penne Alla Vodka?
You don't need a premium or super expensive vodka for cooking. A basic, unflavored vodka with at least 35% alcohol content works perfectly.
Can I Make this Penne Alla Vodka Recipe Without Vodka?
Yes, you can. If you want to omit alcohol, you can replace vodka with chicken or vegetable broth. If you don't mind the alcohol, you can use a nice drinkable wine like Pinot Grigio.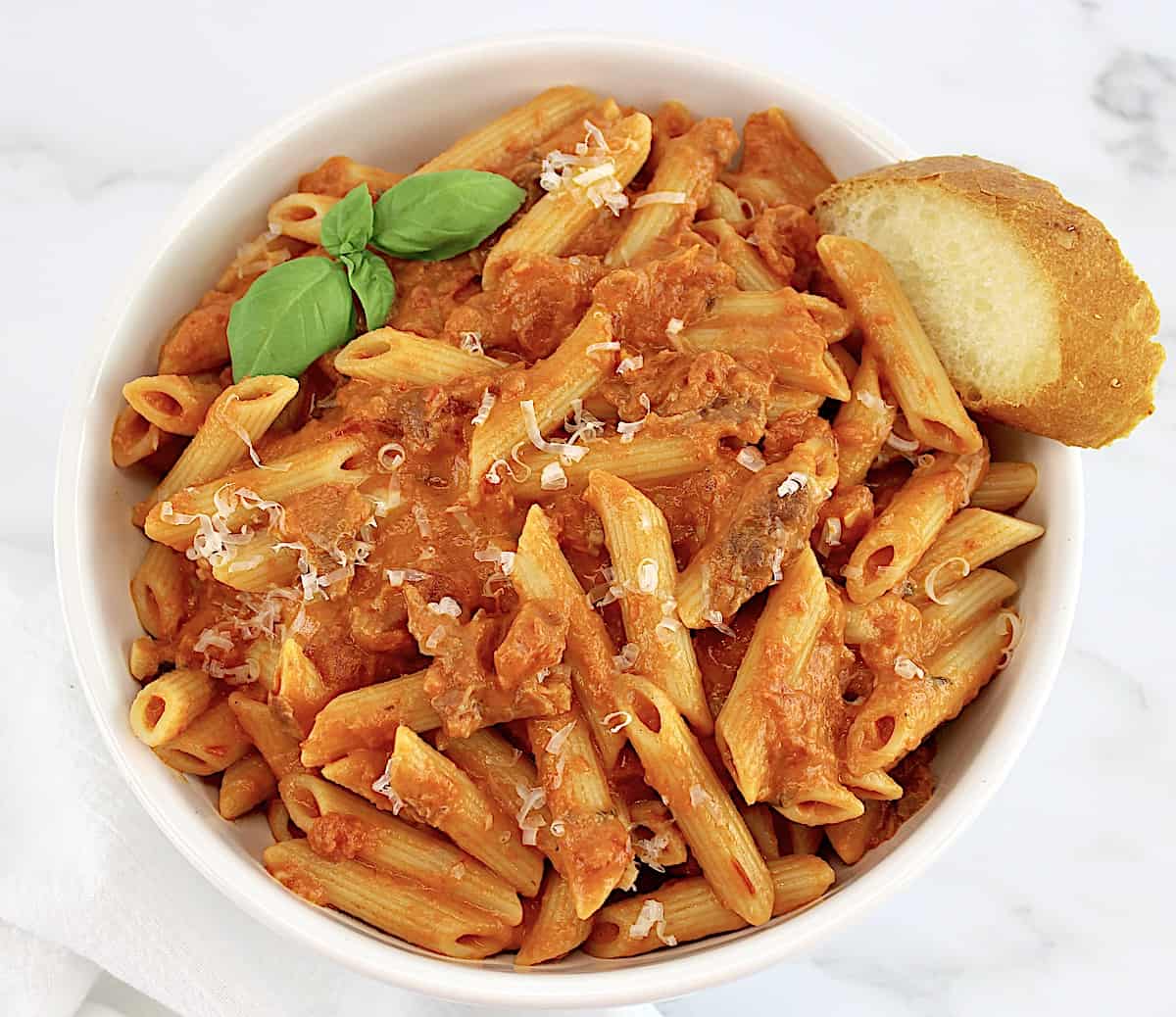 What Can I Do With Leftover Vodka?
If you have leftover vodka, here are some great ways to put it to good use:
Vanilla extract: In a glass bottle with a lid, add 3-4 vanilla beans that you have split lengthwise with a cup of vodka. Seal the container and give it a gentle shake. Store in a cool place for about 2 months, shaking once a day or so before using.
Stain remover: Vodka can be used to tackle tough stains on fabric. Add a few drops to the stain, let it sit for a few minutes, and then blot or rub gently to lift the stain. Then wash the item as normal.
Jewelry cleaner: Vodka can be used to clean most jewelry, especially when mixed with a bit of dish soap. Soak your jewelry briefly and then scrub gently with a soft brush.
🍽️ More Pasta Recipes