This Air Fryer Frozen Shrimp recipe delivers tender, juicy, and flavorful shrimp from the freezer to your plate in just 15 minutes. Add a simple side, and you'll have the perfect busy weeknight meal.
Jump to:
❤️ Why You'll Love This Air Fryer Shrimp Recipe
Tender, juicy and perfectly seasoned shrimp
Uses just a handful of ingredients
From freezer to plate under 15 minutes
Perfect last minute easy dinner idea
Got a hungry crew and forgot to thaw out something for dinner? No worries, because this air fryer frozen shrimp recipe is here to save the day. With a few simple ingredients, you can transform frozen shrimp into super flavorful, juicy, piping-hot shrimp in a matter of minutes.
Seasoned to absolute perfection, this shrimp recipe makes a scrumptious, quick, and easy lunch, hassle-free dinner, or tasty appetizer. And the best part? They're incredibly versatile, making them the ideal companion to just about any side dish or dipping sauce you can think of.
If you love the simplicity of this low-carb shrimp recipe, you should also check out these Sheet Pan Garlic Butter Shrimp and Keto Bang Bang Shrimp recipes.
🛒 Ingredients for Frozen Air Fryer Shrimp
Frozen raw jumbo shrimp
Ground black pepper
*Exact measurements are listed in the recipe card below.
🥣 Recommended Tools
🔪 How to Cook Frozen Shrimp in the Air Fryer
Preheat air fryer at 400°F for 4 minutes.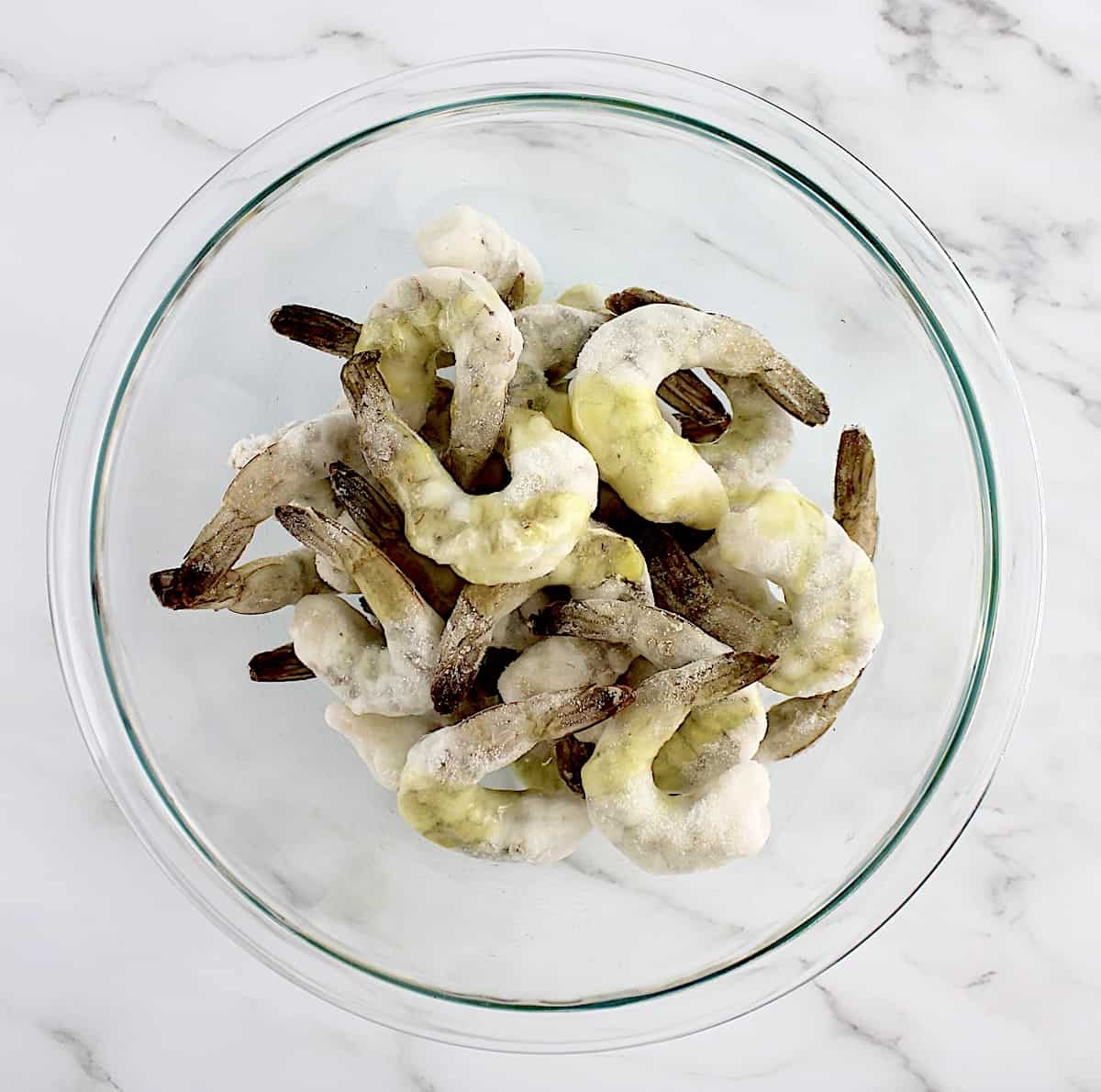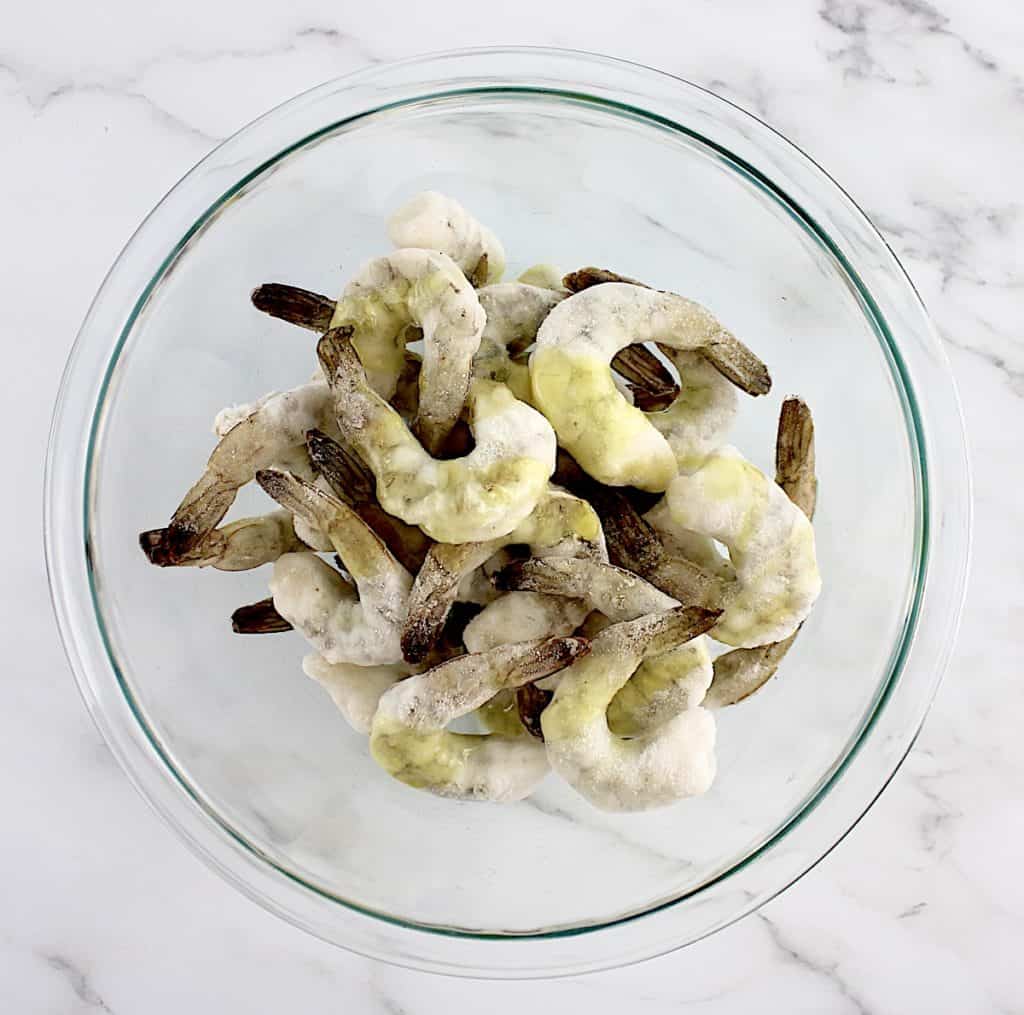 Separate any shrimp that are stuck together, then add them to a mixing bowl. Drizzle the olive oil over the top and toss the shrimp, making sure each one is well coated.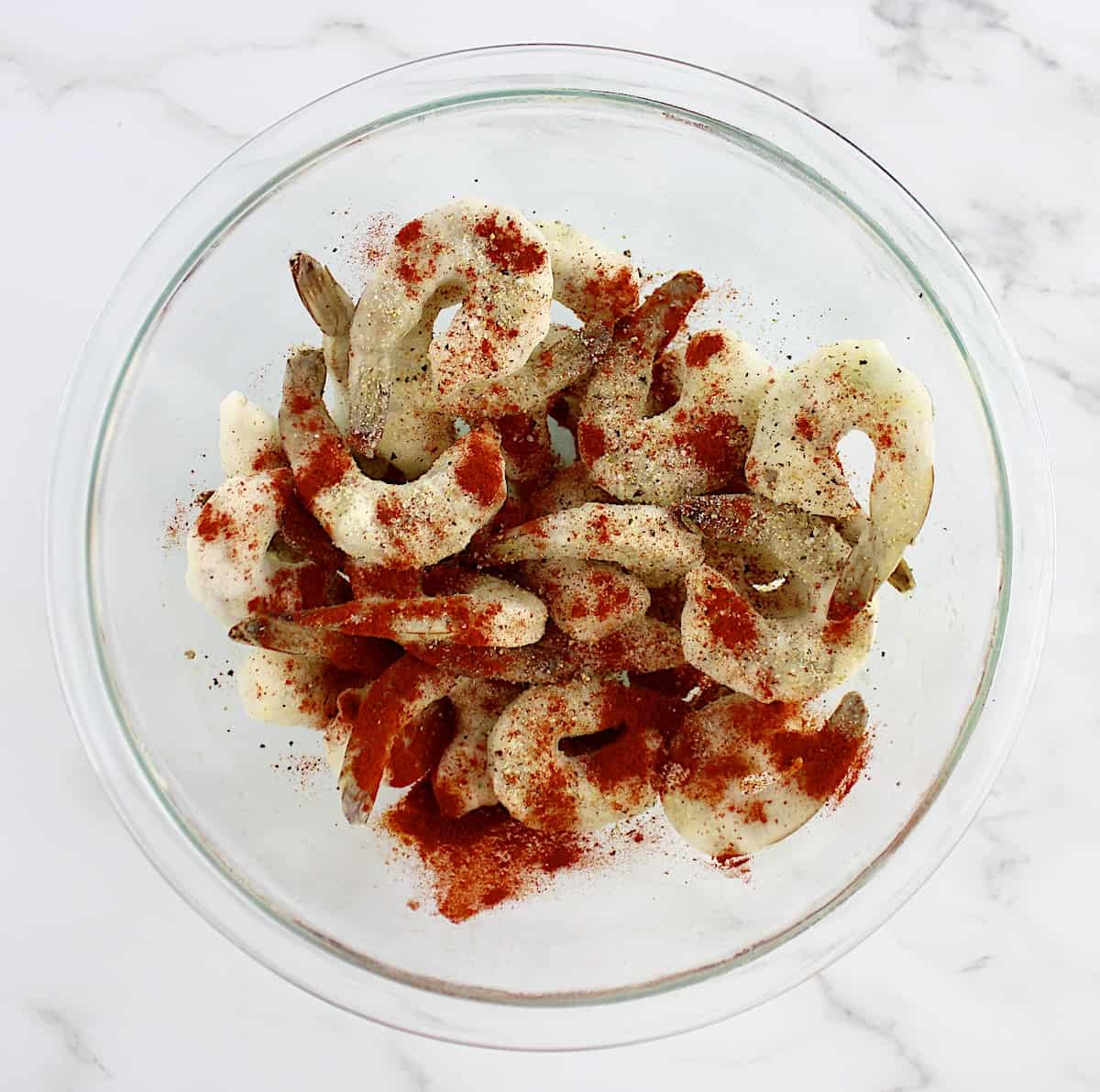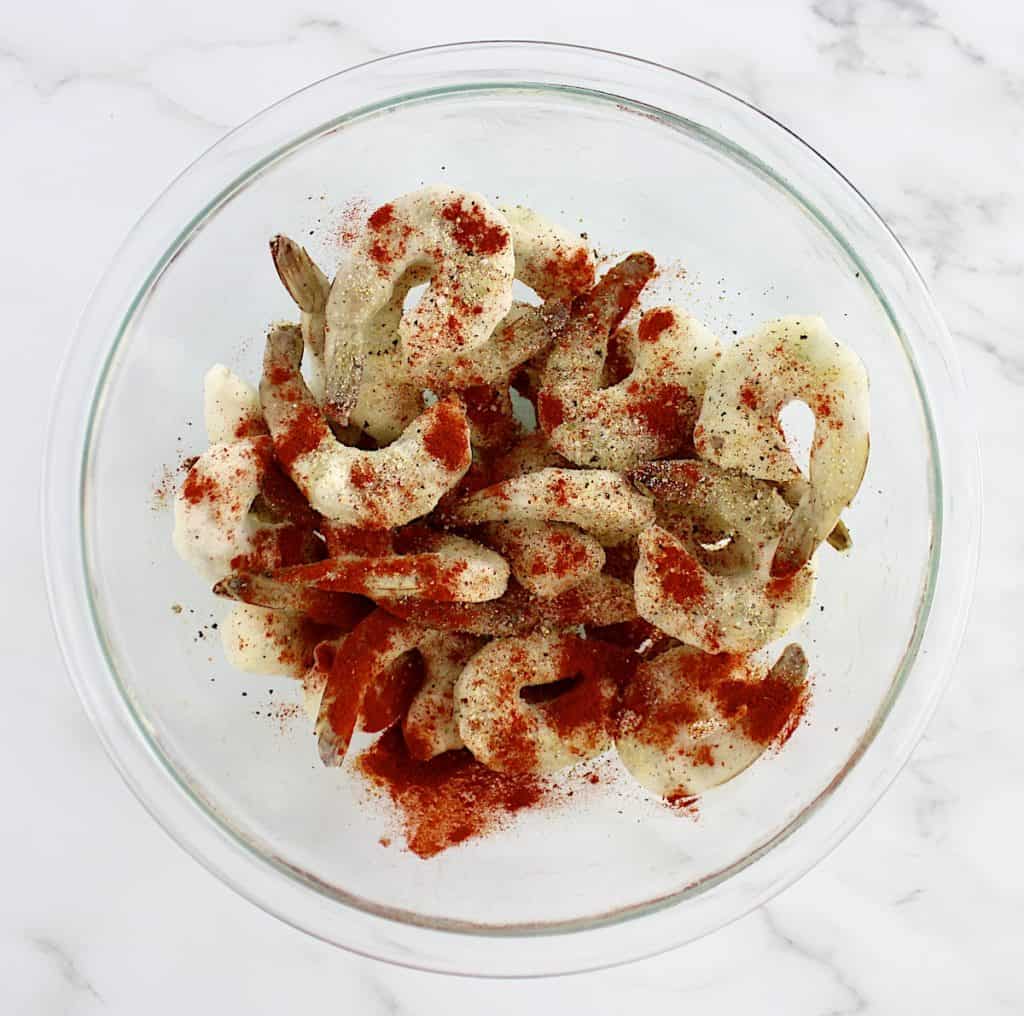 Sprinkle the smoked paprika, garlic salt, and pepper over the top and toss again.
Add a single layer of shrimp to the basket of your air fryer. You will likely have to cook them in two batches, depending on the size of your air fryer.
Air fry for 8–9 minutes, flipping halfway through, and serve. Cooking times may vary depending on the size of your shrimp.
💡 Tips for Making the Best Shrimp
Always preheat the air fryer: Just like with a regular oven, preheating your air fryer helps ensure even cooking.
Lightly coat with oil: This helps the seasoning stick to frozen shrimp and helps them turn a pretty golden color when they're done.
Avoid overcrowding: For anything to cook properly in an air fryer, you need to make sure to add it in a single layer in the basket or tray.
Choose the right size shrimp: Keep in mind that shrimp shrink when cooked. If serving them for dinner, you'll want large or jumbo-sized shrimp.
Check for doneness: Some air fryers cook faster than others, so keep an eye on the shrimp to avoid overcooking. They cook quickly!
☑️ Storage Instructions
Allow the cooked shrimp to cool to room temperature before transferring them to an airtight container. They'll stay fresh in the fridge for up to a couple of days.
🍴 What to Serve with Air Fryer Shrimp
If you're looking for a tasty side dish to make these shrimp a complete meal, check out these healthy sides:
Also be sure to try serving it with these air fryer frozen potato wedges. They cook up in just 20 minutes!
Another great side that would pair well with this shrimp are these air fryer oyster mushrooms. They are perfectly crispy on the outside, and melt-in-your mouth tender inside!
🔄 Substitutions and Additions
Toppings: You can finish the shrimp with a sprinkling of fresh herbs, lemon zest, or finely grated parmesan cheese.
Can You Freeze Previously Frozen Shrimp?
Freezing shrimp that have been previously frozen can be safe. But for best results, it's best to avoid double freezing if possible. Double freezing can lead to changes in texture and flavor. If you're planning to freeze them again, it's best to do so immediately after thawing, without letting them sit at room temperature.
What is the Best Way to Cook Frozen Shrimp?
Though the air fryer is easy and super convenient, you can also bake, broil, or grill frozen shrimp. .
How Long Does Frozen Shrimp Take in an Air Fryer?
The cook time depends on the type of air fryer and the size of the shrimp. For planning purposes, you should figure on it taking between 8 and 12 minutes per pound.
Does Shrimp Have to be Thawed Before Air-Frying?
Hopefully, after you try this recipe, you'll see that you can create tasty, mouth-watering shrimp without the extra step of thawing.
These Air fryer frozen chicken wings can also be air fried completely frozen, making them so convenient as a last minute dinner!
Can You Air-Fry Frozen Shrimp with the Shell on?
While you can leave the shells on, do yourself and your dinner guests a favor by removing them first. Not only do they taste better, but peeling them beforehand means less mess at the table.
🍽️ More Air Fryer Recipes