This irresistible Chicken Corn Chowder combines tender chicken, smoky bacon, creamy potatoes and fresh corn in a silky smooth broth. It's a comforting, homestyle chowder the whole family will love.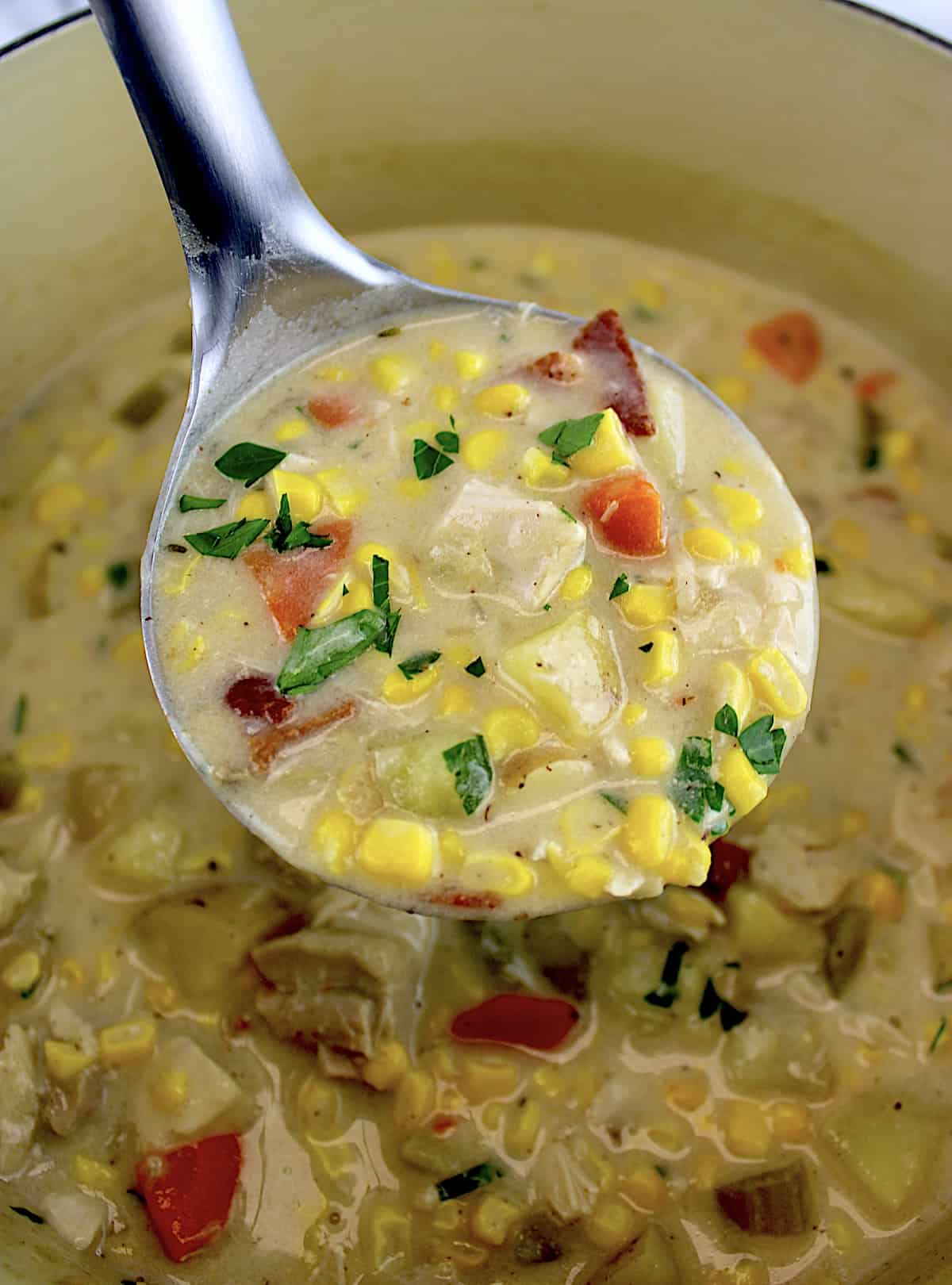 Jump to:
❤️ Why You'll Love This Corn Chowder Recipe
Made with fresh corn on the cob for lots of corn flavor
Chunks of tender Yukon gold potatoes
Smoky bacon and tender chicken make it a hearty meal
Creamy and silky broth
Gluten Free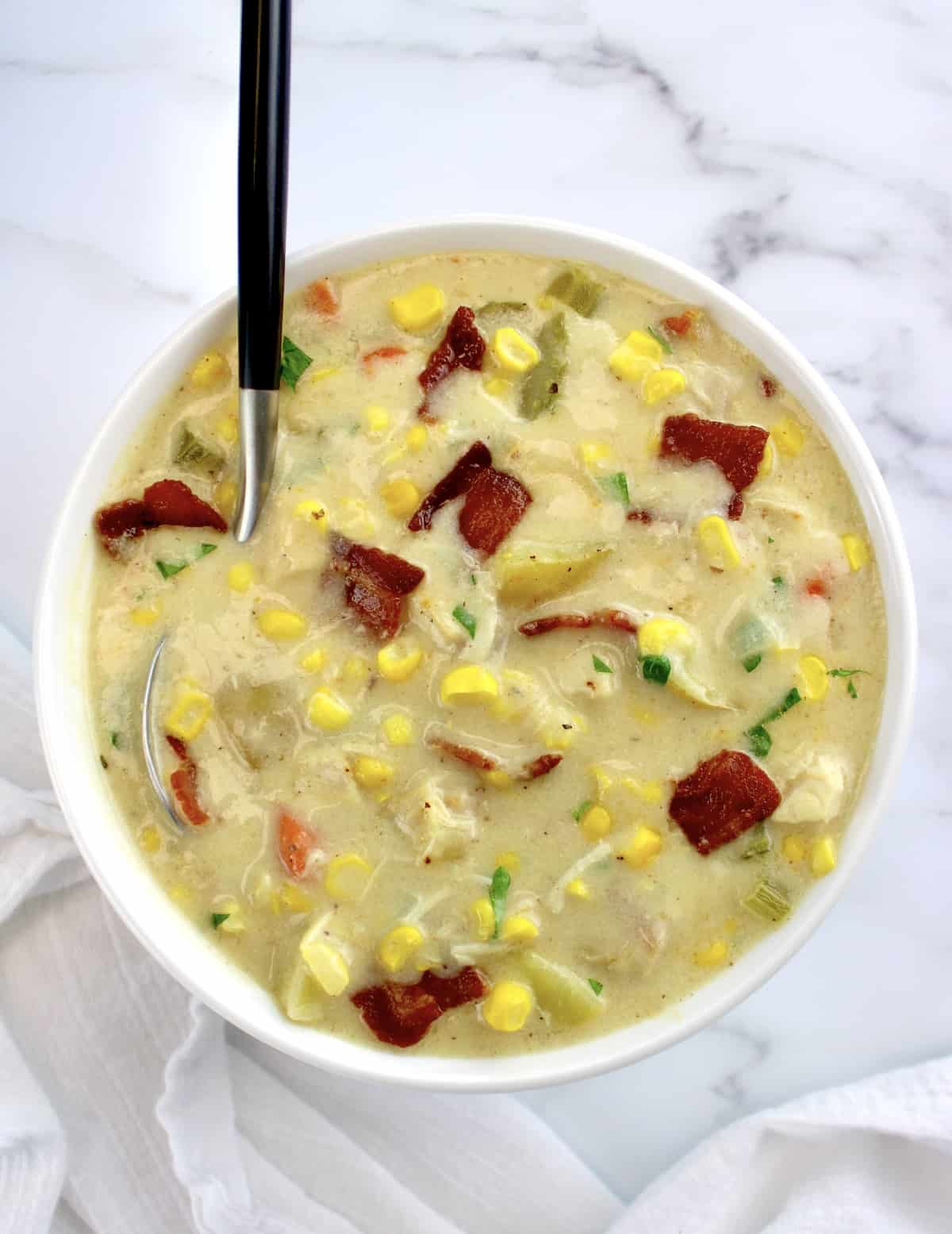 This warm, comforting, and hearty corn chowder recipe has the most wonderful combination of flavors and textures. With every bite, you get the natural sweetness of corn, the savory richness of bacon and chicken, and the melt-in-your-mouth tenderness of potatoes.
It's not only incredibly satisfying and full of fresh corn flavor, it's also easy to make in just 45 minutes! Whether you're looking for a quick weeknight dinner or a hearty lunch option, this simple yet flavorful chowder is the perfect answer.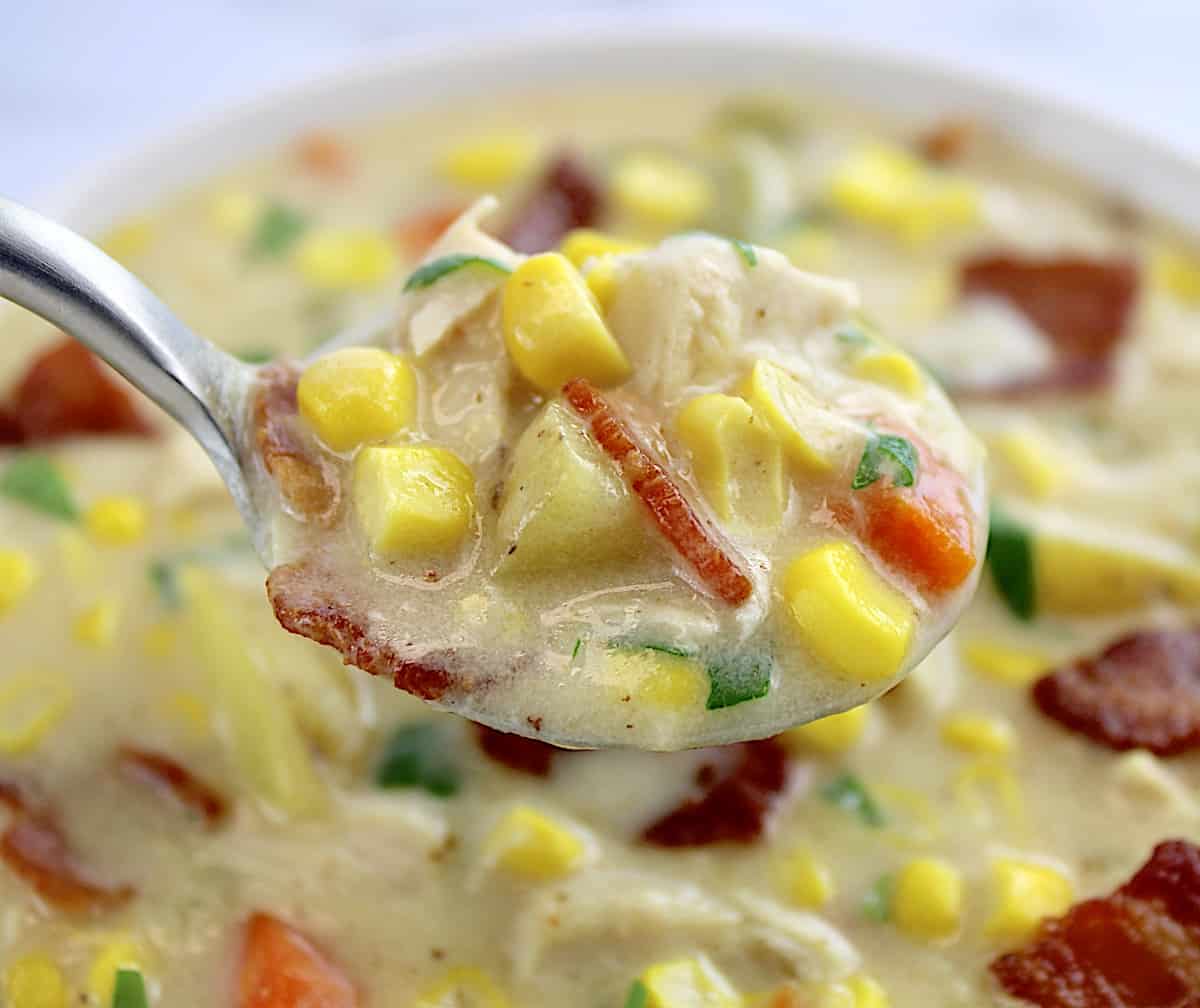 This chowder is made using wholesome ingredients that create the perfect bowl of homestyle chowder. If you like hearty chicken soups, you should also try this Chicken Fajita Soup and this Spinach Artichoke Chicken Soup.
🛒 Ingredients for Chicken Corn Chowder
Chicken
Corn
Potatoes
Bacon
Celery
Carrots
Onion
Heavy cream
Butter
Parsley
Garlic
Thyme
Salt
Ground black pepper
*Exact measurements are listed in the recipe card below.
🥣 Recommended Tools
🔪 How to Make Gluten Free Corn Chowder
Remove the husks and silk from your corn, then cut the kernels off the cob. Set the kernels aside and place the cobs in a large pot.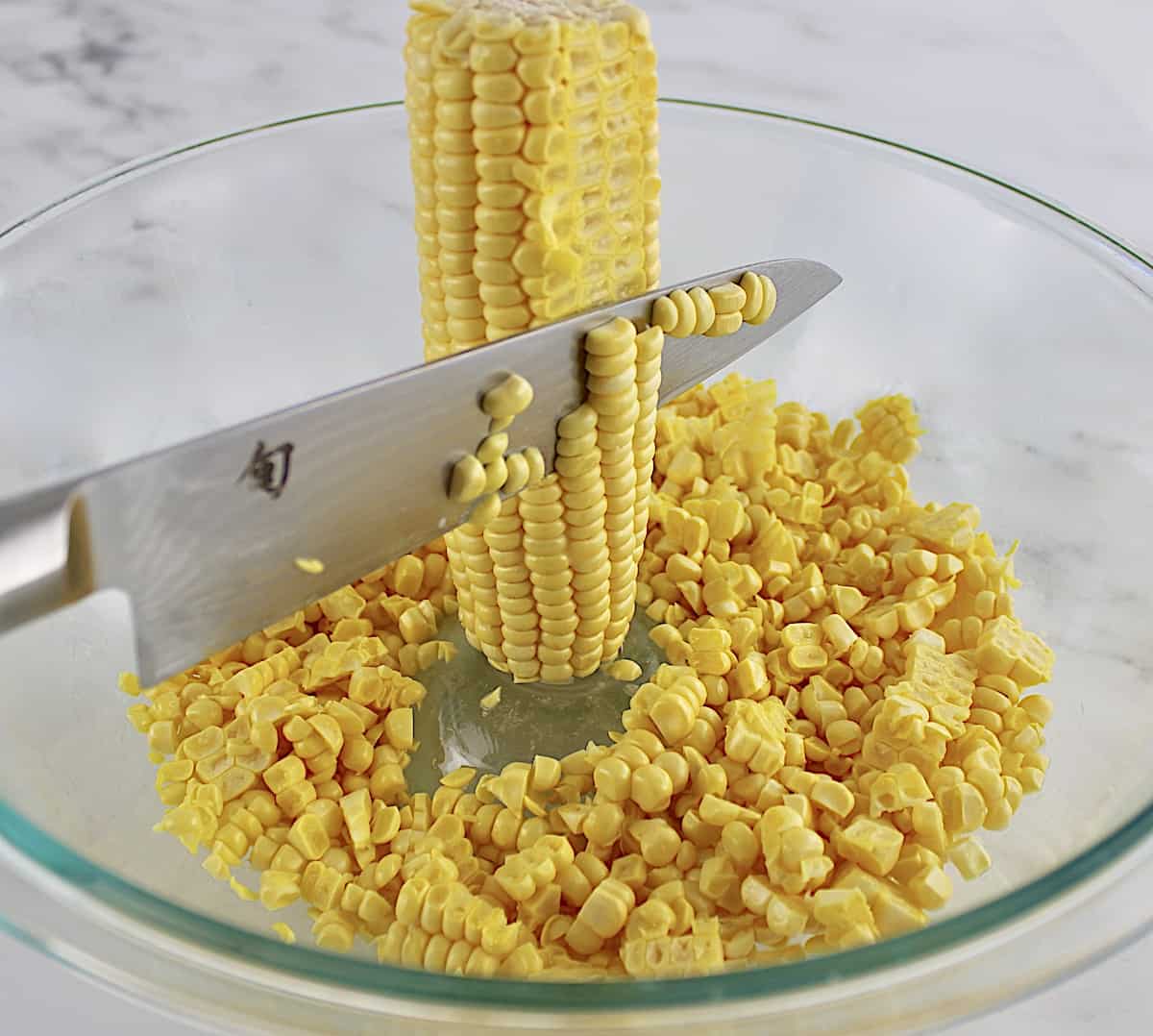 Pour in the chicken broth, cover, and bring to a low simmer for 10 minutes while you prepare the rest of the ingredients.
Tip: Don't skip this step. Simmering the cobs extracts the corn milk, or "corn cream," giving the broth incredible flavor.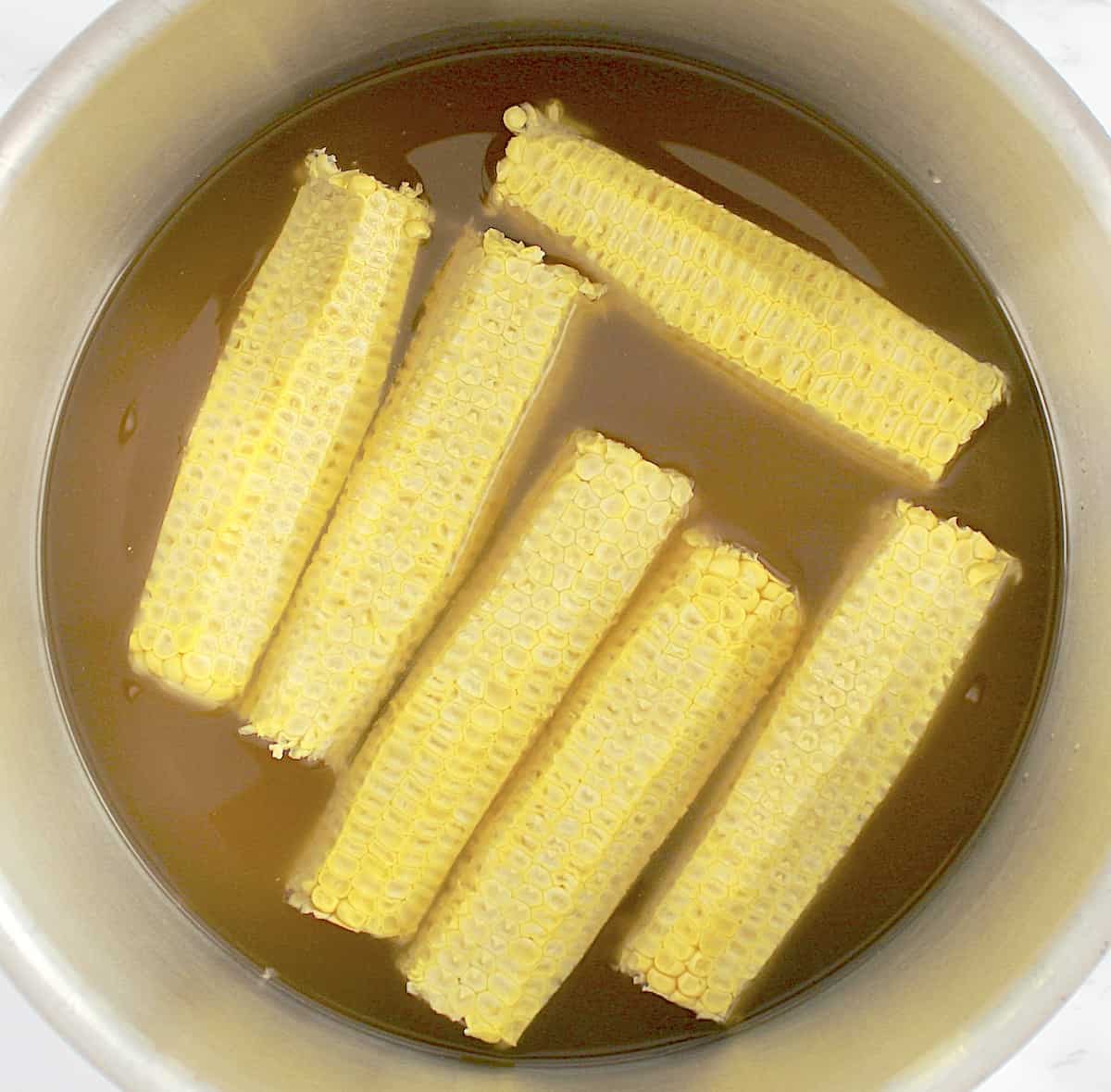 Heat a Dutch oven or another large pot to medium. Add in the bacon and cook until crisp, then remove and set aside.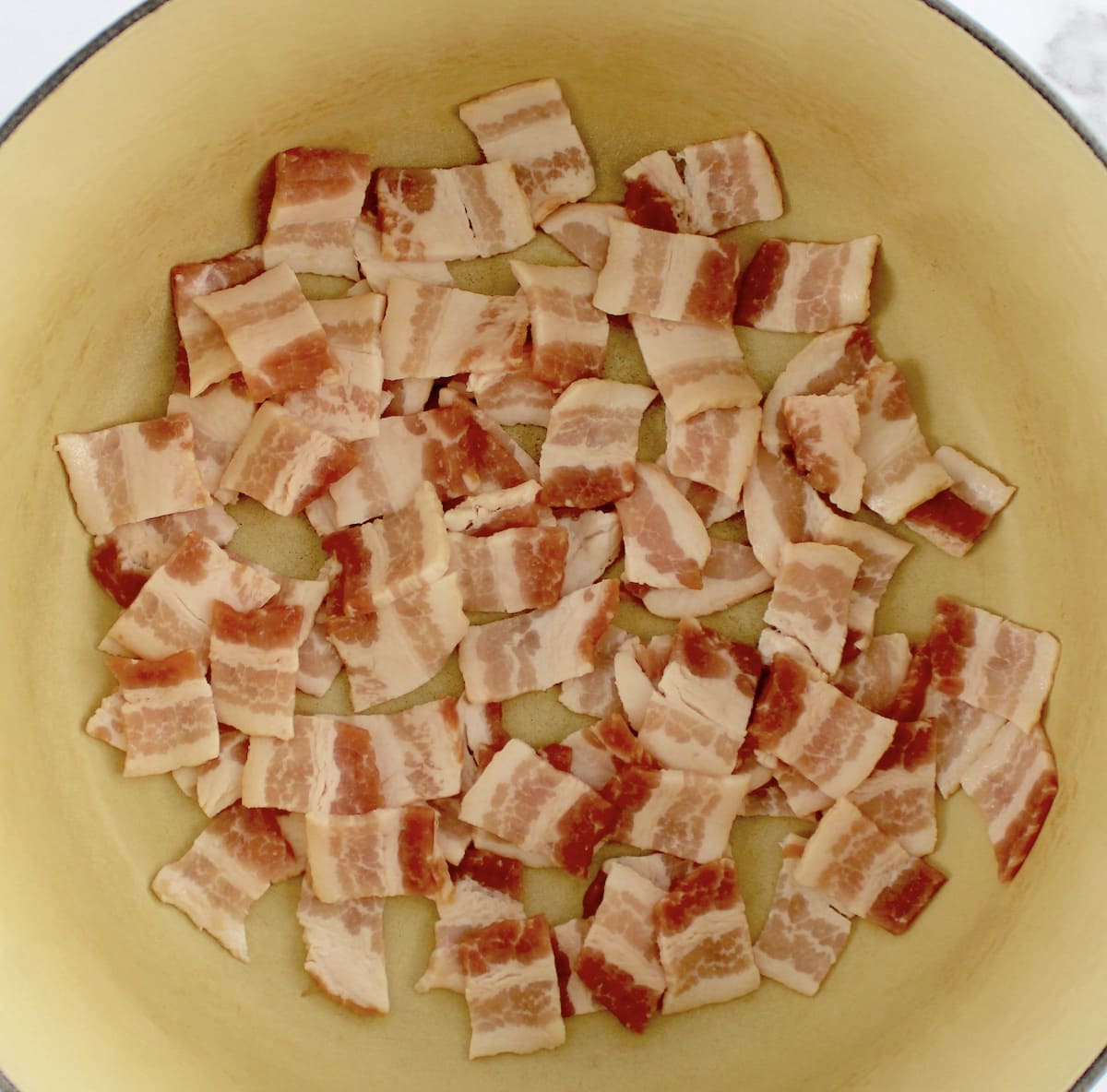 Leaving the bacon grease in the pan, add in the onions, celery, carrots, and half the salt and pepper.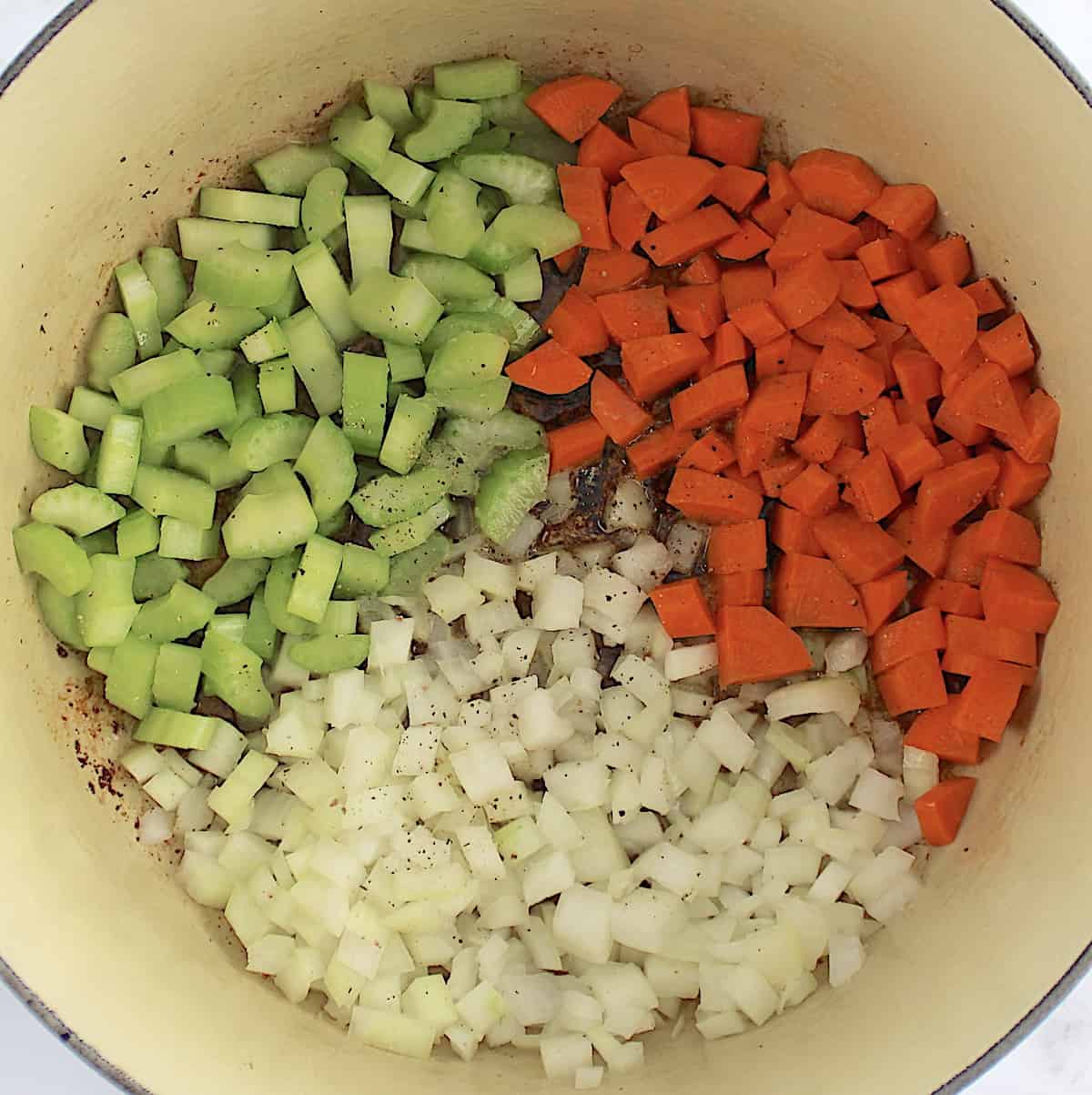 Sauté until they have softened, then add in the garlic and sauté for about 15 seconds.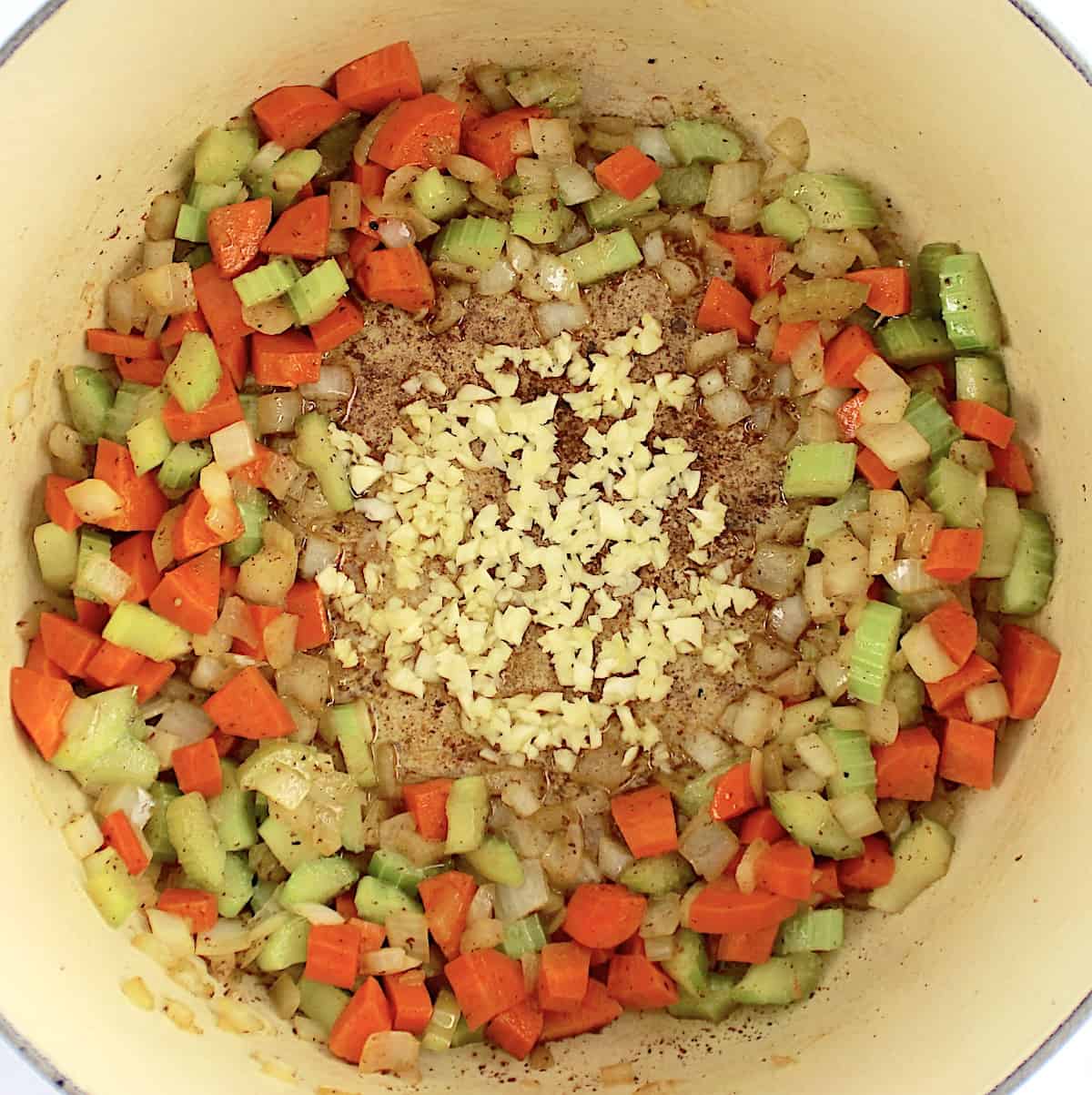 Add the butter, and once melted, add in the flour. Stir for about 1-2 minutes, stirring constantly.
Remove the corn cobs from the chicken broth pot and discard them. Pour the broth into the pot with the veggie mix.
Add in the corn, chopped potatoes, and cubed chicken. Stir in the heavy cream, remaining salt, pepper, and thyme.
Simmer uncovered for 25-30 minutes, or until the potatoes are cooked through and the soup has thickened to your liking.
Just before serving, add in the bacon and chopped parsley, then serve.
💡 Tips
Save your cobs: When fresh corn is in season, throw your leftover cobs in the freezer. Then, when winter rolls around, you can thaw and use the cob to make the broth.
Cook the flour: When adding flour to thicken the soup, make sure to cook it long enough that the raw flour taste is cooked off.
Stir often: You'll want to gently stir the chowder regularly to prevent the natural starch in the potatoes and the sugars in the corn from sticking.
Wait to garnish: Wait to add the crispy bacon and vibrant green parsley to help maintain their texture and color.
Prep in advance: Save a little time by chopping and measuring the veggies ahead of time. You can prep them the night before and store them in the fridge until the next day.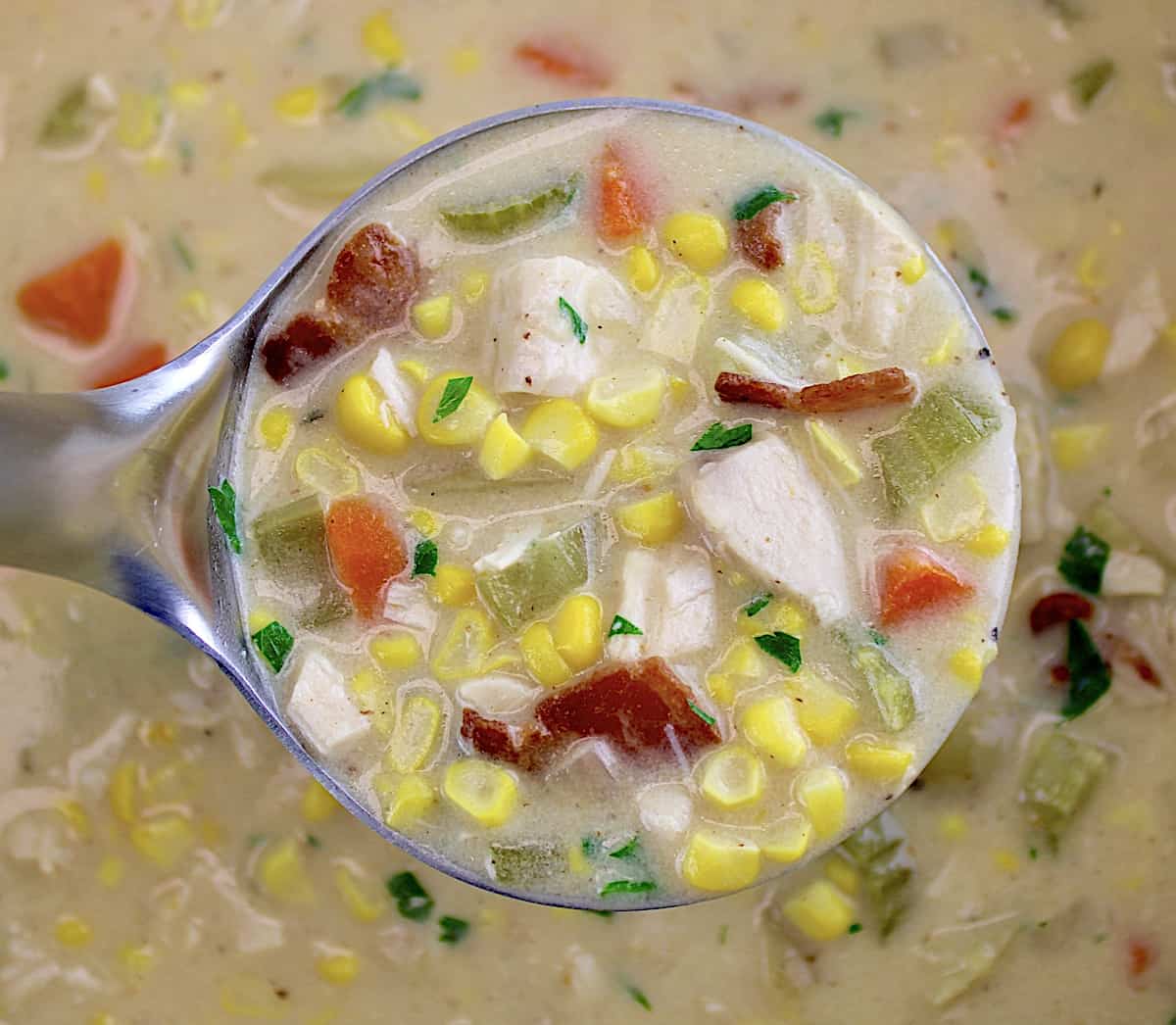 ☑️ Storage Instructions
Fridge: Allow the chowder to cool to room temperature, and then transfer it to an airtight container. Store it in the refrigerator for up to 3-4 days.
Freezer: Transfer the cooled chowder to freezer-safe containers or resealable freezer bags. Store in the freezer for up to 3-4 months.
🍴 What to Serve with
This is a one-pot meal that's satisfying enough by itself. Serve a piping hot bowl of this chowder with a slice of this healthy homemade Cornbread, Dinner Rolls, Braided Bread or some of these 4-Seed Crackers.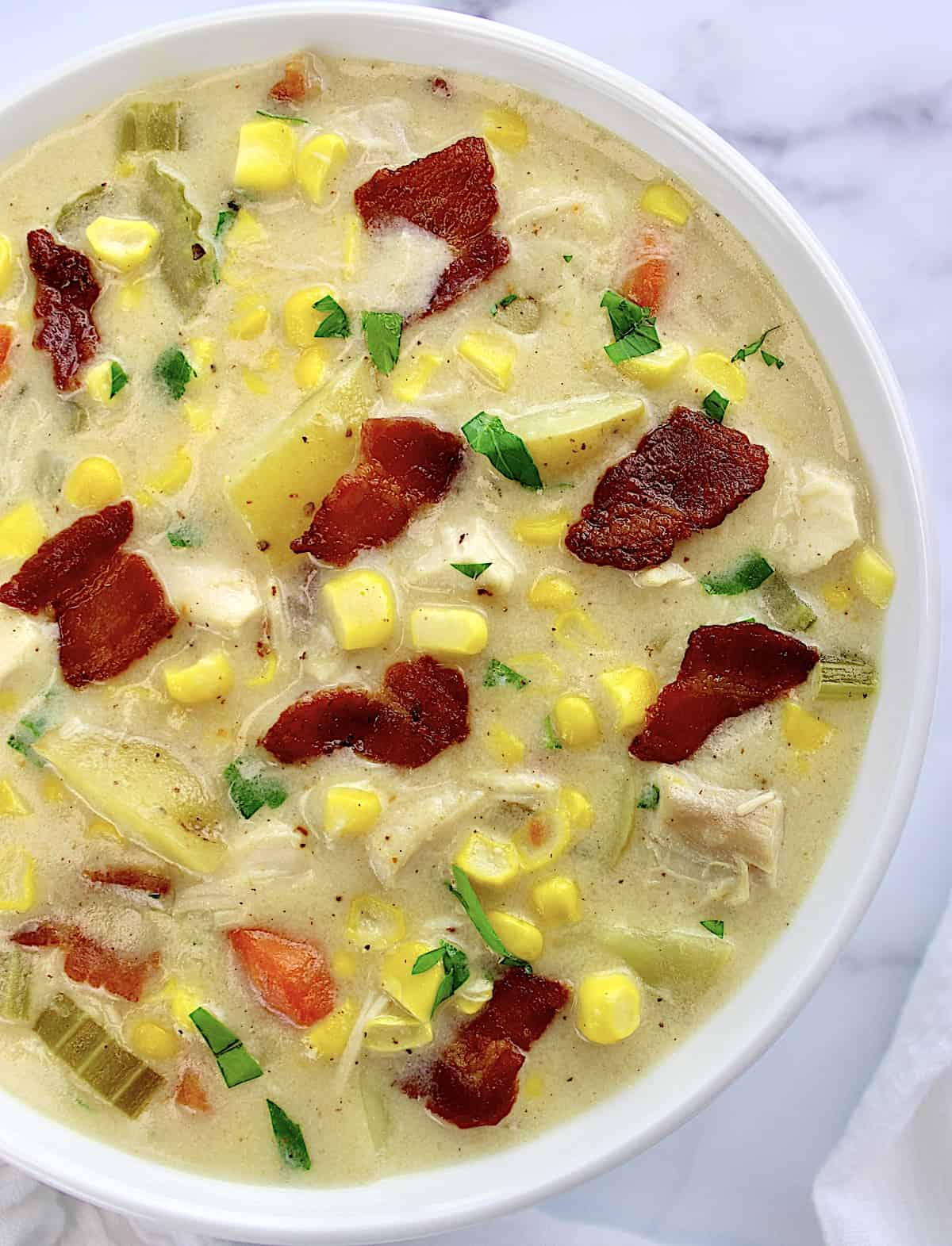 🔄 Substitutions and Additions
Chicken: You can use cooked chicken breast, thighs, or rotisserie chicken. If you want to make a lighter appetizer version, you can even omit the chicken. If you do, just be sure to cut down a little on the amount of broth that you use.
Potatoes: While Yukon gold potatoes are recommended, you can substitute them with red potatoes or russet potatoes.
Corn: Summer fresh corn is the best choice. But let's face it, winter is the best time for soup. No worries. Frozen corn on the cob can be just as flavorful as fresh because it is flash-frozen at its peak ripeness. Canned corn should only be used as a last resort.
Other veggies: Feel free to add other fresh veggies like bell peppers, sweet peas, asparagus tips, or diced zucchini.
Toppings: Grated cheddar, Monterey Jack, or Parmesan make a great additional cheesy topping. Croutons, sliced green onions, or crispy French onions are other tasty toppings.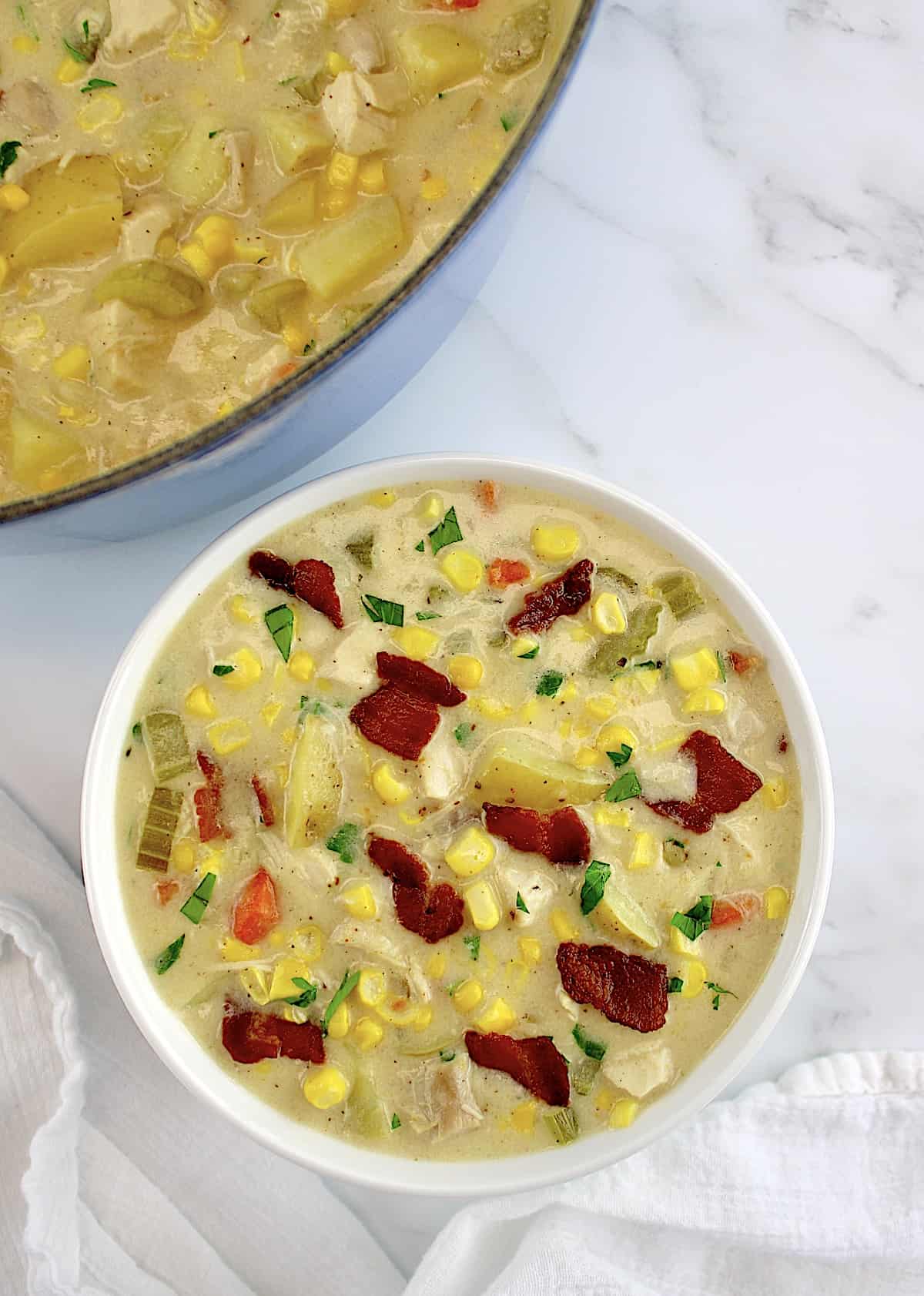 What's the Difference Between Chowder and Soup?
While chowder can be considered a type of soup, the primary difference is that it is known for its thick and creamy texture. Chowder typically starts with a creamy base and often has chunky ingredients such as potatoes, seafood, or chicken, and vegetables.
Soup comes in all sorts of forms, from clear broths to thick or chunky variations, and can be made with a variety of liquids to create the base.
How Do You Thicken Corn Chowder?
To thicken corn chowder, you can create a roux by melting butter in a pan, adding flour, and stirring until it forms a paste. Once it's made, if it's still too thin, you can add a cornstarch slurry to the chowder.
Why Does My Corn Chowder Taste Bland?
Potatoes have a very neutral flavor, so you'll need to season the chowder. That's not to say you should add a lot of salt, because you'll be adding a salty bacon topping. But feel free to add herbs and spices of your choice, tasting as it simmers.
Does Chowder Always Have Corn in it?
No, chowder does not always have corn in it. While corn is one of the most popular variations, you can make it with various main ingredients, such as different types of seafood and vegetables.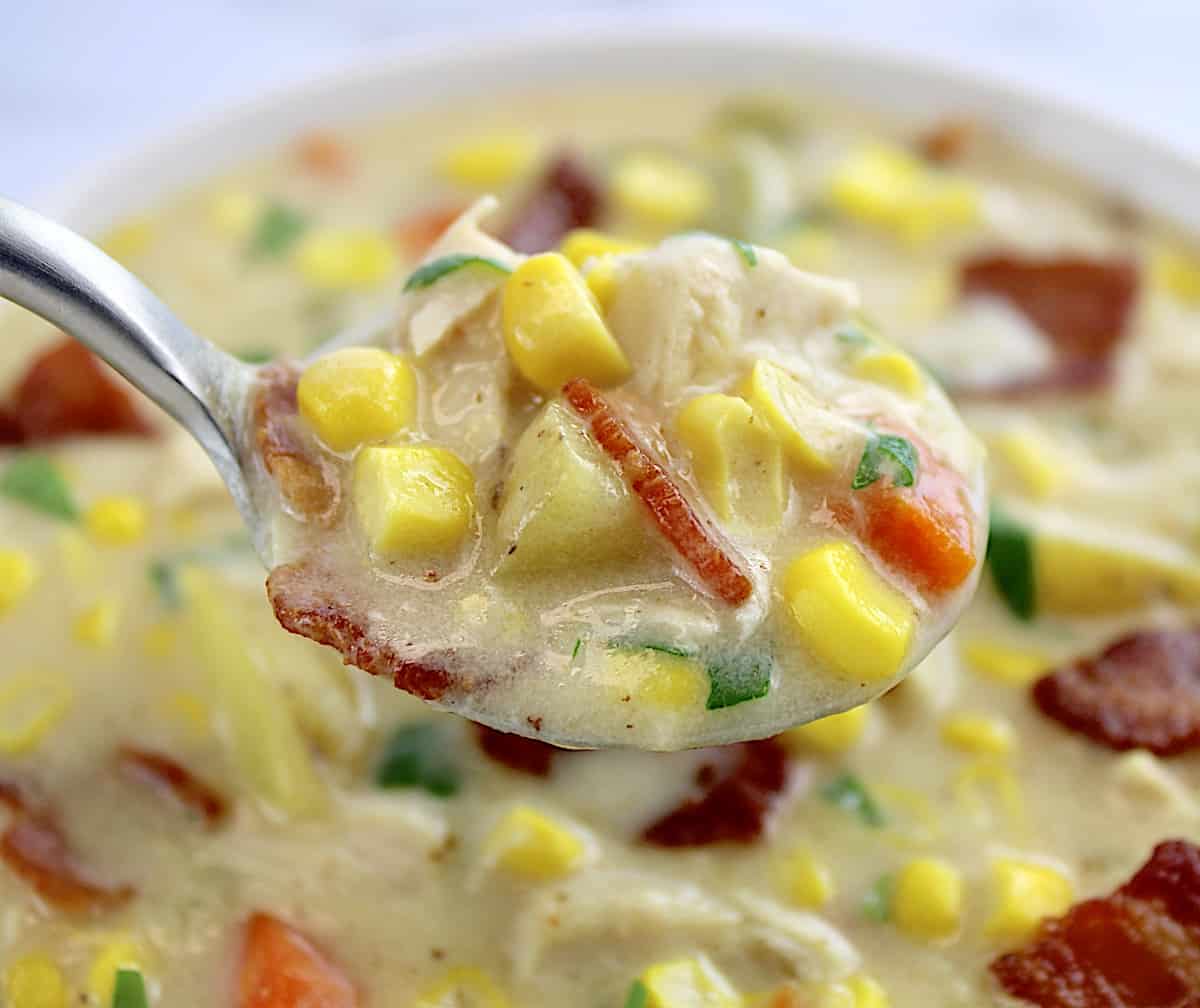 Also be sure to try this hearty and delicious chicken and rice casserole, made with mushrooms and plenty of Gruyere cheese!
🍽️ More Healthy and Hearty Soup Recipes