I do love a dollop of jam on my toast but I haven't eaten any for years now, except for the odd teaspoon when out having a cream tea, I can never resist it then!  Laden with sugar, I've wanted to keep it at bay from my girl's palate, I've made numerous fruit "jams" by boiling up fruit until soft, but it's just not the same consistency as jam which holds its shape on toast.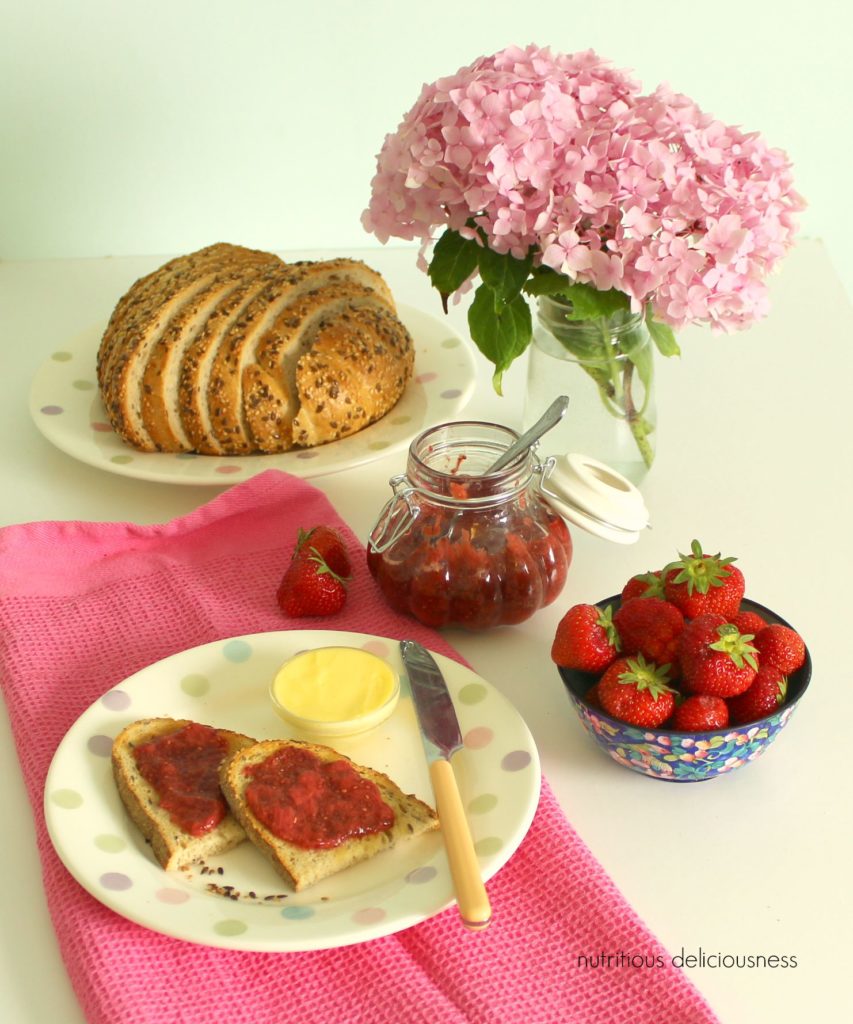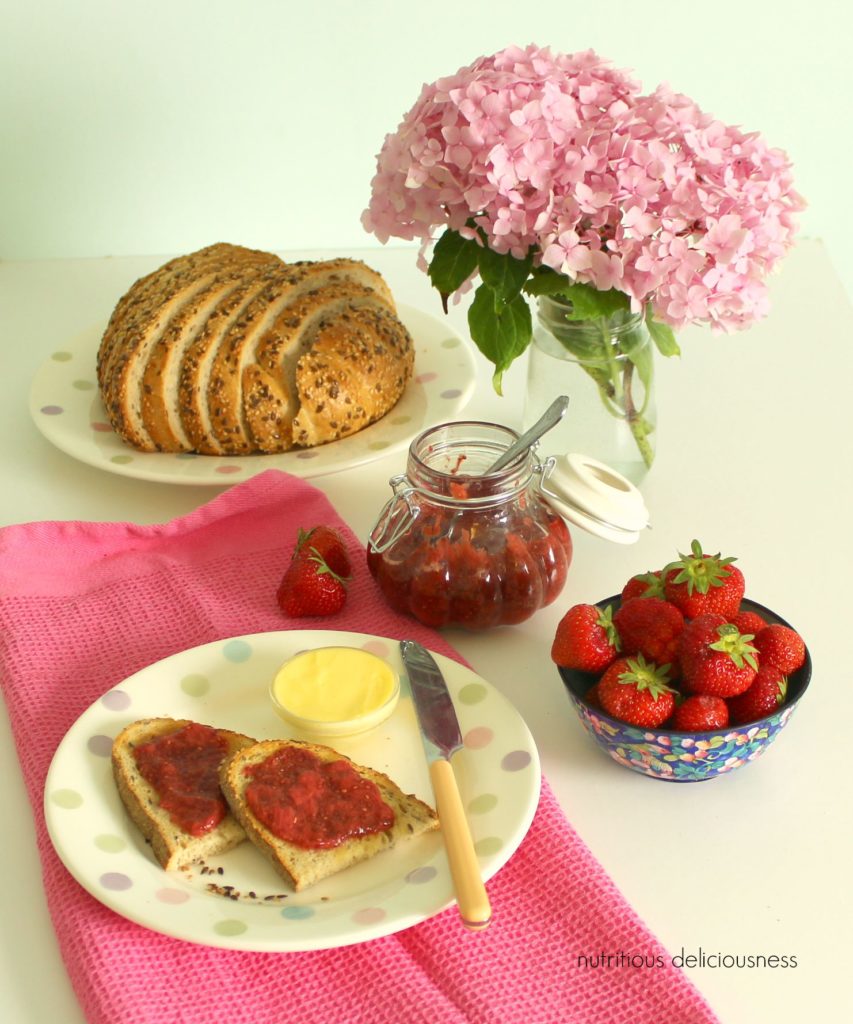 I've been using chia seeds for some time in breakfast, smoothies and puddings but a couple of years ago I read about them being used to thicken jam, so now with an abundance of summer fruits to hand I'm finally giving it a go and really hope the result is fabulous because I have missed jam!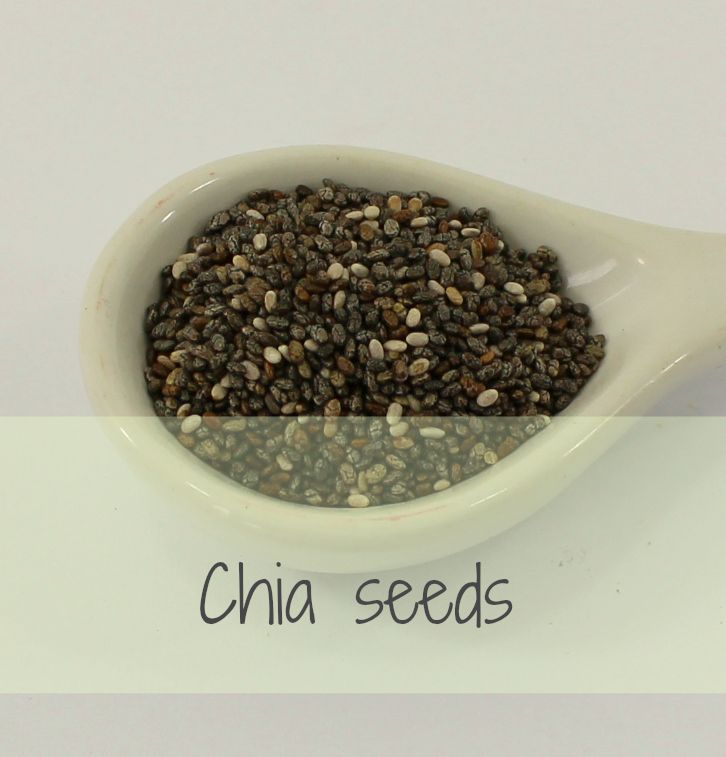 Chia seeds are rich in antioxidants with an abundance of omega 3, protein and fibre along with calcium, magnesium, manganese and phosphorus .  Adding chia seeds to recipes will easily boost its nutritional value.  Chia seeds swell in liquid and become quite gelatinous which will have the effect of thickening the simmering fruits instead of adding a shed load of refined sugar to do the job.
I'm using Strawberries for this batch but with the amount of blackberries I see forming on our bushes I will definitely be making Blackberry Chia Jam.  I'll probably have to add a little more honey or maple or barley rice syrup to take the edge of the blackberry's tartness.
From this particular jam I used:
300g punnet of strawberries, topped, tailed and halved
2 tablespoons lemon juice
1 teaspoon vanilla extract
2 teaspoons honey
2 tablespoons Chia seeds
Method
Put the Strawberries, lemon juice, vanilla extract and honey into a pan and bring to the boil, stirring continuously then simmer gently over a low heat for 5-10 minutes until the Strawberries are softened and broken down.
Either leave the fruit as is or mash, the choice of chunky or smoother is yours.
Add the Chia seeds and mix until very well combined.  I had no idea how much liquid the Chia seeds would absorb but can always adjust quantities for the next jam if necessary.  If you prefer a smoother looking jam, you can grind the Chia seeds beforehand, as mine had Strawberry pips in, I left them whole.
Take the jam off the heat and let sit until the jam thickens for about 30 minutes.  Pour into a clean sterilised glass jar.  I keep it in the fridge as there is no high sugar content so may not last as long as conventional jam.  This amount made a good jar full.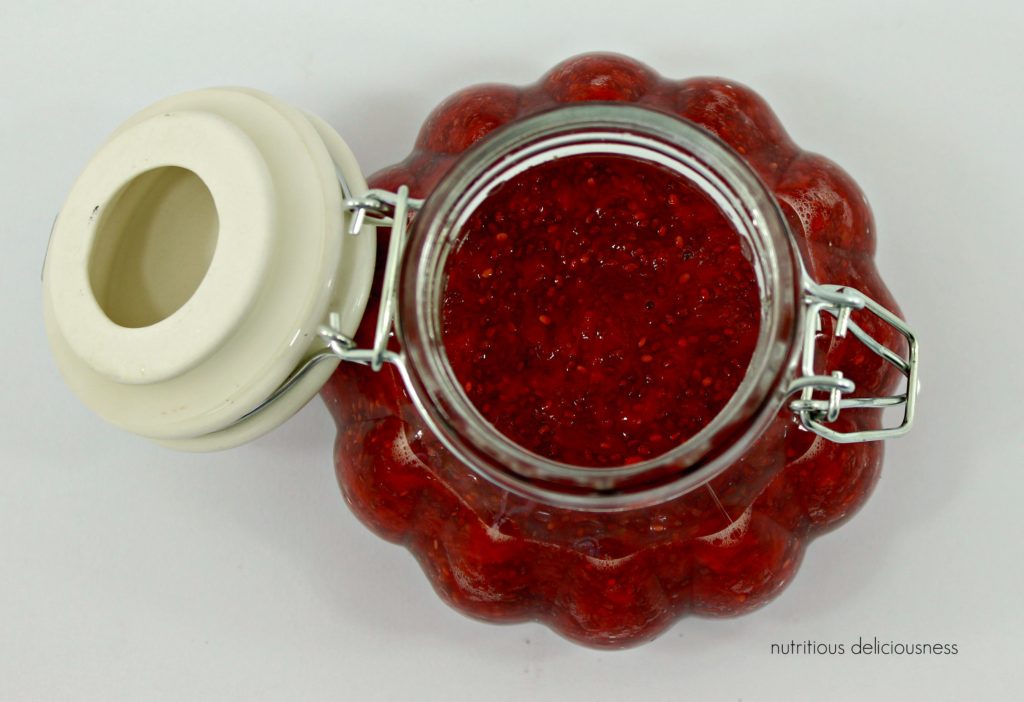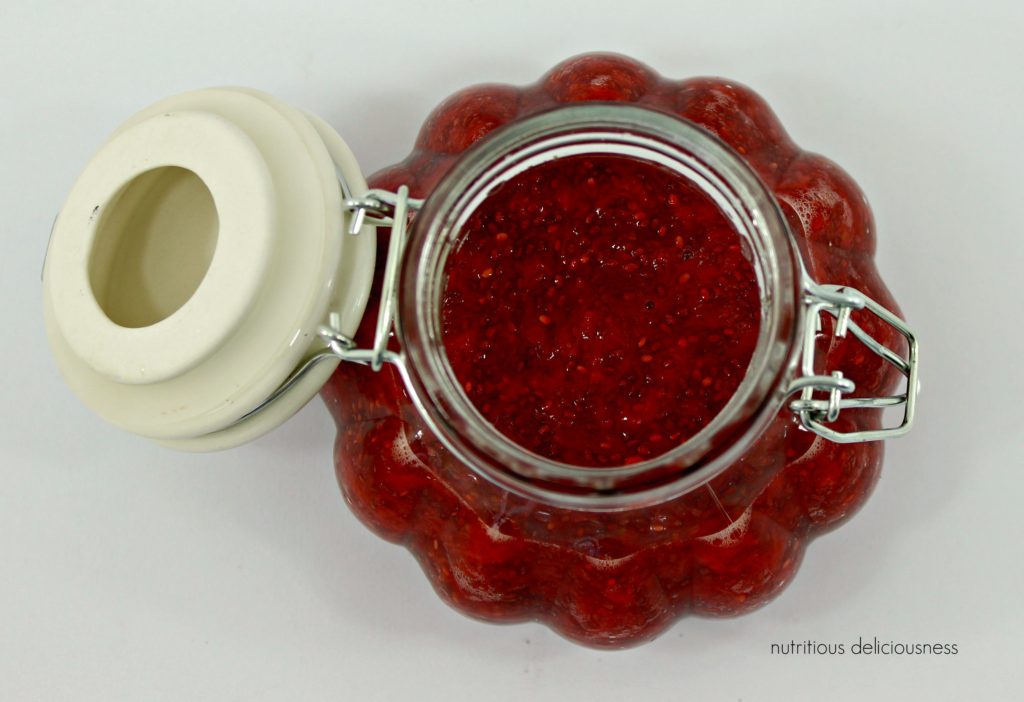 My verdict. It is very seedy which I don't mind at all.  I think this would suit Raspberries very well.  It tastes very clean, fruity and delicious with the knowledge that it isn't sugar heavy. Just a couple of teaspoons of honey.  It will be lovely run through natural yogurt as well as on toast.  I shall definitely be making much more with other fruits.  I'll also adapt the flavours and ingredients more. I need to see how the jam differs using maple syrup and barley rice syrup too, lots to try and definitely a good alternative to jam for us!