This Roasted Beetroot Hummus makes the perfect appetizer to serve at any party or get together. It's loaded with great flavor and it's vegan and dairy free!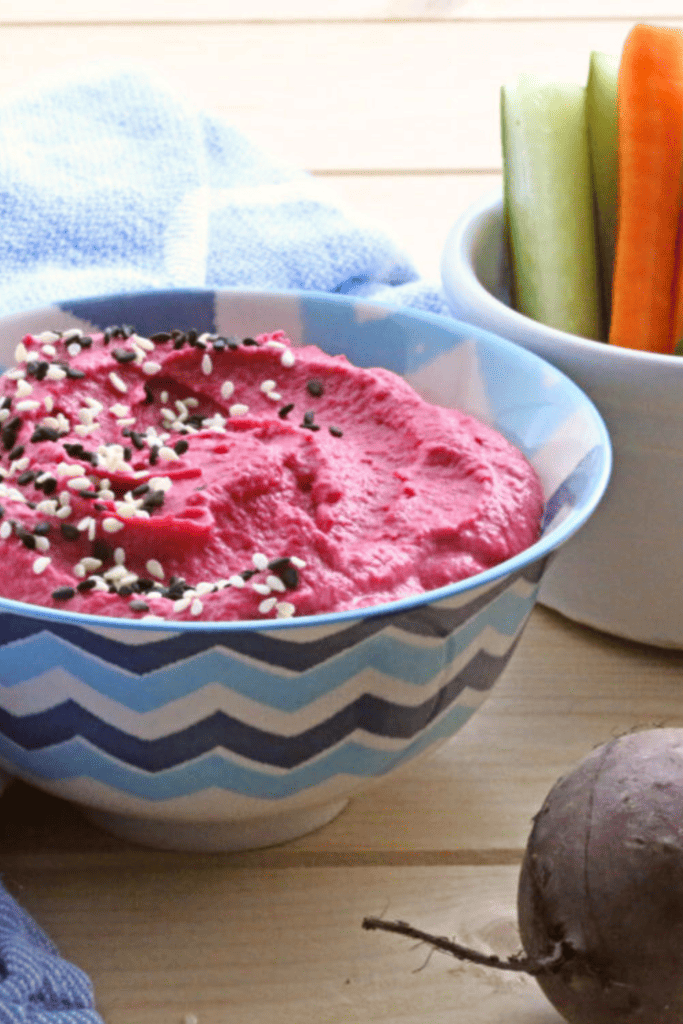 Jump to:
What is a Beetroot?
Beetroot or Beets grow as a root of the beet plant belonging to the Beta vulgaris species. Historically the leaves that resemble Swiss Chard, were consumed before the roots. On its own it isn't the most palatable vegetable due to its earthy taste. But when used with other ingredients in salads or soups for example, they can be quite versatile and add vital nutrients.
How to use Beetroot in Hummus
Beetroot, especially raw Beetroot, is not the easiest vegetable to use due to the time it needs to be cooked and not to mention the red juices that will stain just about anything! But its nutritional benefits are so great, it is worth tackling a Beetroot or two!
Beetroot can be boiled and if cut up into small cubes, will be faster. But roasting will impart a more earthy, sweeter flavour. Once roasted, it is simply blended with all the other Hummus ingredients to make an extremely healthy snack.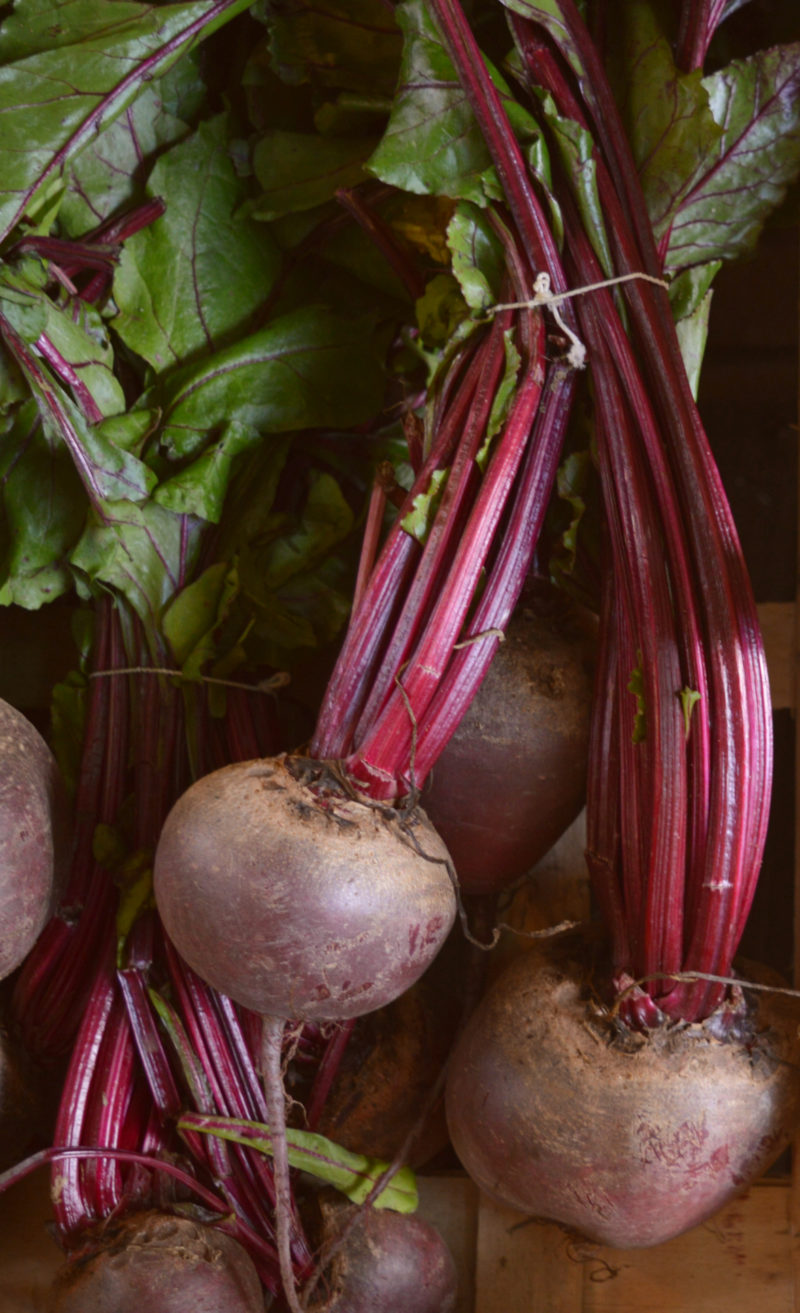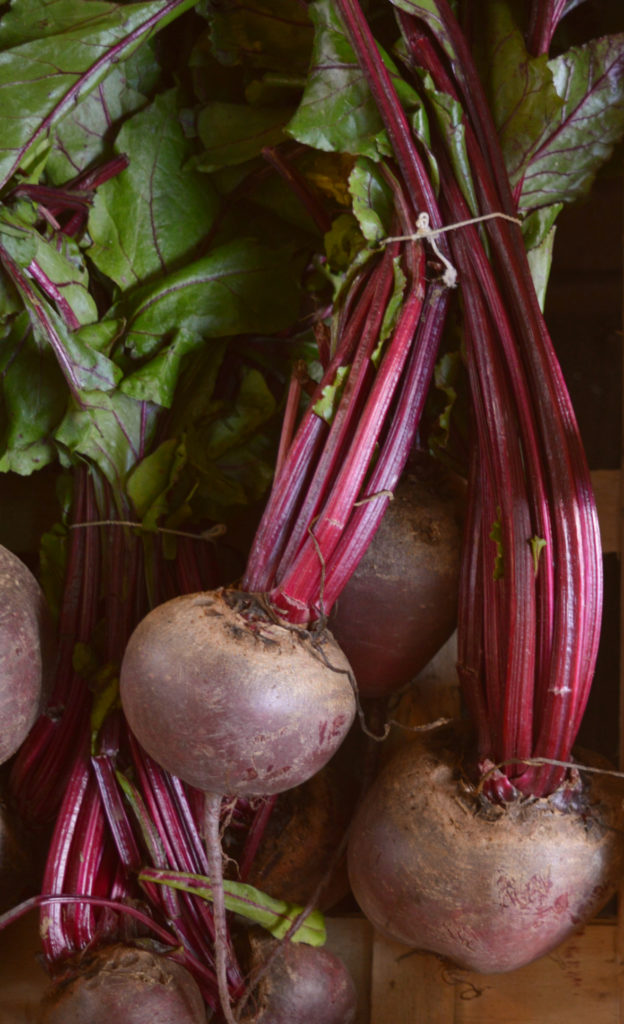 Health benefits of Beetroot
Beetroot is a good source of iron and folic acid. It is also chock full of anti-oxidants, phyto-nutrients and has anti-inflammatory properties. The gorgeous, deep red colour comes from Betalains. This is a natural plant pigment which is responsible for providing beetroot with its beautiful, vibrant colour.
Take a look at the nutritional links at the bottom of this post for the highly nutritious benefits of Chickpeas/Garbanzo beans and Tahini as well.
Making Hummus is so Easy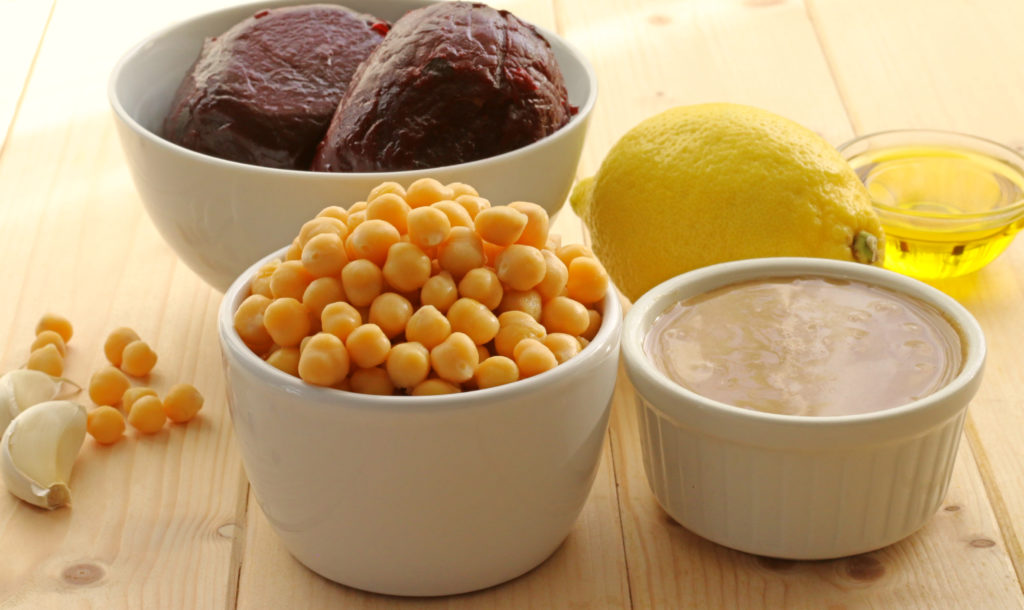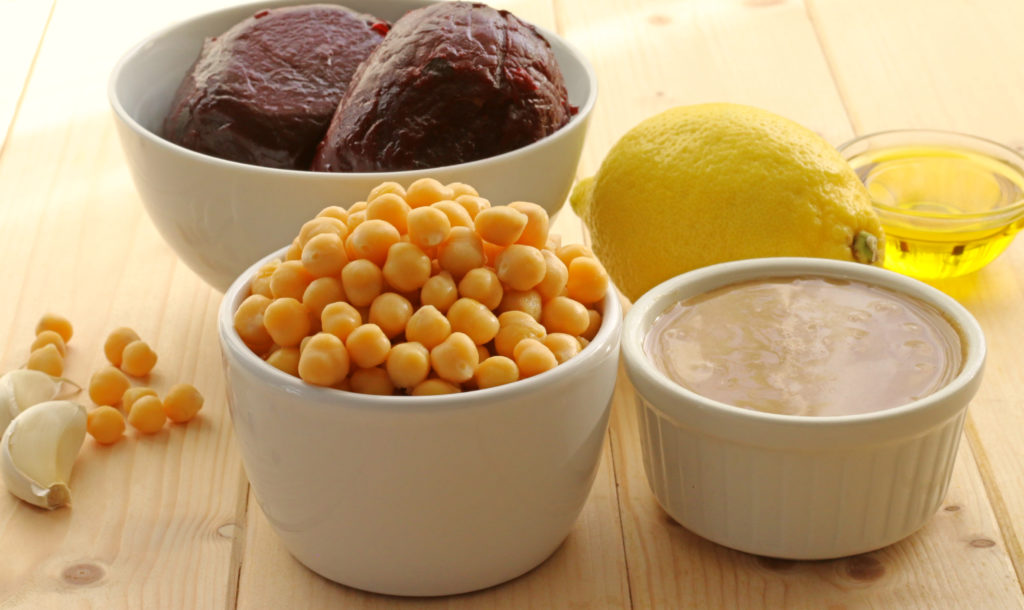 Once you have your ingredients assembled it really is as easy as popping them all into a blender and blending to the perfect consistency. I don't like sloppy, loose Hummus but the texture is down to you. The recipe shows approximate measures for some ingredients. Just go easy to start with then add as much or as little Chickpea water (also called Aquafarba, the water the Chickpeas sit in the tin) or plain water. I used brown Tahini which is unhusked Sesame seeds, more of the goodness left in.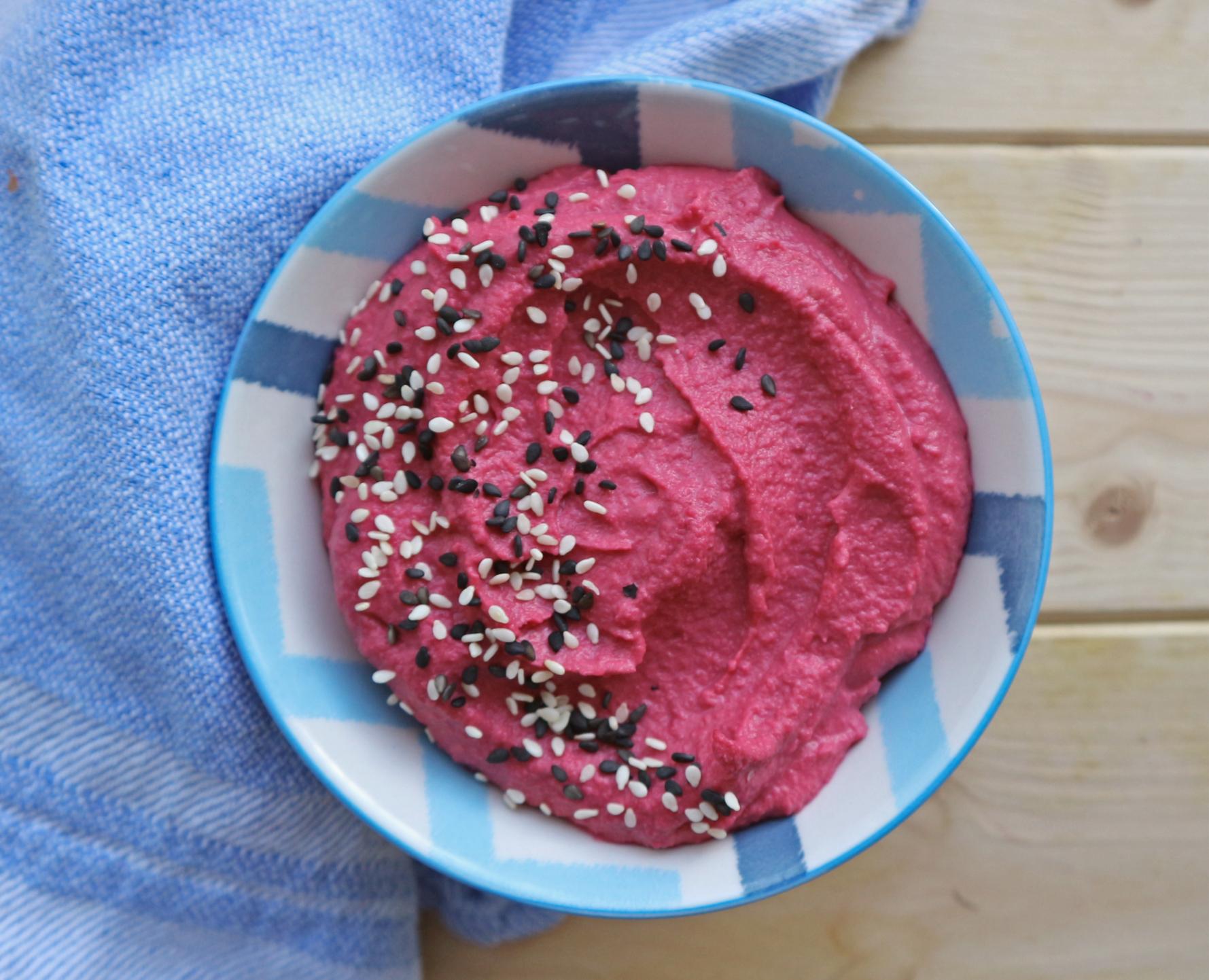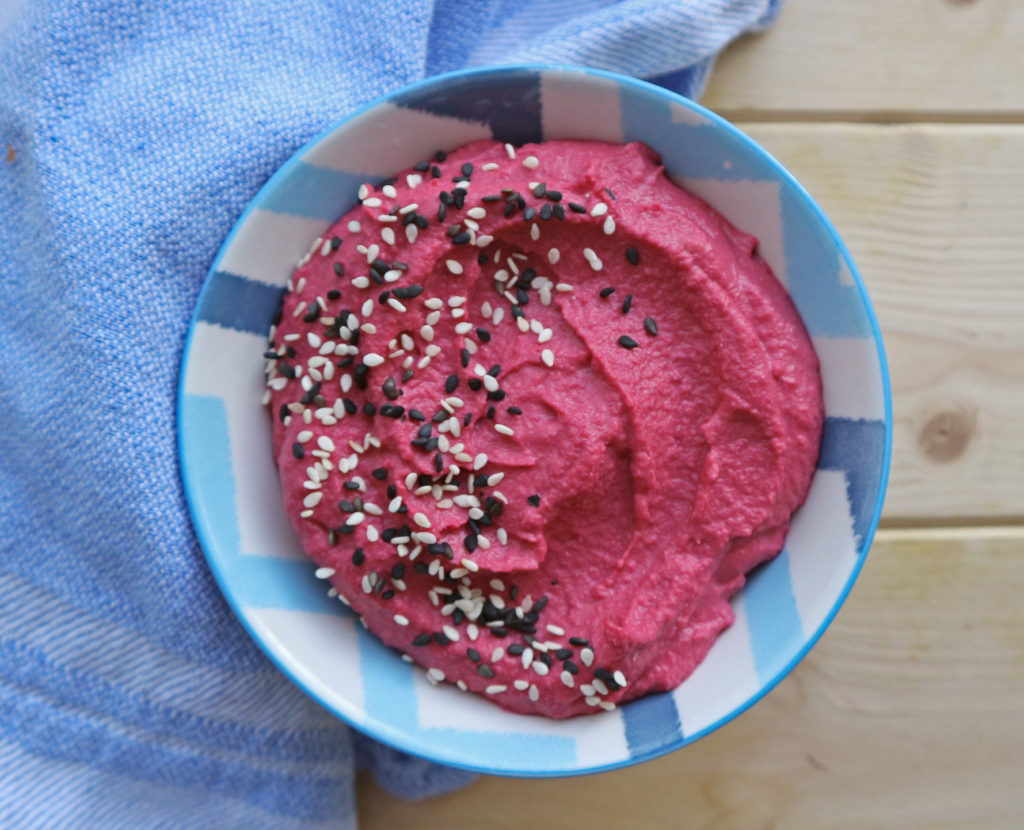 Serve Roasted Beetroot Hummus with toasted Pita breads, cucumber and carrot batons, on toast or just with a spoon. Try Beetroot hummus with our homemade Sea salt and Black Pepper Oatcakes, delicious!
It's nutritious and delicious and will keep up to 1 week covered in the fridge.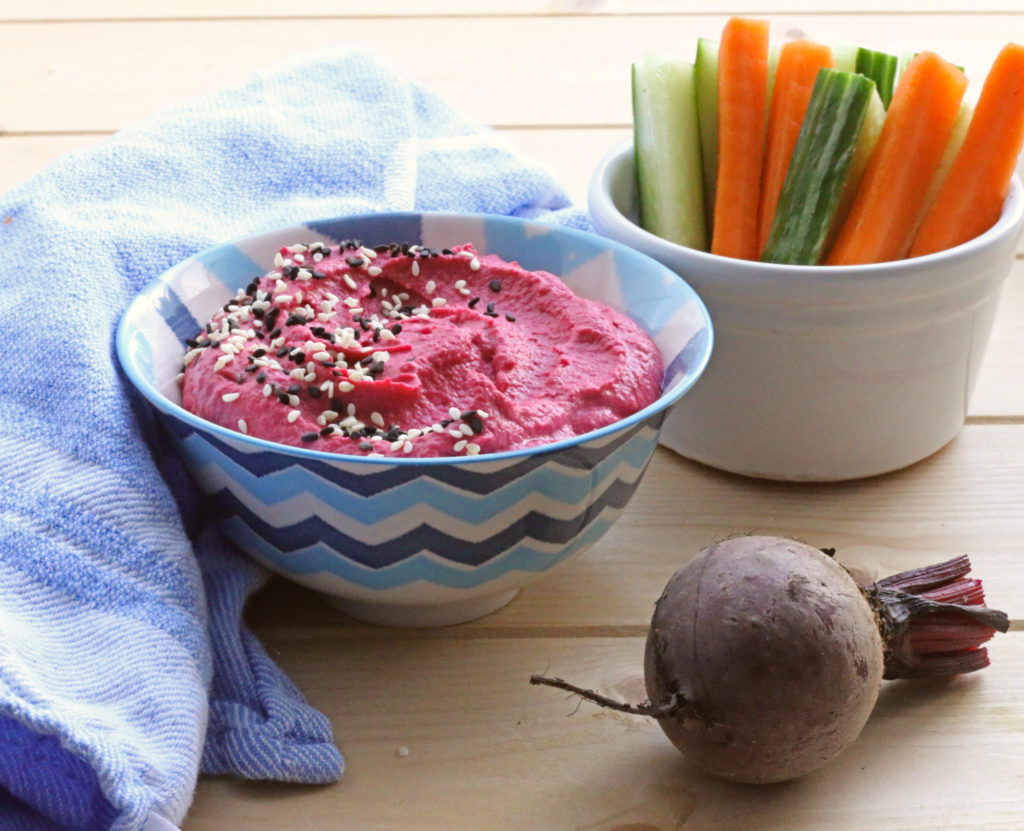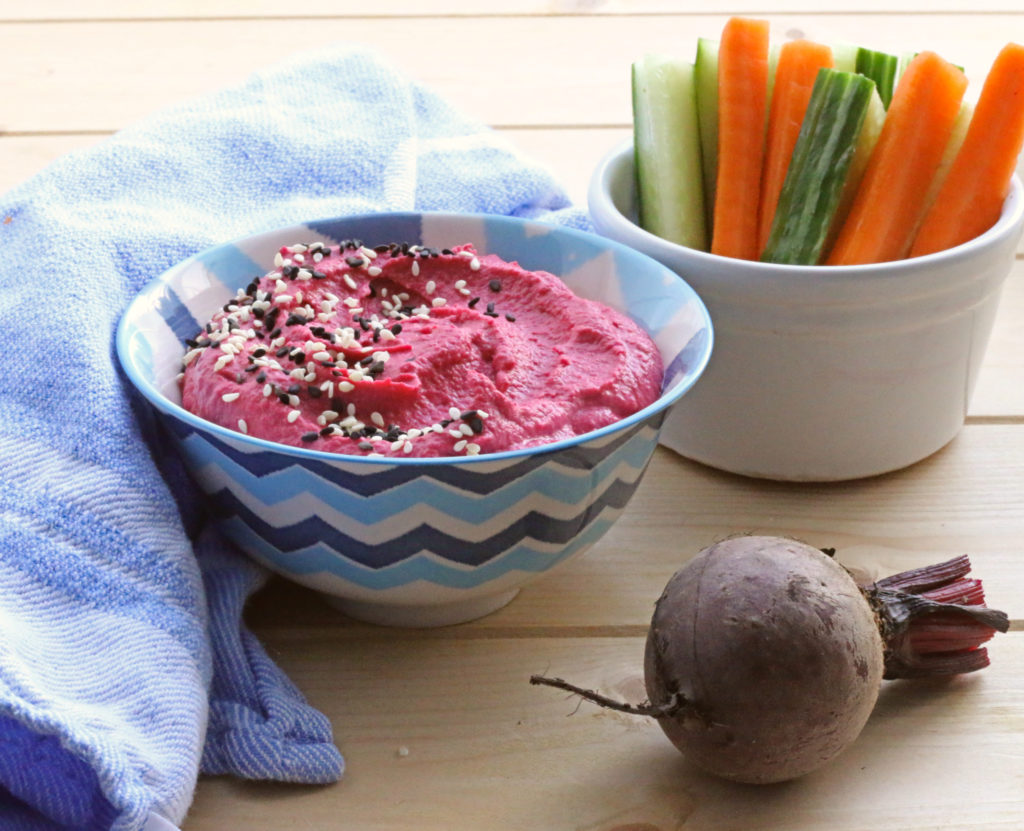 Nutritional Info Links: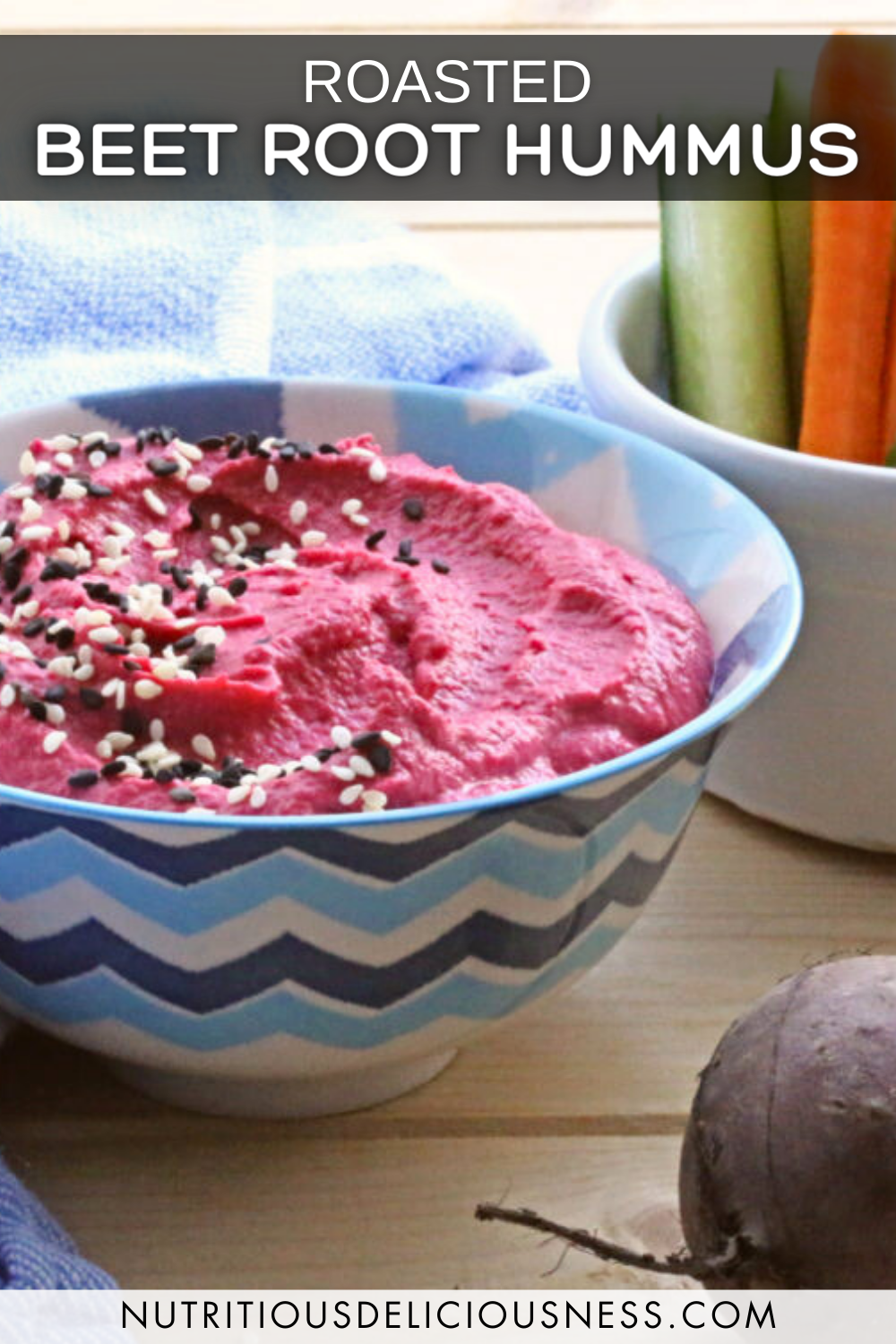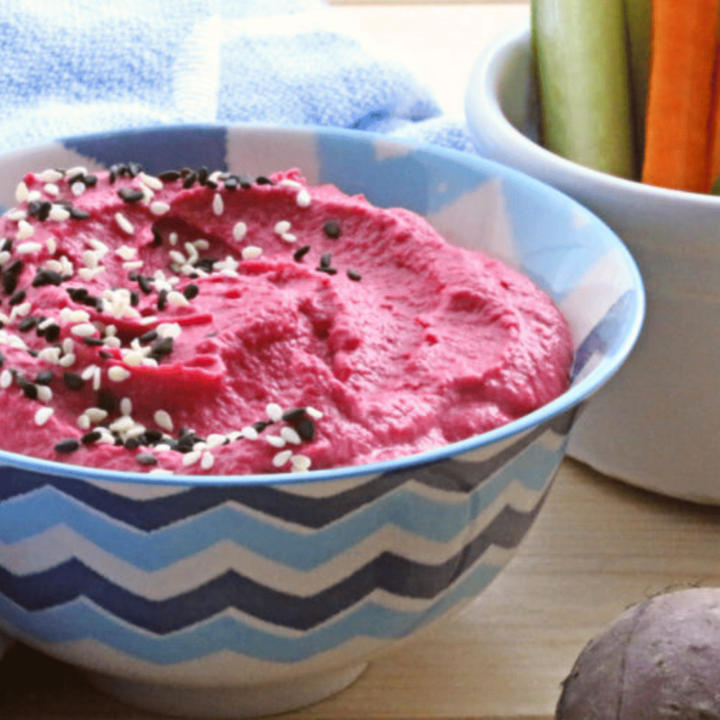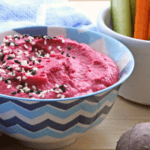 Roasted Beetroot Hummus
This Roasted Beetroot Hummus makes the perfect appetizer to serve at any party or get together. It's loaded with great flavor and it's vegan and dairy free!
Servings 4
Ingredients
1-2 medium-sized beetroots/beets
2 400 gram Chickpeas, canned
½ cup Tahini
2-3 tablespoons Olive oil
2 cloves of Garlic
Juice of ½ Lemon
½ teaspoon Sea Salt
½ teaspoon ground Cumin
½ cup water
Black Pepper to taste
Black and White Sesame Seeds
Instructions
Preheat your oven to 375°F.

Prep your Beetroots/Beets by removing the stalks and leaves and give them a little wash and scrub with running water until clean.

To roast the Beetroots/Beets coat in olive oil and wrap in foil and roast for 60-90 minutes until tender. Once roasted, cool, then remove the skin and discard.

Place the Beetroots/Beets plus all the remaining ingredients except the Olive oil into a blender and start blending. Drizzle the Olive oil into the blender as it is mixing the Hummus.

Blend until smooth or to your desired consistency. Add more water as necessary.

Taste and adjust seasoning as needed.

Decant into a bowl or two and sprinkle with Black and White Sesame seeds to garnish.
Rate this Recipe
*Nutritional data is provided as a courtesy and is accurate to the best of my knowledge. You can verify it using the nutrition calculator of your choice. All data is based on net carbs, without sugar alcohol: Swerve, Erythritol, Monk Fruit or Allulose.
© Copyright for Nutritious Deliciousness. Please use the share buttons to share on social media, but please do not copy/paste the recipe.